Geopolitics is certainly adding to the mix for increasing volatilities across markets, with trade news being at the top of minds. There is an overwhelming consensus that, if US President Donald Trump's imposition of tariffs escalates into trade wars across the world, economic growth will be endangered, and the damage could be widespread.
Although still choppy, markets seem to be looking beyond any weakening in previously strong economic data, expecting stronger activity further out, as well as down playing the risks of trade wars. More optimistic investors point to history, which has shown that although US interest rates may be rising, they are doing so from very low levels and are not rising quickly enough to damage risk market appetites.
Italy's election – although messy and a well-aimed kick in the teeth for the mainstream political parties – did not rattle the rest of Europe's financial markets as it might have previously, not least because of the euro-zone's healthy economic showing, and a more dovish European Central Bank (ECB). There is also a sense that EU institutions are strengthened by the more upbeat declarations from Europe's most powerful leaders, the pro-EU French President Emmanuel Macron in particular.
Politics in China have also been moving, with important gatherings, including the Third Plenum, being brought forward by six months. Perhaps most conspicuous was the amendment to China's constitution abolishing term limits to the presidency – imposed several years after Mao Zedong's death – a ruling that makes President Xi China's most powerful leader since the founder of the People's Republic and, in theory, president for life.
Economically, China looks set to maintain its current path, targeting GDP growth of 6.5% with at least a cap, if not a decline, on the contribution to growth from investment, an inflation target of not more than 3%, and a 'neutral and prudent' monetary policy stance.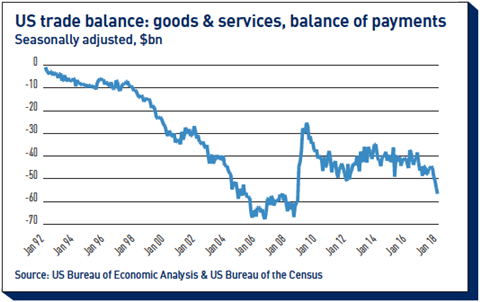 Bonds
Although March's US employment figures were more robust than forecast, there was still weakness in wage inflation data. For some, this signals that the 'Goldilocks' scenario – healthy economic growth generating just the right amount of inflationary heat – remains intact and there should be little cause for alarm.
Interest rates had already been pushed higher after a hawkish speech from new Federal Reserve chair Jerome Powell – previously viewed as a dove. His comments were matched by subsequent Fed speakers, taking many by surprise.
Some observers urge caution, pointing out that continued strong rates of job creation might indicate low productivity, meaning additional output is only being gained through increased employment. The danger in this would be the Fed – in the face of further falls in unemployment – having to adjust its inflation forecasts upwards, as well as speeding up policy normalisation to avoid falling behind the curve.
That US rates did not move significantly higher is surely linked to the dovish tones from the central banks of the EU and Japan. Liquidity conditions across the globe may not be increasing, but nor is there set to be a diminishing – not yet at any rate.
In a dovish press conference from a cautious-sounding President Mario Draghi, the ECB nudged down its inflation forecasts, a bullish signal for longer-dated core rates. While global economic growth continues apace, the macro environment for rates remains challenging, not one in which to be overweight with respect to other asset classes.
Currencies
The Japanese yen has already appreciated some 5% this year versus the dollar, ignoring the dollar's upward move against the rest of G10 during February.
In addition to the welcome return of economic growth in Japan, it is probably the prospect of an ending to the Bank of Japan's (BoJ) quantitative easing (QE) which is providing the strongest tailwind.
Similar to the euro's appreciation in the months preceding the official ECB announcement of tapering, the yen has also risen.
There are however differences, the most significant being the BoJ's announcement that it might postpone QE until the end of 2019. This sends a message to the markets that it is still 'safe' to buy the yen, and that further appreciation is likely.
The yen has not only benefited from domestic influences. Its status as a safe-haven currency, along with the Swiss franc, has led to further buying in the wake of Trump's salvoes on trade tariffs.
Indeed, the changing face of US policy may be having a profound effect on currency markets as some now argue that the change could damage confidence in the dollar and its 'exorbitant privilege' as world's most important reserve currency.
As the Fed maintains its place furthest ahead in the policy cycle, so downward pressure on the dollar should remain intact.
Although growth in Europe might be slowing, the deceleration might not be enough to warrant a reappraisal of the strong economic recovery under way.
However, with politics becoming more involved in market dynamics, it is probably prudent to maintain a less aggressive position presently.
Trade deficits, tariffs and wars
History provides us with examples of retaliatory trade wars* and their impact on economic growth, nearly all of which make depressing reading.
However, the fact that the US posted its largest post-crisis trade deficit in January appeared to give protectionists a boost.
President Donald Trump will be aware that steel and aluminium tariffs, affecting less than 2% of US imports, are unlikely to damage the economic outlook, and nor will they shrink the US trade deficit. If more are introduced import prices could well rise (in the absence of retaliation from others), forcing the Fed to tighten policy, pushing the dollar higher – so yes, the trade deficit might shrink. If, however, other countries retaliate, then US exports will fall as inflation rises.
If many other countries imposed tariffs on imports from the US and other countries, perhaps to deter unwanted steel, for example, from being diverted from the US market, a trade war would be instigated. And this war would almost certainly lead to higher prices and tighter monetary policy, but possibly weakened stock markets and slower economic growth – if not much so in the US, then most certainly elsewhere in today's highly interconnected trading world.
The New York Times summed up Trump's March announcement on steel tariffs and his subsequent gung-ho tweeting that "trade wars are good, and easy to win", as "economically small and symbolically huge".
Today, less than 40% of Republican voters say that trade agreements have been good for the US. With mid-term elections six months away, Trump seems to be gambling on bashing free trade as a way to garner more support.
The worry is that he takes it too far, and sparks a full-blown trade war.
*One of the most notorious, triggered by the Smoot-Hawley Tariff Act of 1930 which, after America's other trading partners retaliated, eventually led to a 40% reduction in US trade volumes between 1930 and 1932.