Exchange-traded funds have made most of the running in fixed income
Key points
The development of fixed-income factor investing products has been slow
Research shows that a low-risk high-yield portfolio can be expected to generate the same return as the market but with lower volatility
The ETF universe has seen most development
A lthough there have been many launches in the factor investing equities space, fixed income has not had the same flurry of activity owing to the nature of the asset class. This is why the S&P US High Yield Low Volatility (HYLV) Corporate Bond index launched two years ago did not trigger a spate of exchange-traded funds (ETFs) or other factor-based funds. However, conversations were ignited and interest is growing in developing high yield and other bond strategies in this arena.
The latest figures from data company XTF show assets under management in smart-beta fixed-income ETFs at about $3.3bn (€2.7bn) compared with $696bn on global ETF and exchange product takings quoted in ETFGI's most recent report.
One of the biggest challenges is that the academic underpinnings are thin on the ground. "The lack of historical bond data availability is indeed an important reason why not much academic research has been conducted on this subject, compared to the abundance of research on equity markets," says Patrick Houweling, portfolio manager at Robeco. "It also explains why only a few providers are able to offer evidence-based corporate bond strategies."
The Dutch fund manager belongs to this minority, having implemented a multi-factor high-yield mandate as part of its fundamental high-yield bonds strategy in 2005. It has also published papers setting out the investment case, the most recent being Factor Investing in the Corporate Bond Market. Analysing US data from 1994 to 2015, it found that a low-risk high-yield portfolio, containing the 10% of bonds that score highest on the low-risk factor, had better risk-adjusted returns than the broad high-yield market index. Similar outcomes were found with its internal euro data.
"This improvement was statistically significant," says Houweling, adding that the portfolio not only had substantially lower volatility, which may have been expected – 6.9% versus 10.3% for the market – but perhaps surprisingly, the return was slightly higher by 1.5 percentage points.
Houweling attributes the results to the selection of safer bonds from securer issuers which translates into bonds with a shorter duration, a higher credit rating and seniority as well as a lower credit spread. Historically, he notes that this strategy tends to underperform in bull markets or during times of declining credit spreads while the reverse is true in bear markets whereby credit spreads rise.
"Over a full market cycle, a low-risk portfolio can be expected to generate the same return as the market, but with lower peaks and shallower troughs," he says. "Therefore, it has a lower volatility than the market, and higher risk-adjusted returns."
This is also evidenced by the behaviour of the S&P US HYLV Corporate Bond index (see figure). Back-tested results demonstrate that, historically, the index exhibits return-volatility levels between that of high yield and investment-grade bonds and provides an inter-sector product between the two at increasing return efficiency, according to Hong Xie, director, global research & resign, at S&P Dow Jones Indices. "The back-tested data show the index consistently outperforms the broad high-yield bond universe when high-yield bonds experience significant spread widening," he says.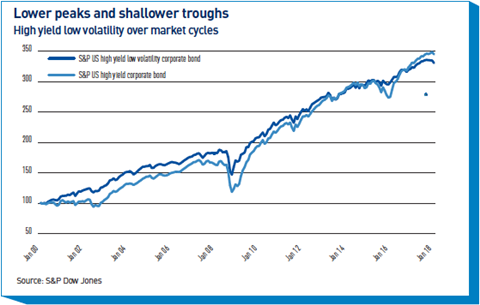 Over a 20-year period (1997–2017), the HYLV offered similar levels of return as high yield but only 60–70% of the downside risk. It has also provided better income per unit of risk taken compared with most of the income-generating asset classes such as preferred securities, real estate investment trusts (REITs) and master limited partnerships, according to Sal Bruno, chief investment officer, and Kelly Ye, director of research, for IndexIQ.
Jay Raol, senior macro analyst at Invesco's fixed interest unit, also says the strategy can provide cheaper downside protection to portfolios that are close to being funded and therefore need more principal preservation. He contends the lower volatility of these portfolios makes them less sensitive to cyclical returns and thereby small allocations to the strategy can be made for more risk-averse investment-grade investors that may want to add yield and return tactically.
Although market participants agree on the benefits, views differ on the best measures to deploy to capture the volatility characteristics of bonds. They are not as straightforward as in equities because, as Bruno and Ye point out, bonds do not trade every day and the nature of maturities means that their risk profile changes over time. As a result, historical realised volatility is not a good measure for future volatility.
"Over a full market cycle, a low-risk portfolio can be expected to generate the same return as the market, but with lower peaks and shallower troughs. Therefore, it has a lower volatility than the market, and higher risk-adjusted returns"

Patrick Houweling
The industry-accepted proxy for a bond's future volatility and one often used by active managers is duration times spread (DTS), espoused by Ben Dor, Dynkin, Hyman, Houweling, Leeuwen, and Penninga (2007). However, Bruno and Ye prefer to use S&P HYLV's Marginal Contribution to Risk (MCR), which assesses the amount of risk an individual security contributes to an overall portfolio. This is a more accurate tool because it contributes less credit risk to the portfolio as a whole.
To date, there are only a few products on the market but variations on a theme have already emerged. While IndexIQ tracks the S&P index, Invesco Powershares' US High Yield Fallen Angels UCITS ETF dampens volatility by investing in investment-grade securities that have dropped on the ratings scale. "When bonds are downgraded from investment grade to high yield, prices are often depressed as some investors are forced to sell," says Paul Syms, head of fixed income product management at Invesco Powershares. "However, many of these fallen angels are quality companies and the strategy has enabled investors to benefit from both price movements around the downgrade as well as those if they are upgraded again due to improving fundamentals."
WisdomTree Fundamental US High Yield Corporate Bond fund also focuses on the quality of a company's financial health and income. Labelled a newer form of smart beta, it falls into the category because it is a non-market-cap strategy, says Chris Gannatti, associate director of research at WisdomTree. "Focusing on the fundamentals helps avoid selecting the bonds that can default," he says. "Our main selection criteria include high-yield bonds that have publicly-traded equities and positive free cash flows but we also look at liquidity as well as time to maturity."
TOBAM also seeks lower volatility with its Anti-Benchmark Global High Yield Strategy. Developed three years ago, the strategy aims to create a neutral portfolio by not taking any bets on style or valuation. "We are not interested in buying the cheapest or most expensive securities but creating the most diversified portfolio," Yves Choueifaty, founder and CEO of TOBAM. "This is particularly important in high yield because of the heavy bias of issuer-weighted indices towards energy and the potential of default risk."
While further development is expected in high yield, emerging market debt is another area gaining traction. Powershares has been a Pioneer with its Emerging Markets Sovereign Debt Portfolio, launched over a decade ago. It equally-weights each country, while using liquidity and value screens to select which individual bond issues to hold. More recently, other entrants have joined the fray, most notably the JP Morgan USD Emerging Markets Sovereign Bond UCITS ETF, which made its debut this year with the aim of reducing risk by screening out countries which have a higher chance of default.
Factor Investing: Trend convergence
1

2

3

4

5

Currently reading

Fixed income: Starting to catch up

6

7

8

9

10