---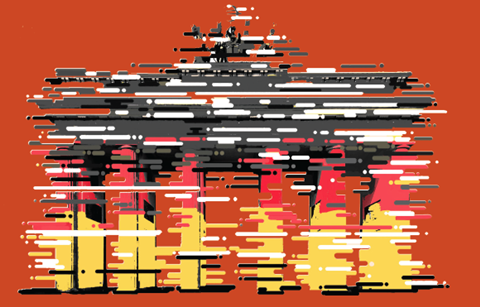 Asset managers may work with insurers to gain business in Germany's new defined contribution (DC) market
Key points
• Asset managers should find a role as component suppliers when new DC products become widespread.
• Managers should work on collective DC models to compete directly.
• The market for occupied pension schemes in Germany should grow.
• The array of options for pensions remains complex.
Legislation passed this summer paves the way for a new generation of essentially pure DC occupational pensions promoted under the new Zielrente (target pension or collective defined contribution) concept. How will asset managers fare in the market for the new product, and will they be able to compete with insurers in the emerging space?
The new concept has only been introduced for implementation within existing, mainly insurance-orientated pension vehicles, so does not herald any direct change to the competitive environment for asset managers.
But when these Zielrente products proliferate, asset managers will be able to profit indirectly as component suppliers. For this reason, Deka, the €237bn Frankfurt-based manager, says it welcomes the new law on corporate pension schemes (Betriebsrentenstärkungsgesetz) — of which Zielrente is a key element.
Furthermore, if asset managers do want to compete in the Zielrente space, says Thomas Huth, co-head insurance and pension solutions at Deutsche Asset Management, they will need to work on collective DC models with risk sharing at its heart. "The connection of a smart collective liability model with corresponding asset management strategies may give asset managers the edge," he says.
German asset managers will benefit from the reform, he says, but it is not clear how they will compete — whether they will team up with an insurance company, provide building blocks, set up as a one-stop shop for the product, or take another route.
"The objective of the reform is to increase participation at small and mid-cap companies," he says. "However, the market will be based on labour agreements and many [such] companies are not members of employer associations. It remains to be seen how successful we asset managers are going to be here."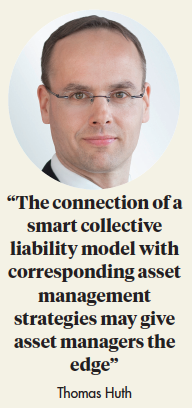 In the short run, the market will be about access to the gatekeepers, such as labour unions, Huth continues. "This is traditionally something [insurers] are much better at than asset managers, so we will see asset managers teaming up with insurance companies," he predicts.
Allianz Global Investors believes the new law is the best thing legislators have done for pensions provision in a long time, according to Michael Schütze, head of corporates, insurance companies and pension solutions.
"The law makes corporate pension schemes more attractive for small and medium-sized enterprises, because they don't have to back defined benefits any more," he says, noting that corporate pension schemes have not been popular with smaller companies.
The fact that the new schemes will be able to apply opt-out, or auto-enrolment, rules under the new law will increase the penetration of pension schemes with employees significantly, he predicts. "The market for pension schemes should grow faster than before," he says.
Collaboration not competition
The changes will certainly not disadvantage asset managers, who now manage most of Germany's €200bn private retirement asset market, says Schütze, who expects asset manages to collaborate rather than compete with insurers n DC provision. "Insurers offer more and more solutions without guarantees or with reduced guarantees, and the investment part of these solutions is with asset managers," he notes.
On top of this, he notes, the obligatory vehicles for the new DC system are exclusively Pensionskassen, Pensionsfonds and direct insurance. "The principle of defined ambition requires a 'prudent person' managing the assets, and this points clearly into the direction of joint efforts between insurers and asset managers," Schütze says.
Allianz expects interest in variable pension models to grow, he says, because secure yields have practically fallen to zero. "We see ourselves in a strong position as a provider of solutions for Pensionsfonds, Pensionskassen and insurers," he says.
Schütze also sees the law as the start of a new era for corporate pension schemes. "Until now, only half of all German employees have the benefit of a corporate scheme, and this will change significantly, at least in the medium term. Defined ambition replacing guaranteed payouts will open up more companies for these schemes," he says, adding that the principle of opting out – plus stronger support for low incomes – will overcome any foot-dragging by employees.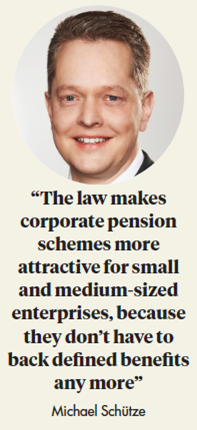 Clemens Schuerhoff, CEO of the consultancy Kommalpha, says the asset management sector will benefit from the new legislation as it has from previous initiatives, noting that pension investors have been the fastest growing segment in the Spezialfonds-business over the past few years.
But Germany's pension landscape remains complex, and Zielrente adds to this, Schuerhoff says, predicting it will compete with the existing five ways to provide occupational pensions. He adds: "One main objective of the Zielrente, that of it being accepted and more widespread among the Mittelstand and smaller enterprises, will take a very long time."
Asset managers will be able to compete with insurers, Schuerhoff acknowledges, although insurers are likely to have the edge. "The main criterion here is the sales structure or addressing of the targeted market participants, the Mittelstand and smaller enterprises. Here, brokers, IFAs and so on will come into play, so, in my view, the insurance industry will have an advantage," he says.
Union Investment, meanwhile, says Zielrente will increase the attractiveness of occupational pensions for employees who have not benefited, or only gained marginally, from them in the past.
"This is why we support this concept, but we want the exclusive focus on collective labour agreements to be abolished, as in the long term it will prevent small and mid-sized enterprises from participating in the new model at corporate level," says Wolfram Erling, head of pension provision at Union Investment.
This is because collective agreements are not required to be open to non-members, and many smaller companies are not party to these agreements.
Erling adds: "The intended reforms will push the trend in corporate pensions from DB to DC schemes further. With their capital market know-how, asset managers are well positioned to offer attractive pension solutions and to benefit from this development." Union Investment is expanding its product range in co-operation with its sister insurance company, R+V Versicherung.
Pensions milestone
The German Investment Funds Association (BVI) describes the new law as a milestone in occupational pension provision.
"Employers gain from the pure contributions in the social partner model, because they are no longer responsible for the level of payouts," the association says. However, the BVI echoes Union Investment's call for the concept to be permitted outside collective agreements.
The relinquishing of guarantees in the new legislation is revolutionary, the BVI adds."It will attract extra competition in occupational pensions provision, and that is, in the end, in the interests of both employer and employee as well."
According to the BVI, Pensionskassen and Pensionsfonds will be able to participate in the social partner model through the introduction of the pure contribution with the ban on guarentees within the new regime.
"Occupational pensions provision needs high-yielding investments, so it can live up to its socio-political duty to safeguard the financial base for old age. Doing without guarantees makes occupational pension provision more efficient overall, because equities will be able to contribute more towards the yield of investments than before," the BVI says.
Germany's new DC concept
• New legislation will come into effect in January 2018, introducing defined contribution (DC) pensions without guarantees for the first time – known as Zielrente, a form of defined ambition DC.
• The new plans will be introduced through collective labour agreements in individual industry sectors. Opt outs (auto-enrolment) will be permitted.
• Five insurers have already joined forces to offer the new structures.
• The first plans will probably launch in late 2018 or early 2019.
• There are already five forms of occupational pension provision in Germany so the new model will add further complexity to an already confusing landscape.
German Asset Management: A model for collaboration
1

Currently reading

German Asset Management: A model for collaboration

2

3

4

5