Global sustainable funds attracted $32.6bn (€32bn) of net new money in the second quarter of 2022, representing a fall of 62% relative to the revised $87bn of inflows in the first quarter, according to Morningstar Manager Research.
However, the firm stated in its quarterly Global Sustainable Fund Flows report that amid investor concerns over a global recession, inflationary pressures, rising interest rates, and the conflict in Ukraine, sustainable funds still held up better than the broader market, which experienced $280bn of net outflows over the period.
Morningstar's global sustainable fund universe encompasses open-end and exchange-traded funds that, by prospectus or other regulatory filings, claim to focus on sustainability, impact, or ESG actors.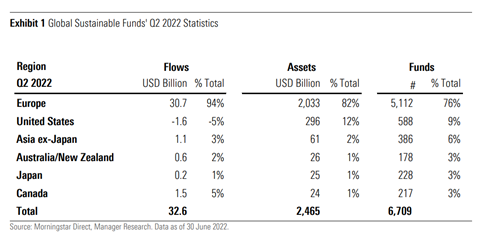 Amid inflation and recession fears, global sustainable fund assets slipped 13.3% to $2.47trn as of June 2022 from the restated $2.84trn at the end the first quarter. This was the largest drop since the first quarter of 2020 and was roughly in line with the net asset base of a year ago.
Nevertheless, sustainable fund assets held up better than the overall global fund market, which saw its assets shrink 14.6% in the three months through June 2022.
Europe continued to make up the lion's share of the sustainable fund landscape with 82% of global sustainable fund assets. It also remained by far the most developed and diverse ESG market, followed by the US, which housed 12% of global sustainable fund assets through June 2022.
Asia ex-Japan, of which China is the biggest sustainable market with more than 75% of the region's asset base, ranked third in terms of sustainable fund market size.
Overall, sustainable funds accounted for more than 18% of European fund assets at the end of June 2022, up 1 percentage point quarter to quarter.
Morningstar expects this percentage to keep rising in subsequent quarters as investors' demand for strategies that align with their sustainability preferences continues to grow, prompting asset managers to launch additional sustainable products and repurpose existing conventional ones.