A substantial spread differential is attracting US investment-grade issuers across the ocean to issue bonds in euros. Anthony Harrington finds that, despite greater obstacles, high-yield companies could soon follow
The search by investors for higher yields in a world where some government bond rates are negative could soon open the European high-yield market to at least the better known US BB and B-rated companies. Investment-grade US companies are already taking advantage of the significantly lower coupons being demanded by European investors, issuing one or two tranches of their debt in the euro markets.
Steve Logan, head of high-yield at Aberdeen Asset Management, points out that with investment grade US companies turning to the other side of the Atlantic for their financing needs, some finance directors of larger, better known US high-yield companies can be expected to take advantage of the lower spreads in euro-denominated bonds.
At the investment-grade level, he notes, companies like Priceline, AT&T and Mondelex International have all recently offered new euro bonds, bringing the total euro bond issuance by US borrowers so far in 2015 to the equivalent of around $16.5bn (€15.6bn). According to Dealogic, 2014 was an all-time high for US investment grade companies to issue debt in euros. In all, the equivalent of some $50bn worth was placed. The next logical step is for the high-yield market in the US to want to take advantage of the lower spreads, priced off of lower risk-free yields, demanded by European investors and pension funds.
"What we are seeing is US companies finding that they can issue euro-denominated bonds offering yields of around 150-175 basis points less than they would have to pay in the US," says Logan. "At the same time, of course, the stronger dollar further reduces the cost of their euro borrowing."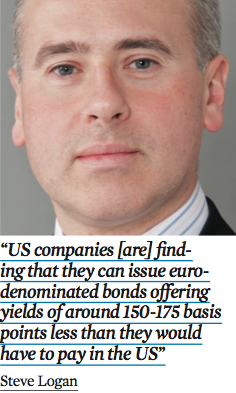 So much for household-name investment-grade companies like AT&T. Are the significantly lower coupons required by European investors also encouraging mid-tier US companies to look to Europe for their debt requirements?
Thibaud Chraparty, high-yield portfolio manager and member of the fixed-income team at La Française Asset Management, points to the success enjoyed recently by the Norwegian newcomer to the high-yield euro bond market, Hurtigruten. It managed to issue a €500m bond maturing in 2022 with a 7.5% coupon, despite its B2/B rating.
"There is no doubt that if it was a US company that was unknown to the euro market players, the issuing company's management would have to put themselves out and do a comprehensive road show to introduce themselves and their companies to potential investors, and even then it would be difficult," Chraparty says. "However, it is possible and it is likely to become somewhat easier as more US companies come to the euro market and the market itself expands. While the last half of 2014 was poor, since the start of 2015 things have picked up strongly and high-yield issues now tend to be well oversubscribed, with would-be investors having to go to the secondary market and pay a premium if they want to get involved. That demonstrates how healthy the market is."
Among the volume of deals done this year, the automotive parts company Delphi, for example, which has a Baa3 rating from Moody's that just squeaks inside investment grade, was able to raise €700m in early March.
However, Logan points out that the US dollar high-yield market is four times larger than the euro market, which makes it much easier for US mid-tier companies to tap it. So the US will continue to be the first port of call for the majority of US high-yield issuance for some time to come.
"Capacity is key in high-yield. People want to get the deal away as smoothly as possible," Logan says. "Plus, when you factor in the cost
of a swap – since US companies issuing in euros will almost certainly want to hedge their currency risk, unless they have significant euro earnings from subsidiaries – then the lower coupon in Europe loses some of its shine. There are quite a few moving parts to price in a currency swap, plus you have to find a bank to stand on the other side of the deal – and when you find that bank the scale of the swap will impede their ability and willingness to deal with you on other matters."
Robert Cignarella, co-head of global leveraged finance at Pramerica Fixed Income, is not convinced that we will see many high-yield US companies issuing in euros any time soon.
"It only makes sense for companies that have European subsidiaries," he contends. "There are arguments for it, both because every basis point is precious on a seven-year bond, and because if you have subsidiaries in Europe the high dollar hurts your earnings when you repatriate the money. So a euro debt acts as a hedge. But domestic US companies with no euro exposure and no name recognition in Europe will find it too difficult to be worthwhile."
Cignarella also doubts that a completely unknown US company would be able to tell a convincing enough story to get euro investors to take up the issue at rates that would be a sufficient differential on US dollar rates to make the whole exercise worthwhile. This could change, he conceded, if US interest rates start to climb while the ECB presses on with QE. He also points out that US companies looking to borrow under €200m would probably prefer to go to the euro loans market rather than the bond market.
"The covenants will be more restrictive, but the plus side is you can pay back the loan after a year at par, while the bond market will generally impose a premium for early repayment," he notes.
Peter Higgins, partner and global head of long-only strategies at BlueBay Asset Management, observes that the euro high-yield market has seen north of $15bn of issuance since the start of 2015, its strongest start ever.
"If I was the CFO in the corner office of a domestic US B-rated company, I would think that a 75 basis point differential, all in, after swaps and costs, would be worth hunting for," he says. "But there is no doubt that the investor base has to be sympathetic to your story to get the deal away. Starting with a global brand or a global reach – even if you don't have investment-grade status – gives a US company a good chance. But smaller players who are unknown will definitely struggle."
Oil price impact on high-yield
1

2

3

Currently reading

High Yield: US issuers, euro spreads