---
Equities and bonds rallied in 2019, despite volatility
US consumption is still driving global growth despite weak manufacturing performance
Sterling may strengthen further as no-deal Brexit fears recede
Although packed with geopolitical surprises 2019 turned out to be better than expected for financial assets. Equities and bonds rallied together reversing last year's 'unusual occurrence' of both performing badly.
While global growth is picking up, forecasts for 2020 indicate growth rather than a boom. After the US Federal Reserve's pivot away from tightening, central banks are in dovish mode, a reassuring stance for risk markets, hungry for liquidity.
Although economic activity may not be booming, what has really helped is that two of the biggest risks facing markets – trade tensions and a no-deal Brexit – have both receded.
As well as the lessening of those risks, the resilience of US consumption, while the rest of the world shuddered to a virtual stop, cannot be overstated. Worries that weakness in the US manufacturing sector would spill into consumption have so far not materialised.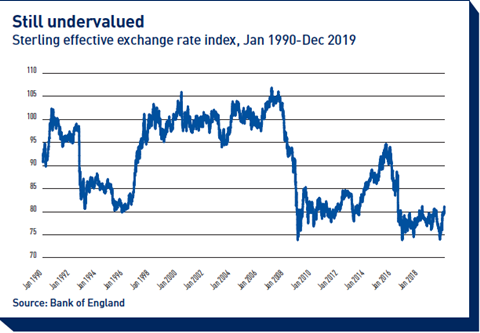 China's economic outlook remains critical for the emerging market universe, especially those geared towards China's fixed investment cycle. There is little sign of Chinese growth picking up. Perhaps it will be enough for emerging markets for China's growth to be steady, even on a downward trajectory.
Climate change and the role of central banks
As climate change becomes ever more pressing, so it plays an important feature for investors, as well as policy makers. According to the World Bank, climate impacts could push an additional 100m people into poverty by 2030, and by 2050 as many as 143m will have become climate migrants, escaping flood, drought and famine risks.
With increasing flood risk, important questions are also raised about who has to pay for damages – insurers or owners or perhaps the state – and these questions could have valuation implications for mortgage-backed securities and real estate investment trusts. Droughts and fires in Australia, for example, are worsening, and pose a huge threat to agriculture.
As well as investing directly in assets which may be already affected by climate change, investors are choosing to add other factors into their decision-making process. Incorporating environmental, social and governance (ESG) is becoming more mainstream, and will continue to grow. Also, the green bond market is now joined by sustainability and social bonds, and all three are growing rapidly.
While there is the awareness to better embrace these trends, ESG scoring can be inconsistent, and tough to verify. Investing in green bonds also presents difficulties, with an absence of shared rules on eligible projects as well as a lack of clear and imposable reporting requirements.
The ECB's new president, Christine Lagarde, has signalled her wish for central banks to be more involved in fighting climate change, and that the ECB should address sustainability through monetary policy. This is contentious, as it could lead the ECB beyond managing financial stability and into restructuring economies.
As Bank of England governor Mark Carney stated to the International Monetary Fund: "Finance will complement – and potentially amplify – but never substitute for climate policy action." Carney also points out that policymakers have to move quickly to ensure that the financial system can adapt to avoid a 'climate Minsky moment'.
Geopolitics will, presumably, loom large throughout 2020. Perhaps the US election will garner most media attention, from the primaries in the first quarter to the election in the final quarter. The Brexit saga looks set to continue its oft-fraught passage, and with civil unrest in Latin America, through Europe, the Middle East and Hong Kong, 2020 may well be littered with political dangers, some less predictable than others.
Bonds
Whereas European (and UK) rates held steady as US rates rose through 2018, last year's bond bull market saw a high degree of correlation, led by the US after the Fed's pivot to loosening monetary policy.
Central banks look set to stay in easing mode. The continued absence of any inflationary pressures means low to negative rates seem set to be around for another year.
The global search for yield will still dominate the bond markets. As well as pulling down peripheral spreads, forecasters argue that it might also flatten the Bund curve, as investors increase durations for a pick up in yield.
Although US recession fears may have ebbed, the remarkable financial asset rallies of 2019, taking so many assets to high valuations, leave forecasts for risk markets looking rather murky.
Credit's strong returns were led by investment grade in both the US and Europe, the latter further supported by the European Central Bank's (ECB) Corporate Sector Purchase Programme. In US high yield, where returns were in low double digits, BB outperformed CCC, something rarely seen when high yield credit has returned 5% or more.
Neither accommodating central banks nor rallying rates appear likely to propel the way to strong credit returns in 2020. Given that valuations are expensive, and with the economic outlook not the strongest driver, now may not be the time to trade down in quality. Strong stock-picking skills may instead be needed rather morethis new year.
Currencies
With the UK's general election over, and improved parliamentary prospects for a Brexit deal rather than the feared crash-out, might 2020 be a year when the sterling fan club grows?
Over the latter half of 2019, the currency appreciated against the dollar and the euro, though it remains undervalued (see figure), with its Bank of England trade-weighted index still significantly below its pre-Brexit referendum levels, and 20% lower than before the onset of the global financial crisis.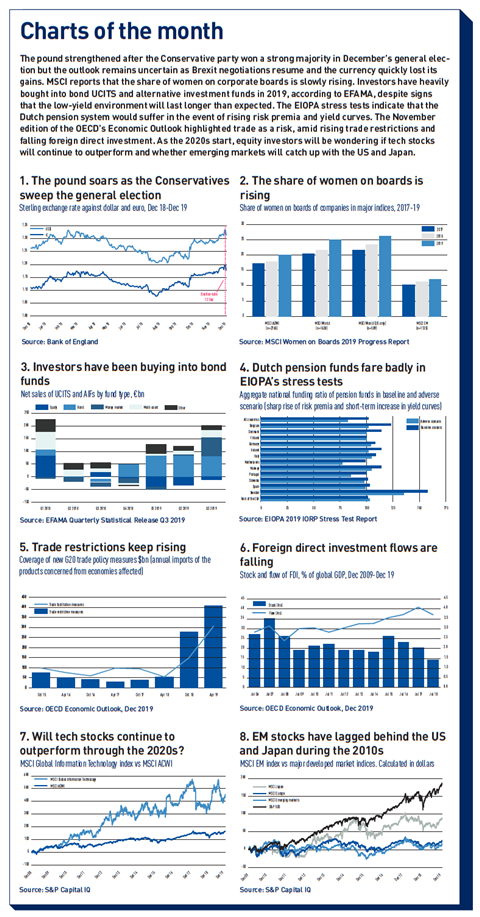 Sterling is under-owned by the medium to long-term investing community, a bearish stance justified by the mountain of uncertainties facing the UK since the 2016 Brexit referendum. With the prospect of fiscal easing, a (slightly) clearer path to a Brexit deal, and a dearth of more appealing G10 foreign exchange destinations, it is possible that sterling might enjoy a prolonged period in the limelight.
The dollar may be overvalued, but with the US still spearheading economic growth and with a significant interest-rate advantage, its appeal is likely to remain.
After emerging market economic growth slumped through 2019, it is not yet apparent whether conditions have bottomed, although at least emerging market manufacturing Purchasing Managers' Index (PMI) measures may be stabilising. Central banks have been easing and some may continue to do so in to 2020. If risk sentiment is kept at bay, and volatilities stay low, then substantial global capital might just well migrate to the emerging world.