As lockdowns ease, particularly in the northern hemisphere and the Antipodes, economic recoveries get underway. Given the exceptional circumstances, economic forecasts and predictions may show little consensus, or potentially be wrong, the puzzling US payroll announcements for May being a vivid example.
Growing disquiet at the gap between financial market and real economy performance
EU Recovery Fund signals potential steps towards fiscal risk-sharing across the region
Emerging markets vulnerable to economic shocks, as fiscal balances deteriorate
Central bank meetings and economic projections may change with all the difficulties of gathering data when so many businesses are closed. The focus could shift to examining the reaction of participants rather than analysing economic data behind their projections.
There is growing disquiet at the gulf between financial markets and the real economy. US Federal Reserve chairman Jerome Powell's June monetary statement was dovish, mentioning yield curve control. He dismissed worries of asset bubbles, but did not address concerns of the growing gap between the two.
Risk markets have embraced these early signs that the recovery could be sharply v-shaped, and that, if the US payroll data turns out to be a reliable pointer, there is the possibility that the US's recession will have been the deepest since the 1940s, but the shortest since the mid-1800s.
The gusto with which financial markets clutched the positive data, even if it may be 'miscalculated', reflects considerable relief that the American economy is revealing its ability to bounce back.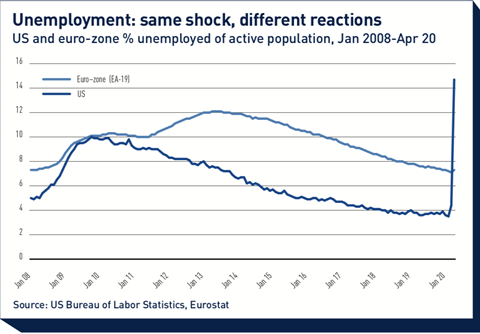 On the other hand, the relentless optimism makes many cautious, arguing that too rosy a future is depicted. They question whether it is too early to assume that growth can already be a self-sustaining upward trajectory. That is in addition to fears of a second wave of infections. They also point to the government support packages that have temporarily boosted economies.
The protests spreading from the US into Europe reflect a disgruntled population riven by inequalities. They are becoming such a loud voice for change that perhaps policymakers will not be able to ignore the growing gaps. Instead they may have to take steps to close them.
Black gold loses its lustre under COVID-19 spotlight
The OPEC-plus group of oil producers agreed to extend the production cuts that had been announced earlier in the year. The news helped – in combination with the markets' embrace of the reflation theme – maintain the price of oil at about $40 per barrel.
The demand shock experienced by the oil industry and oil exporters, as a result of COVID-19 – was unprecedented. Faced with plummeting demand, tankers laden with crude that had no buyers, the oil price went into free fall and reached historical lows. That the oil market was quite so vulnerable to the turmoil has led some observers to wonder whether OPEC-plus may be facing an existential crisis.
Video conferencing, working from home, cycling, crowd avoidance and a diminished rush hour, more online shopping are all changes which impact energy demand and may outlast lockdowns and any second wave of virus infections.
Moody's ratings agency has recently lowered its oil price forecasts, pointing to changes in oil-intensive travel and transport that look to be long-lasting and which will 'lower oil demand for several years to come".
Rystad Energy's recent report*, states: "New technologies and adapted behaviour will have a structural and lasting impact on energy consumption… we may never return to where we once were."
There are, however, some oil price bulls who point to a chronic lack of investment in the exploration and production industry over the past decade that leaves the industry vulnerable to a lack of supply despite diminished demand. Oil majors across the world have been enacting draconian cost-cutting on their operating costs
Writing on Oilprice.com, energy market observer Cyril Widdershoven stated that even in the worst-case scenario, of say a 10-15m barrel per day post-pandemic decline in demand, more production will still need to come online. Despite the headline-grabbing shale shutdown, he states: "Most oil will continue to come from the larger fields."
About 100 of the largest fields (out of a global total of 70,000) account for about half of the global production of crude oil. Most of these fields are relatively old. Few new giant fields are likely to be discovered, and so the onus will be on the existing, but diminishing, reserves of the big 100. Widdershoven concludes: "Investment reductions, lay-offs and total shut-ins are major roadblocks for a speedy supply recovery worldwide."
* https://bit.ly/2XPD6k1
The pandemic has sown such confusion, triggering huge economic and psychological shocks to human life. It has forced change including social distancing and the avoidance of public transport. The economic impact will be closely watched, although government deficits are set to stay large for some time. Other fundamental questions, such as whether the changes will prove to be inflationary or deflationary, are hard to answer.
Bonds and currencies
The EU Recovery Fund, much vaunted by European officialdom and with little overt dissent from the 'frugal four' northern European nations, has had a mixed response from investors. Enthusiasts argue that the plan will be a gamechanger with its potential to move towards fiscal risk sharing. They say it represents a genuine step towards defusing the EU's existential crisis, diminishing fears for the euro.
The euro has been buoyant, indeed in June the Swiss National Bank for the first time since January did not have to intervene to contain upward pressure on the Swiss franc. But, many advise caution with regards to the potential of the recovery fund. They point out the fund will be moderate in size, and is open to delay and dilution by EU bureaucracy, and dissenting member states.
Certainly the euro's appreciation is not solely related to a rejuvenated EU. The global reflation trade buoying risk markets everywhere is being heralded as the start of a new trend that reverses dollar overvaluation.
Quantifying the degree of depreciation is hard given the unprecedented uncertainties in today's world. Not least is the US political landscape in the aftermath of the Black Lives Matter protests. These could influence the election chances of the Democrat presidential challenger, former vice president Joe Biden.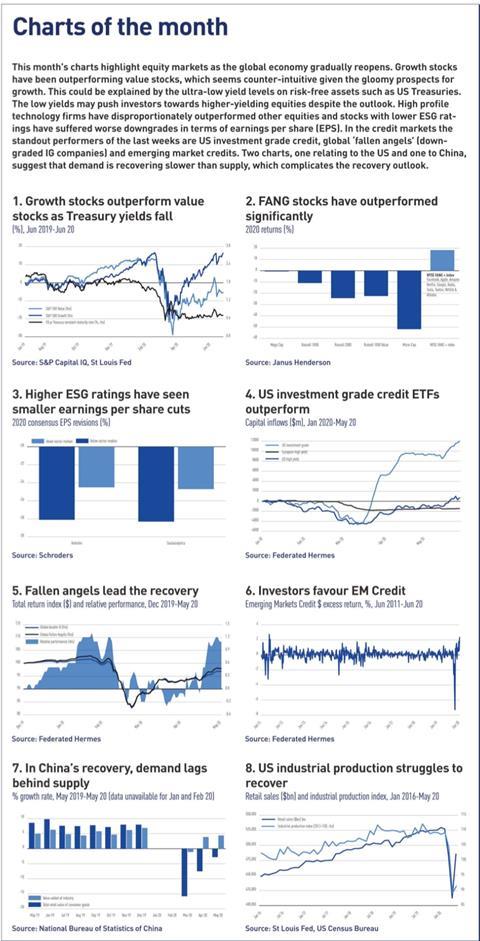 However, most emerging market rates have lowered, in some cases dramatically, in response to COVID-19 and thus offer a less attractive backdrop for previously lucrative carry trades. This could lessen some of the selling pressures on the dollar.
Government fiscal balances have deteriorated globally leaving some vulnerable emerging markets precariously exposed to bad news. Given heightened global uncertainties, the dollar will surely retain its safe haven status for now.
Accompanying the reflation trade, yield curves have been steepening as expected in response to economic growth returning and the expectation of rising inflation. But how high can long rates really be pushed, with central banks opening all the monetary taps they can. Until inflation re-enters the system, the global search for yield will still be keeping a cap on long-term rates, and on the steepness of yield curves.