The global reflation trade, and with it the outlook for further dollar weakness, seems paused as speculation on the outcome of the imminent US presidential election diverts attention and has many retreating to neutral positions.
Momentum behind US growth falters over election and COVID-19 stimuli uncertainty
If inflation returns, commodity-linked currencies should strengthen
Sterling remains undervalued as Brexit nears crescendo
Concerning COVID-19, the deteriorating outlook across Europe and the UK is worrying. As the northern hemisphere heads towards winter and the 'traditional' flu season there is a nervousness that nationwide lockdowns might have to be imposed again. Although various vaccine trials are under way, as is often the case with such vitally important medicinal research, news is not always positive.
US economic strength has been a theme for the past couple of quarters with job numbers and the goods sector repeatedly surprising to the upside. Growth momentum seems to be decreasing, and hopes for progress on further stimulus plans, to replace near-to-expiry existing programmes, have been stymied by politics.
While the outcome of the US election is front of mind, various elections in Europe also matter, especially if euroscepticism is seen to be rising. That would probably damage the prospects for the Recovery Fund and maybe re-introduce the tail risk of EU dissolution.
So much surely depends on 'other' good news, especially in relation to COVID-19. This includes a potential vaccine and whether policymakers can finally convince the populace that they have it in their means to control the spread of infection, without having to strangle economic growth.
There may be disappointments regarding government fiscal stimuli, whether in the US in its election year, or in connection with the EU's much-vaunted Recovery Fund. However, bullish commentators argue that the huge pool of excess personal savings is likely to be used.
China boosts copper demand in face of pandemic
The S&P Goldman Sachs Commodity Index has recovered much of the precipitous decline it suffered early in the year, although it is still down about 20% in the year-to-date. Within that index, there has been a big divergence of price performances, with oil (a significant component) particularly weak, and still far below its level at the start of the year.
In contrast, copper has had a meteoric rise since the lows it tested during 2020's first quarter (see figure). Back then, economic activity was screeching to a halt as COVID-19 spread and lockdowns ensued. That copper has done well, in the midst of a global recession, is unusual as weak economic activity would lower overall demand pressures on copper and not send the price higher.
Economic activity in post-lockdown China has been key to the revival in the copper price as imports have surged over spring and summer. Although lower than previously, GDP growth in China is forecast to remain positive in 2020, in stark contrast to the negative posts expected from the rest of the world.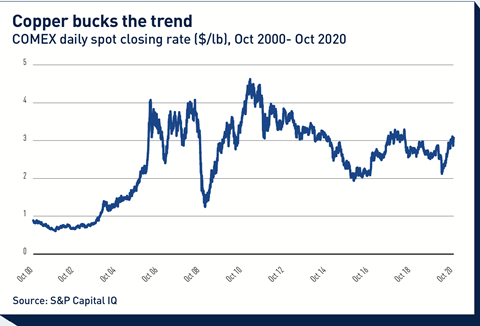 Added to demand pressures are disruptions in supply as mining across South America, and many other areas, has been severely affected by lockdowns. With reduced mining, and maintenance works falling behind as new projects stagnate, the supply of copper could be negatively impacted for many more months.
While overall copper demand is still linked to the health of the global economy, and not just China, some longer-term trends remain supportive. Although copper's anti-microbial properties have sparked interest, it is the world's move away from fossil fuels and towards electrification that could see the biggest tailwind for copper, even as supply recovers.
Personal saving rates in the US and Europe have indeed risen significantly this year. Perhaps not surprising given the altered economic landscape and the constraints to spending during lockdowns. However, it may be connected to the heightened sense of anxiety we may all still be feeling, and have done for many months.
Bonds
Yield-curve steepening is a common trend to accompany economic recovery. The significant steepening in the US Treasury slope, between 2s30s (two-year and 30-year yields) seen this year has benefited from the markets anticipating a longer period of no hikes from the Federal Reserve. That was aided by the Fed's adjusted policy towards average inflation targeting.
Curve shapes in Europe have not moved as much, perhaps because the European Central Bank (ECB) remains committed to asset purchases. Another factor is the knowledge that the government bond supply calendar is not heavy in the final quarter of this year, nor for 2021. Core inflation reaching another record low is another factor in Europe serving to dampen upward pressure on longer yields being felt elsewhere.
Credit markets, like other risk assets, did well after the shocks of the first quarter, despite enormous supply over the year. However, they have wobbled recently as growth worries and political concerns have increased.
That said domestic and external demand has improved across the world even into the third quarter. This has supported recovery trades. But the enthusiasm looks set to be tempered with rising risks of COVID-19 heading into winter.
The notion that inflation will return in the future, even within Europe, has gained traction across financial markets. If such fears prove well founded then credit might be well placed to perform strongly. Historically credit markets, like equities, tend to outperform in the early stages of the business cycle, when inflation is still low but starting to rise.
Currencies
With the search for a vaccine of vital importance to future outlooks, fourth quarter trading is dominated by the US election. Although caution is being exercised by most, a win for Joe Biden coupled with hints of good vaccine news appears to be a consensus view, suggesting once more a dollar negative environment, with the global reflation trade back on track.
Prefaced by an important caveat – that COVID-19 loosens its grip on the world, either through mitigation efforts or a viable vaccine – if inflation does make a meaningful return, with commodity prices rising accordingly, history points to outperformance of commodity currencies. If oil, and base metals like copper do well (see panel) then that should be good for Norwegian krone, Canadian dollar and the Russian ruble while Chile, home to the world's largest copper mines, could also see its peso benefit.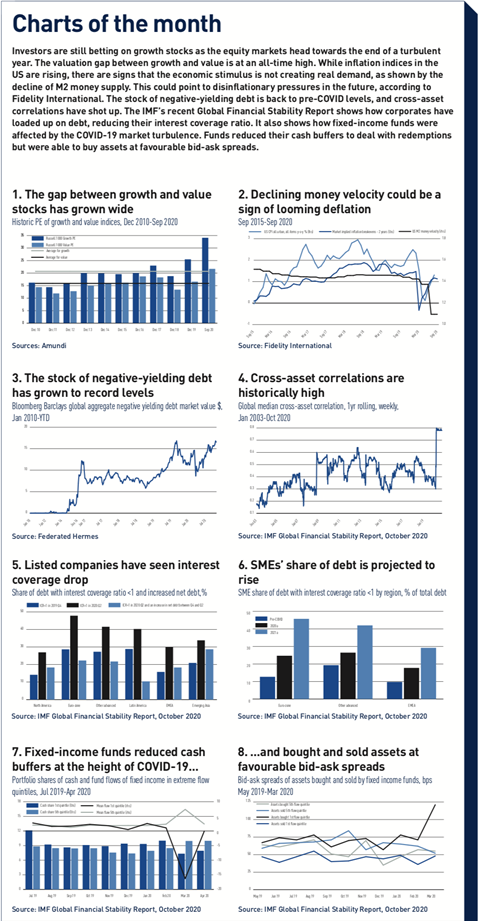 The UK's journey to economic stability and recovery from COVID-19 still has a large obstacle to get past as we near year end – Brexit. Negotiations are, of course, ongoing, with sporadic 'leaks' of good news/bad news boosting/damaging market sentiment. Although most observers expect a deal to be hammered out, there seems little consensus on how ambitious that may be.
For sterling, although still undervalued using its real effective exchange rate, the outlook will be dominated in the near term by news from the talks in the short term. It is possible sterling's undervaluation could provide some sort of a floor for the downside potential in the event of the no-deal tail risk. There are also some rather more bullish forecasters who suggest that the historically cheap currency should be enough to attract buyers.