From preliminary data, Europe's second-quarter growth appears to have been surprisingly strong, seemingly led by services, such as strong retail sales. Supply-side problems are still constraining the goods sector generally, hitting the German economy especially, with industrial production falling more than one percentage point over the second quarter.
Healthy euro-zone growth forecasts in the second quarter
Conundrum of low rates with positive growth surprises and modest inflation forecasts
Beijing's market intervention could damage China-sensitive Asian currencies
Rising global end-demand seems to have been met by large inventory drawdowns, which have been unusually sharp over the first and second quarters, something not often seen outside recessionary times. However, with such low inventories globally, there could be a significant restocking-led boost to production, especially if bottlenecks fade, and Purchasing Managers' Index (PMI) figures, which have moved quite far below their peaks, could be on the rise once more.
Fears surrounding the rapid spread of the COVID-19 delta variant in the UK have generally subsided over the summer. Rapidly falling infection rates have helped to boost confidence. In addition, vaccines have apparently maintained their high efficacy rates. Hospitalisations and deaths are far lower than in previous case surges.
US vaccination rates are certainly not equally distributed across the country. There is significant resistance to vaccine uptake in several states. However, fears that the US might not enjoy a vaccine-led recovery have been allayed. US economic growth has evidently picked up again, creating jobs too, as shown in the strong non-farm payroll figures posted in early August.
As ever, asset pricing is not just influenced by economics. There is always a risk that geopolitics – whether in our calendars, like elections, or not – could have some sort of influence, benign or otherwise. In September, Germany will have its federal elections, which decide who will replace Chancellor Angela Merkel. Japan's general election in October may see the ousting of prime minister, Yoshihide Suga, given the drubbing his ruling Liberal Democratic Party (LDP) got in July's Tokyo elections.
China's regulatory changes, though aimed at the online learning sector, spooked markets initially. They came at a time when fears that policy stimuli (fiscal and monetary) and economic growth might both be on the wane. This was coupled with news of a worrying rise in delta variant numbers across many provinces. However, fears have abated that all this would spark some sort of tidal wave of capital outflows. For now, most Asian foreign exchange markets remain reasonably sanguine.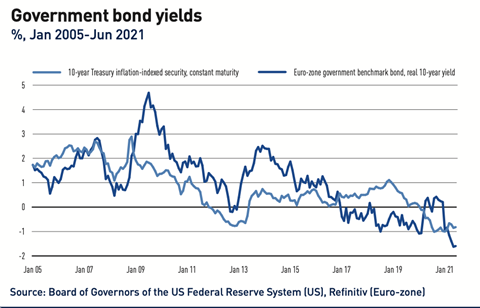 Bonds
There may be several well-thought- out and grounded reasons why the Federal Reserve's (imminent) move to tapering will not trigger the mayhem of 2013's tantrum. However, there is unease in the bond market, with many wondering if markets really are sufficiently prepared.
That the taper is coming is not in dispute. Nor is the fact that it may be slightly sooner than previously envisaged, given the resilience of the US economy, which is bouncing back after disappointing second-quarter GDP data. What is unsettling is just how flat yield curves generally are, as are implied Fed fund forwards.
Since March, an earlier start to the hiking cycle has been priced in. However, five-year Fed fund forwards, implied by swap curves, have fallen by about 100bps since March, taking them back to where they were in January. The US nominal yield curve also seems to be lower and flatter than it 'should' be, particularly given the now robust growth and inflation expectations.
While breakeven inflation rates have risen, nominal rates have actually been trending lower, on both sides of the Atlantic. So US and German 10-year real – that is, inflation-adjusted – interest rates have now tracked down to all-time lows.
It is puzzling trying to reconcile these low interest rate levels and the slow hiking cycle with the positive growth surprises and still-modest inflation forecasts. It raises the question of whether bond markets are really predicting some sort of stagflationary risk in which high inflation is combined with stagnant economic growth.
Although many central banks are sticking with their dovish stances, there have already been rate hikes aplenty across Latin America as well as central and eastern Europe (CEE). CEE rates have been hiked in response to rising inflationary pressures. Forecasters have been pencilling in more upward rate moves across the region. Asia's central banks generally remain dovish, as COVID cases rise sharply in South Korea, for example, and strict lockdowns are re-imposed.
Mohamed El-Erian, previously CIO at PIMCO, argues that the Fed's ultra-loose monetary policy is increasingly putting recovery at risk. He says it is also fuelling unsettling financial volatility and potentially inflation. In his view, the Fed is wrong to be maintaining what are essentially still emergency measures.
El-Erian suggests that the massive intervention by the central bank has significantly distorted the price-signalling mechanisms, leading to inefficient resource allocations. It has also encouraged excessive risk-taking in financial markets, and contributed to an overheated (US) housing market.
El-Erian is not alone in arguing that interest rates are too low. Others have pointed out that, because interest rate markets have not yet reacted to increased forward inflation expectations, there is no guarantee that they will remain immune. The US July consumer price index came out slightly weaker than expected, so it will not be seen as forcing the Fed's hand. But it might not be long before some data release, perhaps another strong jobs number, will be the straw that breaks that proverbial camel's back, unleashing much higher rates.
Currencies
Although many countries have seen welcome falls in infection rates, for others COVID remains a dominant influence on the economic outlook. In South Korea, for example, the recent surge in COVID cases is hitting financial assets, with huge equity outflows recorded and the dollar-Korean won rate setting new highs for the year. The government has come under fierce criticism for its handling of the vaccine roll-out. Given the current low vaccination uptake – less than 16% of the population is fully vaccinated – this is making international investors particularly nervous.
"El-Erian suggests that the massive intervention by the central bank has significantly distorted the price-signalling mechanisms, leading to inefficient resource allocations"
July's strong US payrolls figure, coupled with rather more hawkish-sounding talk from a couple of Fed governors, who referenced the importance of strong employment data, should be sending bullish signals for the dollar. Yet it seems that cautious markets, with broadly neutral positioning in these lighter-trading summer months, are seeking more 'evidence' before chasing the currency out of its range trading limits.
Having only one historical precedent – the taper tantrum of 2013 – is not hugely enlightening for divining a path forward. That is particularly true when there are so many dissimilarities between the two episodes. Nearing this year's tapering time, the dollar has been stabilising after a period of significant weakening. In 2013 the dollar index had already been trending stronger for almost a year before taper time. It continued to strengthen for about a year subsequently.
As summer ends, and trading activity increases, foreign exchange positioning is reasonably balanced. China's recent significant regulatory changes, aimed at the online learning sector, did surprise the market. While not directly triggering panicked outflows, this could damage sentiment longer term, not just for the renminbi, but also for some of the more China-sensitive Asian currencies. These include the Singapore and Taiwan dollars and the Korean won.
How sustainable is the disconnect between where US rates are, given the ongoing sturdiness of economic growth and of solid inflation data? Over the past few months, markets have apparently given more credence to growth worries than to positive growth news. If central bank policy differences widen across developed markets, with a decidedly more hawkish Fed contrasting with the more dovish European Central Bank and Bank of Japan, some meaningful dollar strength could be imminent.