The Federal Reserve has not hinted at its future plans to unwind quantitative easing (QE). However, markets are looking to 2013's 'taper tantrum' for an explanation of the dramatic US-led bond market sell-offs.
Real inflation rates are rising sharply
Money markets aggressively repricing the timing of rate hikes to early 2023
Central banks need a clear and concise communication policy
To be fair, since mid-February it is real – as opposed to nominal or breakeven inflation – rates which have risen sharply, as they did in 2013, when the sell-off was sparked by a communication error by the chair of the Fed.
Risk markets do not cope well when real rates rise abruptly, apparently unaccompanied by signs of better economic data but triggered by something else. This can include central bank policy input as happened with the 'misinterpreted' US central bank before the taper tantrum.
But the Fed has made it clear that tapering is not imminent. It has set high hurdles – needing to see "substantial further progress" towards its inflation and employment goals – for any policy tightening to be necessary. However, Fed Chair Jay Powell disappointed markets by not pushing back against the higher rates, apparently helping nudge US yields higher.
Money markets have dramatically re-priced both the timing and the pace of the first rate hikes. It has brought them forward to early 2023 and ratcheted up the number of hikes in the subsequent year from just one, to between two and three. These changes have put the market's predicted rate path significantly above the Fed's December dot plot.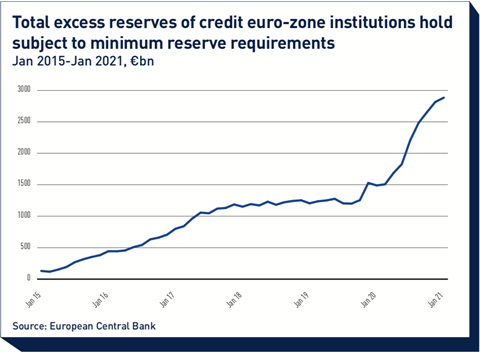 Disorderly rate moves in the US bond market will (nearly) always affect other asset markets. This time all the main bond markets have seen yields rise significantly, despite different growth and inflation trajectories to those predicted for the buoyant US economy.
Hopefully composure will be regained. Fears that the US economy may prove so strong that the Fed really is behind the curve will hopefully be abated. Otherwise it will be forced to raise interest rates sooner than the dot plots imply. That would represent a dramatic policy tightening and mean potentially soaring inflation.
Central banks start turning a shade of green
The ECB's delayed Strategy Review should be concluded during the latter half of 2021. Several challenges prompted the review including the low level of interest rates. These make it harder for central banks to loosen monetary policy during slow growth and low inflation.
The ECB's inflation target is under review, as is the relationship between inflation and the real economy, the set of monetary policy tools available and policy communication strategy. The study is also reviewing structural changes such as demographics, globalisation, digitalisation and climate change.
UK Chancellor Rishi Sunak's Budget speech announced that the Bank of England's (BoE) mandate was to be revised to ensure that all goals are "environmentally sustainable and consistent with the transition to a net zero economy".
The BoE has stated that it will review the "climate impact of the issuers of the bonds we hold". It will seek to adjust its Corporate Bond Purchase Scheme within its fourth-quarter round of reinvestment.
ECB president Christine Lagarde is clear that central banks have a role in tackling climate change, arguing that it poses a risk to price and financial stability. She faces opposition. Bundesbank president Jens Weidmann has argued that monetary policy should remain neutral and apolitical. In his view, governments should address climate issues.
It is not clear that Lagarde will persuade her colleagues, and permit the ECB to adopt an approach similar to BoE, and 'adjust' its corporate bond portfolio. Should the activists 'win', there will be implications for European corporate bond markets as well as sovereign green bonds.
Bonds
With so much monetary and fiscal accommodation buoying financial assets, the prospect of even the slightest of policy changes has magnified significance. It could cause jitters.
During bouts of market chaos, keeping the bigger picture in mind becomes harder. The recent rise in US real/inflation-adjusted yields, as opposed to the rises in breakevens seen previously, probably reflects an improving economic growth picture. However, US monetary policy remains accommodative: short real rates are negative and below the economy's neutral real rate ( r*).
As economic activity increases, short-term real yields will eventually rise. How much rates increase in the near term depends on the Fed's credibility with regard to its Flexible Average Inflation Targeting policy. Realised inflation prints, and thus also breakevens, need to be higher before the Fed is going to rein in the economy in any way.
Although Europe's rates have also risen significantly since last December, peripheral spreads have not moved much. It is clear that despite the higher yields, financial stresses remains low within the system as indicated by the Composite Indicator of Systemic Stress (CISS) indicator from the European Central Bank (ECB).
In addition, excess liquidity held within the ECB and Eurosystem is high and still rising. As a result, banks have easy access to any liquidity they require.
Like the Fed, the ECB knows that care will be needed in formulating its policy communications. Various ECB members have already cautiously commented on the rise in yields. They have suggested that appropriate support would be provided if further increases in yields warranted it. The ECB messaging after its March meeting was well received, not because it was dovish but because it was firm. Any tightening of financial conditions was not warranted and should be prevented.
Currencies
G10 foreign exchange markets seem to be taking their cues from interest rates. While the Fed may have disappointed (US) bond market bulls with their hawkish remarks, the fiscal stimulus news and higher yields boosted the US currency. This was pronounced against low yielders like the Swiss franc and the yen.
The contrast of the Fed not pushing back against higher (US) yields, may give the ECB a chance to re-emphasise its dovishness. This may put further downward pressure on the euro in the short to medium term, despite depreciating by over 3% since the start of 2021.
Whether the dollar can maintain its upward trajectory in the longer term is more moot. US exceptionalism has reappeared, boosted by the passing of the huge fiscal package and by the resilience of its labour market, for example. The contrasting pessimism about Europe's beleaguered economic outlook may not last. At some point, the yawning gap between the respective economic outlooks may begin to narrow.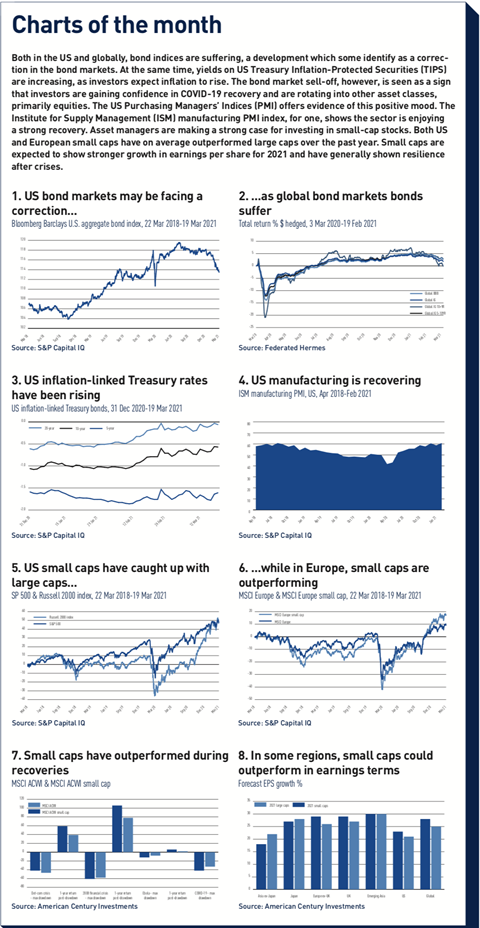 While the US economy is already growing faster then either the UK or continental Europe, there are plenty of signs that global economic data is improving, and that a global reflation is under way. The rising oil price, boosted by disciplined producers and supply problems, provides a further boost to oil exporters.
Emerging market currencies have already declined with investors scaling back some of their overweight positions. However, with US rates potentially rising further, existing vulnerabilities look set to become more exposed. Emerging currencies in particular could come under more pressure.