Most would agree that one data release from an important but volatile dataset – employment figures – should be read with caveats. However, the scale of the forecasting 'miss' for April's US job numbers was hard to dismiss as just noise.
Employment data is not reflecting the changing state of job market as furlough continues
Confidence is growing in the Fed's treatment of potential inflationary risks
Commodity prices have soared to the benefit of emerging markets
Europe's April employment data, for example, suggested a fall in the unemployment rate between February and March taking it to 8.1%. That was only one percentage point below its March 2020 level, which in turn was the lowest since the euro's introduction. However, with between 5% and 6% of the labour force still furloughed, few could argue that today's employment data is signalling that Europe's economies are booming.
US jobs data was disappointing, although this might reflect problems collecting the underlying data itself. For example, average hourly earnings rose by 0.7%. So it seems possible that the problem with employment may be a supply rather than demand issue.
It was notable that female participation in the labour market fell, reflecting that the schools have not fully reopened, and women tend to have more childcare responsibilities. Maybe unemployment benefits have been holding back re-entry to the workplace? Or has COVID-19 altered the workplace so that different skillsets are now in demand?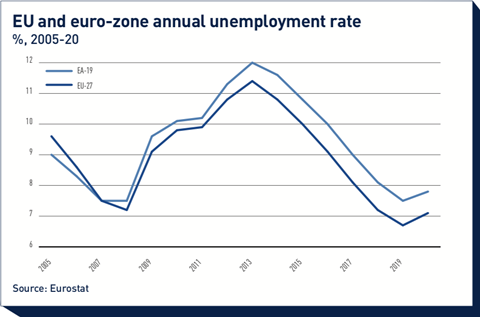 April's US inflation data also confounded forecasters, with numbers coming in higher than consensus. Whilst much might be made about the robust input from volatile used-car prices, it is harder to dismiss the 0.4% month-on-month rise in core prices.
Bonds
Alhough long US (nominal) rates fell precipitously on the shock of the jobs data, they soon traded back up as the narrative of a US economy in robust health regained credence. 10-year breakevens have continued their rise, however, as real yields have stayed low and reached highs not seen since 2013. Interestingly, the yield on five-year Treasury inflation-protected securities (TIPS) has declined significantly more than 10-year TIPS yields, which suggests that markets acknowledge there may be prospects of higher inflation in the short term, but they are backing the Federal Reserve to look through that rise, and that the rise will indeed just be transitory.
Will the United Kingdom stay United?
UK prime minister Boris Johnson was delighted that the Conservatives won the parliamentary by-election held in north-east England in May. Gaining a constituency Labour had held since it was formed in 1964 also cements his parliamentary majority. The election results in Scotland did not provide such cheerful news.
The Scottish National Party (SNP) missed an outright parliamentary majority by one seat. But combined with the Greens (eight seats) there is a majority for an independence referendum.
Most UK asset markets have been sanguine both before and after the election, possibly because there seems to be little premium on UK assets. Going by the example of Brexit itself, which has similarities of a smaller economy wanting to leave its much larger trading partner, it was the prospect of a no-deal exit that caused the volatility in bank shares and other assets. In Spain, it is likely that asset prices reacted negatively to the confrontational dispute between the Catalans and the Spanish government.
Any move by the Scottish Parliament to hold a legally binding referendum without UK government approval could face a challenge in the Supreme Court.
Scotland, a very open economy, is extremely reliant on the rest of the UK for its trade.
Post-Brexit studies appear to show that, although Brexit will likely lower national income both in Scotland and the rest of the UK, the negative hit from independence is likely to be more than twice as large as Scotland's Brexit 'hit'.
Opinion polls in 2021 suggest support for independence may have dipped below 50%. The conflict between first minister Nicola Sturgeon and her predecessor Alex Salmond may have damaged the SNP's reputation. Perhaps the Brexit deal – as opposed to a disruptive no-deal – calmed Scottish antipathy towards Westminster and Brexit. The successful vaccination programme and the imminent opening of the economy might have also mellowed angry moods.
Bond markets, in the face of strengthening economic growth and rises in a range of prices, have been quick to revert to the narrative that there is not yet 'enough' growth. Likewise, the Fed will not have seen sufficient "substantial further progress" and so will not be the catalyst that triggers bond yields to rise. However, if future inflation data comes in stronger again, that faith will be tested.
Although there has been curve steepening over the past six months, European rate curves are still flatter than those in other developed economies, where curves have recovered from more the extreme flattening moves experienced last spring. Given the rise in both 10-year and five-year US inflation breakevens, the US curve remains pretty flat and should probably be significantly steeper.
As Europe emerges from its lockdowns, with vaccination rates catching and even overtaking those in the US, perhaps economic growth on this side of the Atlantic will start to surprise to the upside. If the EU recovery fund can deliver on some of its promises, significant tail risks will be removed. Also meaningful fiscal stimuli should ensure plenty of European longer dated bond issuance. Inflation could be coming to Europe too.
Markets appear to be placing considerable faith in the Fed's ability to judge whether (US) inflation will or will not prove to be transitory, and that bond yields can stay this low as long as central banks are at least maintaining their huge balance sheets. Although the big three – the Fed, European Central Bank and Bank of Japan – have not yet made any official moves to begin tapering, other central banks have started, with both the Bank of Canada and Bank of England reducing their pace of asset purchases.
Currencies
The euro has appreciated over 10% against the dollar since the lows it reached back in April 2020. Yet US exceptionalism, combined with strong economic growth and ambitious fiscal stimulus announcements from the Biden administration, has been top of mind for investors. That has made it tricky to bet against the dollar, but with Europe poised to re-open, there are growing calls from the euro bulls.
Investor caution has been understandable as Europe entered another round of lockdowns early this year. However, with excellent progress in vaccinations, policymakers will be keen to get those mobility restrictions lifted in time for summer. Surveys, such as purchasing managers' indices, already indicate the fastest pace of expansion in the manufacturing sector since records began in 1997. The services sector, still more affected by lockdowns, is once again creeping above the 50 level.
Soaring commodity prices have been hard to ignore, although commodity foreign exchange have not kept up with the price moves in commodities, perhaps because of the prospect of higher US yields, or poor carry compared with historical levels, as well as idiosyncratic risks.
The Antipodean currencies both have dovish central banks, with both likely to announce further rate cuts. In emerging markets, geopolitics may be playing a bigger role for some, notably Brazil, Chile and Russia, keeping risks elevated despite their rapidly improving commodity terms of trade.