Anders Schelde (pictured), the new CIO of MP Pension, tells Rachel Fixsen how the pension fund has progressed since striking out on its own in 2015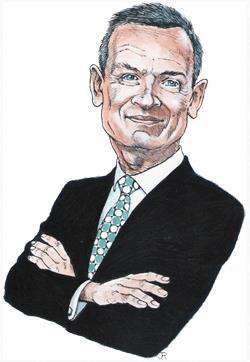 The calm of the ground-floor meeting room at MP Pension's office, on the edge of the well-to-do Copenhagen suburb of Gentofte, does not suggest a pension fund in the throes of upheaval. Yet the labour-market fund, which covers academics in Denmark, has been dealing with more than one significant change in the last couple of years.
In December 2015, there was a breakdown in the seven-year-old administration and investment co-operation between MP Pension – the pension fund for public-sector university and upper secondary school employees with MAs, MScs and PhDs – the Architects' Pension Fund (AP), and the Pension Fund for Agricultural Academics and Veterinary Surgeons (PJD).
The Unipension alliance collapsed over disagreements about the future strategy. While the two smaller pension funds turned to Sampension to take on their investment management, MP Pension opted to go it alone.
Then last April, MP Pension's CIO Niels Erik Petersen left. A successor was soon found, however, in the shape of Nordea Life & Pension Denmark's CIO, Anders Schelde.
Schelde, who has nearly three decades of experience in the investment sector, with the last eight years in charge of investing Nordea Life & Pension's Danish assets, walked into the Gentofte office at the beginning of November last year. "Of course I've been looking at the strategy, making a few tweaks here and there. There were always going to be things that I would do a little differently, so we have been considering some changes, but nothing major. I am very privileged to take over a very strong and focused strategy, and one that runs on a robust operational platform," he says.
The portfolio is broadly 50/50 equities and bonds. The majority of the assets are in listed assets, but the portfolio also contains private equity, infrastructure, real estate, and some private credit and structured credit, which is grouped together with listed bonds. Altogether the fund has 13% of total assets in illiquid investments, Schelde reveals that this is about to change. "I'm quite sure it will go up," he says. "As long-term investors we can carry more illiquidity risk and it makes sense to do so."
His department will set about increasing the proportion of illiquid assets during the course of this year, he says, but stresses it is not something MP Pension is in a great hurry to do.
"When it comes to investing in illiquid assets, you have to be more certain when you go in, because you can't easily change things later if you regret it. So it takes a bit more time to source and it's a more complicated investment," says Schelde.
As it shifts towards illiquid assets, MP Pension will focus on two areas – the first being private credit. "That could make sense in this low-yield environment, as yields go up, although of course it depends very much on the way they go up. There are scenarios in which yields rise and it's not a good thing, but the way I think they will go up this time is in a gradual manner over many years."
The other area of investment focus will be climate-related. "The board decided to put 5% of the portfolio into climate-related investments, and a large part of that will probably be in unlisted assets such as infrastructure and renewable energy investments – but not limited to these. It is a very crowded space for some those assets, so our ambition is to invest much more broadly than that," Schelde says.
"For us, these investments are going to be very important. This is 5% of the whole portfolio, so we want to do it properly. The intention is to do something to help the transition to a greener economy, make our energy system more efficient, and mitigate some of the negative impacts of global warming wherever we can find a strong business case that links to these issues.
"I generally think that makes sense from a return perspective, because I'm sure there will be a lot of new, exciting opportunities out there. But at the same time this is not a decision either to de-risk or up-risk the portfolio. The ambition is to see if we can deliver this with the same risk and diversification as we have in the existing portfolio."
Realistically, Schelde believes it is unlikely that the 5% addition of climate-related investments would not alter the pension fund's risk level somewhat, simply because of the special nature of this type of asset. Despite this, the approximate 50/50 equity-bond risk profile will stay in tact, he insists.
Schelde says MP Pension's stance on environmental, social and governance (ESG) issues sets it apart from its peers. "We have always had very high ambitions regarding ESG, and one way this shows up is the fact that we have three people working on this full time and another part time. I don't think anyone has a team that large relative to their size."
Last year, the pension fund voted at almost 1,700 AGMs, voting against recommendations of boards in more than 40% of cases. "In particular at oil and gas companies, we were voting for the green agenda. We spend a lot of time on ESG and have very solid processes in place to support it, but we're not sure our members appreciate what we do because it's very much behind the scenes."
The fund is aiming for more transparency in its work in this area. "We want to show not only our daily work, but specific topics where we take a stance. We think that's the way to demonstrate what we are doing," Schelde adds.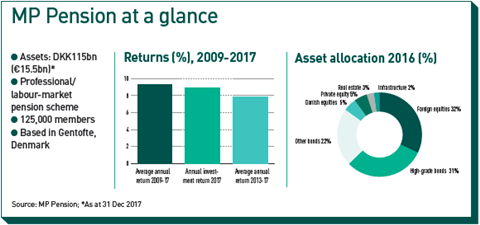 With half of its portfolio invested in fixed income, is MP Pension likely to turn to green bonds for some of the new climate-related investments it is seeking?
"I have to be honest and say I have been quite sceptical about green bonds," Schelde admits. "There is clearly a negative premium on some issues simply because they are green, but I have also come to realise that is too simplistic a view. I have been educated by my new fixed-income colleagues and do now see that there are clearly some opportunities to be found. But you have to look carefully for them."
Apart from the issue of the demand-led premium on green bonds, Schelde is also doubtful about the environmental difference they claim to be making. "Are they just part of the funding strategy for the issuing company, just a way to lower their average financial costs? And would they have done this project anyway?" he asks.
"I would like to see a more direct link, and a real impact stemming from the fact that bonds are backing projects that wouldn't otherwise have gone ahead. If you can find that along with a decent return, then it starts to really make sense."
Even if these criteria were met, funding all of the fund's newly mandated climate investments through green bonds would still be a tall order. "We would need to buy DKK1.3bn (€175m) of green bonds, so whether we could find enough investments for that, I'm not sure. In any case, we want to diversify even within the asset class, so we may also be looking at adding some private credit transactions linked to our infrastructure investments, for instance."
Schelde came to MP Pension from a company where he was in charge of investing DKK165bn – significantly more than MP Pension's DKK115bn. But he makes the point that, in pension terms, the portfolio is still very large as it is entirely focused on a single unconstrained investment strategy. This contrasts with many other Danish pension funds where the size of portfolio is inflated by liability-matching assets or where the assets are spread out over many different pension products.
"If you look at ATP, Denmark's largest pension fund, you could say that they are around seven times bigger than us. But if you only look at the portfolio of risk assets that compares to our portfolio, they are only about three times our size. And you can make the same argument about my former workplace and several other funds," Schelde says.
"We have always had very high ambitions regarding ESG, and one way this shows up is the fact that we have three people working on this full-time and another part-time. I don't think anyone has a team that large relative to their size"
At MP Pension, there are no liability-matching investments as, nine years ago, it decided to move from pension guarantees to a 0% guarantee contingent on the interest-rate level in markets. "That has been a huge benefit, because it means you can hold on to the investment strategy in all weather and still have a decent level of risk in the portfolio."
Measured by Denmark's standardised N1 pension fund return, MP Pension has the second-highest return in the Danish market, out a sample of 23 peers, since 2009. "There are two reasons for that. First of all, the move by the fund's supervisory and management board to change the guarantees was very clever. And second, the investment team has made very good decisions ever since," says Schelde.
"It is also a sign that we have the critical mass to run our business in a way that we deem to be right," he says. This involves both in-house and external management, with 40% of the portfolio managed internally. Most of the internal management is for domestic fixed income and equities, but the fund also has an in-house investment process for global equities and portfolios of co-investments and domestic properties.
Schelde sees little reason to change the strategic asset allocation in response to the current state of financial markets. While some might consider equities to be overbought following the long bull run internationally, the CIO believes it is too early to reduce the strategic risk level. "I'm quite sympathetic to that view, but I think it's a little too early to make that kind of move."
Key indicators are strong internationally and economic robustness is broad-based, Schelde believes. "There is no region in the world that is not performing well, and usually that doesn't happen at this point in the cycle. It is something that tends to happen when things bounce back from a setback. Now we're almost 10 years after the recession and suddenly we have strong growth across the board."
The market reaction to the rosy economy could turn into a problem. "You have to bear in mind that when everybody is running [in] the same direction and bidding up assets, it could go too far, and then it becomes like a stretched rubber band – it's not nice when it snaps and hurts your fingers. We have seen some of that here in the early days of February, but my gut feeling tells me that we will steer through the current volatility," he says. Whatever trouble may be ahead for the markets, Schelde is happy with the career move he made last year – not least, he says, because MP Pension's investment operation proved to be in such good shape when he took up the reins.
"I've been very fortunate to come in here and stand on what has already been built," he says, but admits it is hard to know what is really going on behind the scenes when you start at a new company.
"So it has been really great to find things in good order. And now we can focus on what's important – investing money."