---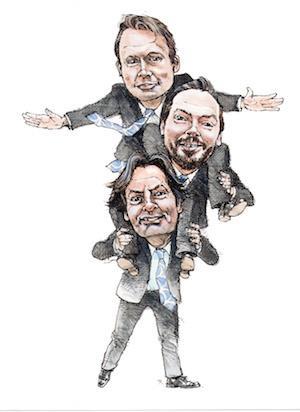 Rachel Fixsen asked Thomas Otbo (middle), Jesper Nørgaard (bottom) and Erik Callert (top) about the changes being made to the Nordics' biggest commercial life insurer
Big changes are afoot at Nordea Life & Pensions (NLP). Not only is it strengthening its group investment operation, but its investment strategy is undergoing an overhaul that will involve revamping the equity strategy and hedge fund investments.
"We will be investing more resources in risk premia, SAA [strategic asset allocation], TAA [tactical asset allocation] and direct illiquid investments, and we think it's going to be an interesting journey" says Thomas Otbo, head of liability-driven investments and head of advisory and trading for NLP in Copenhagen.
Jesper Nørgaard, group CIO, who has been with NLP since 2004 and part of the group's executive management since 2009, explains the strategic business plan behind the investment strategy overhaul: "The company is strengthening the bank assurance offering in close collaboration with the new investment solutions and advisory centre, which is responsible for saving product distribution in the Nordea group," he says.
Otbo, who was previously at Goldman Sachs, was one of two recent high-profile executive hires by NLP, along with Erik Callert from Sweden's SPP. Both report to Nørgaard.
"With the management team on the investment side now in place, we are well positioned to excute on many of our new focus areas," says Nørgaard.
Otbo found his experience at Goldman Sachs valuable but was eventually drawn back to the Nordea group where he had previously worked for many years.
"Goldman Sachs is a fantastic place with a lot of very smart and highly motivated people. You learn things you can use in every setting," he says. "But I felt that the buy-side community, particularly in the Nordic region, is an increasingly interesting place to be. Banks are taking less risk, partly because of regulation, and more risk-taking happens on the on the buy-side.
"And as part of Nordea, I felt that NLP was uniquely positioned in the industry with its strong internal relationship with Nordea Investment Management and Nordea Markets giving it a competitive edge," Otbo says.
Part of the Nordea banking group, NLP has €67bn in assets under management (AUM), and consists of four legal entities – its Norwegian, Danish, Swedish and Finnish operations.
Approximately 40% of assets lie in traditional guaranteed products and 60% in the firm's new business based on market-rate non-guaranteed products. With the former type of product, NLP guarantees a nominal return, while the latter type of product carries a return based on the return of the underlying assets.
"What this means in investment terms is that on the old book, we have more low-risk assets and we have designed and implemented efficient asset-liability hedging strategies to make sure we can meet the guarantees we have promised our clients. On the new products, we can invest more freely and in general have higher equity allocations," Otbo says.
NLP is centralising its investment operations at group level, and has 10 investment professionals working at the centralised base plus staff with specialised client and product knowledge based in each of the four local offices.
"The reason we have been bringing investments under one roof is so that we are in a position to benefit from economies of scale and at the same time can build up our expertise," Otbo says.
"We have already made a big change from the situation we had a few years ago, when we had only a few investment staff at group level, and it has been an ongoing transformation in which we are slowly but surely building up the group investment department to benefit all four local businesses.
"We have now speeded up the pace of this transformation though, and from the beginning of this year we moved two people from local investments in Denmark into the group advisory and trading department. Our head of equities, Anders Stensbøl Christiansen, and head of alternatives, Søren Tang Kristensen, were both promoted to assume a Nordic responsibility and we now have a full team, meaning we have strong coverage of all the major asset classes," he says.
Otbo says NLP's philosophy is to invest where it says it has a particular edge and to harvest risk premia in places where the risk-adjusted reward is most compelling.
"The three things that are new in our strategy will be risk premia, TAA, and more direct illiquid investments, and this is where we are differentiating ourselves from our competition," he says.
"My view of the world is that most traditional asset classes are currently quite expensive, partly driven by global central bank policies, so it is quite a difficult market to be an investor in traditional asset classes. Political risk is also influencing the market, and this is another factor that makes it hard to be a fundamental investor in traditional asset classes."
NLP's investment strategy change is aimed at finding a better way of achieving the same end. "Hedge funds are quite expensive, and we can replicate a proportion of what they do by implementing certain risk-premia strategies in a systematic fashion," he says, giving the example of a long-short strategy, which is simply buying cheap stocks and selling expensive ones.
"This particular strategy is based on a very simple value measure and we can implement it in a very simple way. We don't have to pay hedge fund managers to do it.
"Some of these systematic strategies are also replacing traditional long-only investing, for example, equity managers. Historically, we have had active long-only managers but to some extent their returns can be replicated more cheaply by systematic long-only smart beta strategies. This will be an important element of our revamped equity strategy," Otbo says.
Another traditional hedge fund-type of strategy NLP is implementing in-house is short volatility on equities, he says. "We think of this as an equity replacement trade given its high correlation to the equity market. However, it will diversify the equity portfolio and, constructed in an intelligent way, it also has the potential to outperform traditional equities.
Otbo says this illustrates a key differnce between traditional, fundamental investing and more specialised trading techniques.
"In the old world you gave money to an equity manager, but what we're doing is selling options on an ongoing basis. This is equity replacement, which gives you a return stream that is somewhat similar to the market, but we believe it provides a better distribution which can potentially outperform the market," he says.
When the investment strategy has been finalised, Otbo says NLP will most likely use a combination of in-house execution and external partners to implement its new-style investment approach.
Meanwhile, the team is working on determining its overall asset allocation. "Here we're doing a lot of research," he says. "We're thinking of changing our current strategic asset allocation across both guaranteed and market-rate portfolios into a more diversified overall portfolio, for example replacing some equities with a long-short cross asset risk premium portfolio that is uncorrelated to equities and hence creating a more diversified product."
Nørgaard says tactical trading is another element on top of asset allocation. "We have been trading derivatives for many years," he says. "Originally, derivatives were introduced as part of our liability hedging efforts in the guaranteed book. However, we are increasingly using this expertise in our market-rate products as well.
"We are an active investor, and starting this year we've implemented a new framework that we run in-house where we implement our directional views across all guaranteed and market return portfolios in the four Nordic countries," Nørgaard says.
On top of the overall strategic asset allocation, he says, NLP will make changes to reflect its views across equities, rates, credit and currencies. "It is based on a combination of an in-house developed quantitative model, involving a momentum and value signal across all asset classes, on top of the quantitative model we express our discretionary views to form the final trading signal.
The three things that are new in our strategy will be risk premia, TAA, and more direct illiquid investments

Thomas Otbo
"All trades are implemented through derivatives," Nørgaard says, adding that only the most liquid instruments such as CDS, futures and forwards are used for execution.
Apart from implementing directional views as part of the TAA process, NLP is also active in more non-directional relative-value trades, which are also expressed in a derivatives overlay.
"Examples of relative-value views could be regional, for example, between US and Europe, or curve trades," Otbo says. "As with our TAA framework, this is done across asset classes and many of these trades are implemented using options, where we have a particularly strong expertise and track record.
"With this overlay, we have gained an additional alpha generation element," he says.
Direct illiquid investments also play an important role in the new strategy for NLP, but unlike some other investors in these assets, Nørgaard says the organisation is keeping staffing costs in check in this area. "We've seen peers in this area hiring a lot of people for direct illiquid investments, such as private equity and other alternatives. However, what we have done is to have fewer people in the business model but focus on strategic partnerships with those who can help us by find the right investment deals," he says.
"We have done a lot of investments in the private debt market over the last few years, mostly via managers in both Europe and US, which has been both within leveraged loans as well as more direct lending exposures," Nørgaard says.
"The private debt market is one area where there are still pockets where we really do feel we're getting compensated given the illiquidity premium and the bank disintermediation that continues to play out in Europe," he says.
Callert, who joined NLP at the beginning of this year, notes that there are many changes taking place in the bank assurance area regarding the offering of single funds. "We are seeing rising demand for a broad fund universe from our 'do-it-yourself' clients, so we're now strengthening the bank assurance offering by introducing more than 500 primarily Nordic funds," says Callert, who is responsible for the investment sourcing process within NLP, which includes the fund platform, as well as for co-ordinating the investment content of NLP's bank assurance products.
In collaboration with the new investment solutions and advisory centre, NLP is also offering clients selected funds from a handful of global strategic partners. "Some clients don't have the ability or time to make their own choices and they prefer our discretionary bank assurance offering, which consists of both advised balanced portfolios and delegated life cycle products, where we benefit from NLP's expertise within derivatives and illiquid investments," he says.
Nordea has embarked this year on a drive to integrate sustainability into all its group functions and business areas, and the wealth management business area is no exception. "When choosing an external investment manager, ESG plays an important role," Callert says.