The rapid growth and popularity of new of multi-factor smart beta strategies are fuelling the creation of a plethora of indices, as Lynn Strongin Dodds reports
At a glance
• The appetite for smart beta benchmarks has increased strongly over the past five years.
• Many providers have laid down solid foundations for this shift.
• Index providers are under pressure to create into indices that match specific investor or asset manager goals.
• The field is becoming saturated with providers dicing their offerings into ever-finer slices.
In the past five years, index providers have barely been able to keep pace with the appetite for smart beta benchmarks. The competition and complexity is only set to intensify as institutional and retail investors move beyond the relatively simple single benchmarks to the more complicated multi-factor indices.
Research from data provider Morningstar shows that in 2015 alone, 53 new multi-factor exchange traded funds (ETFs) came to the market from stalwarts iShares, State Street Global Advisors, Invesco PowerShares, JPMorgan, and Deutsche Asset & Wealth Management, among others. Newcomers John Hancock, Goldman Sachs and O'Shares also joined the fray with their own multi-factor smart beta offerings.
In a separate study, FTSE Russell's 2015 smart beta global survey of 214 asset owners found that 47% were evaluating multi-factor combinations last year. However, actual allocations are still trailing behind better-known single-factor products, with only 29% of respondents currently using multi-factor products, compared with 51% for value strategies and 54% for low-volatility types.
But the direction is set to change. The research shows there is greater interest in multi-factor strategies among those yet to dip their toe into the smart beta world compared with existing investors.
Many providers have already seen the shift and laid down solid foundations. "The overall market did not focus on single factors for very long and now multi-factor investing is currently seen as the most popular new approach," says Gareth Parker, senior director for index research at FTSE Russell which is both steeped in history in this field and has $140bn (€128bn) assets under management across all smart beta products.
Russell launched its 1000 growth and 1000 value indices in the 1980s, while FTSE is the backbone of Research Affiliates Fundamental index with the creation of a series of indices in 2005 based on a company's sales, cash flow, book value and dividends.
One of the biggest changes, according to Parker who worked on the RAFI/FTSE partnership, is how the indices are being employed and the sophistication of the market. In the past, institutions used the early indices such as value and growth to compare and contrast their active asset managers but, over time, they have been harnessed as benchmarks for passively managed smart beta investments such as exchange-traded funds.
Index providers have also been forced to raise their game and turn the streams of academic research on the subject into indices that match specific investor or asset manager goals. "Initially we were not seen as a particularly sophisticated sector of the industry because we did not have enough PhDs and coders," says Parker. "Today, FTSE Russell is a research powerhouse and we are able to design the indices in-house. Our role, though, has not changed, in that we do not have an opinion but need to ensure that clients who come to us with ideas have the tools and an investable universe to implement them."
Constructing these multi-factor strategies has its own set of challenges as there is limited live performance data because they are a relatively new phenomenon.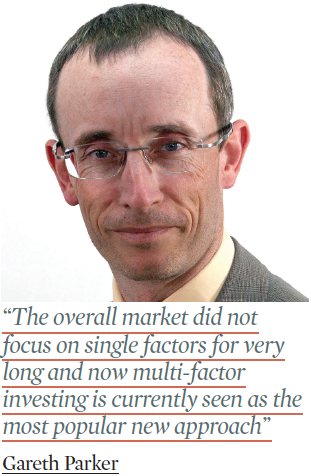 The trick for providers is to walk a fine line between developing robust products that will withstand all market conditions and avoiding making them too complex so that they alienate potential investors. Single-factor smart beta products are simpler and aim to beat their chosen benchmark by emphasising stocks that exhibit certain well-defined characteristics, such as low volatility or sustained momentum in a directional market.
FTSE Russell, which also has a well-established stable of single-stock smart beta indices, has been rolling out several new multi-factor index families in conjunction with new ETF families. These include the Focused Factor family, licensed by SSGA for ETFs which are based on the US large-cap Russell 1000 index and designed to provide exposure to US large-cap stocks exhibiting low volatility, yield or momentum characteristics respectively. Diversification is added through additional tilts toward quality, value and size factors.
The firm also expanded its Global Factor Index Series for O'Shares to launch its first products, a line of ETFs that target both quality and high-dividend yields, as well as continuing to hone the Global Diversified Factor Index Series, developed in partnership with JP Morgan Asset Management to serve as underlyings for its own US ETF product suite in 2014. It is based on the characteristics of attractive relative valuation, positive price momentum, low volatility and small-market capitalisation, and seeks to equally diversify risk across global regions and industries.
MSCI, which also has a long line of single products – value, momentum, size, quality, high dividend and low volatility – has been active in the multi-factor field since 2010. There are two ways to combine factors, according to Raman Aylur Subramanian, executive director on the index research team responsible for the creation of new methodologies: the top-down approach, which takes different single-factor indexes and combines them into one; and the bottom-up approach blends factors not at the index but at single-security level.
Last year, the firm put the latter approach into practice with its MSCI Diversified Multi-Factor (DMF) index family which amalgamates four of the classic factors – value, momentum, size, and quality – with a weighting strategy designed to keep volatility in line with the underlying benchmarks.
In essence, the firm assigns each security in the underlying benchmark – for example, the MSCI World – a score for value, quality, size and momentum, averages out the four scores as one and then calibrates the weighting of that security in the index accordingly. Stocks with the highest score are assigned the highest weightings, adjusted to ensure overall volatility matches the underlying benchmark.
Subramanian notes that multi-factor indices achieved the same historical premium over the long run as the individual factors but with milder fluctuations. Back-testing shows that the World DMF index generated 9.8%, significantly higher than the MSCI World index's 4.9% during the 16-year study period between 1998 to 2014.
Whether single or multi-factor, "one of the most important drivers is to harvest risk premia as close as possible and to manage the unintended consequences", Subramanian says. "This is why factor investing should go hand-in-hand with risk analytics, in terms of what bets should be taken, managed and monitored at the portfolio level."
Research is also at the heart of EDHEC-Risk Institute which, three years ago, caused a stir with its paper, Smart Beta 2.0, that criticised the first generation of products for presenting systematic and specific risks that were neither documented nor explicitly controlled by their promoters.
To rectify the problem, EDHEC-Risk recommended that the choice of systematic risk factors for smart beta benchmarks should be explicit, and made by the investor, not the index promoter, according to Felix Goltz, director of research at ERI Scientific Beta and one of the authors of the paper.
EDHEC-Risk, which has about $8bn (€7.4bn) tracking its strategies, launched the Scientific Beta Developed Multi-Beta Multi-Strategy index which blends four stock-selection factors (volatility, valuation, size and momentum) with five smart beta diversification strategies. These comprise an equal, as well as an efficient volatility weighting, plus a diversified multi-strategy approach that allocates stock weighting based on the average of these five separate methodologies.
"We do not offer investment advice but our job is to create the benchmarks that offer less-expensive and efficient exposure to a particular investment theme. We let other people implement them, although we can create bespoke indices through our custom business to clients' specific needs"
Vinit Srivastava
"These indices improve diversification because they give you two sides of the equation," says Goltz. "If you use any of these weighting schemes, you will have a well-diversified portfolio, but using the multi-strategy is superior because each individual scheme relies on different assumptions and none of them is perfect."
Although multi-factor investing has attracted most of the attention over the past year, investors are still attached to the well-travelled single-factor route and there has been a spate of offerings. Two years ago, for example, S&P Dow Jones Indices, which has $135bn managed against its smart beta strategies, launched a new family of high-quality indices that measure return on equity, accruals and financial leverage ratios. The range, which covers the main global regions and countries, is constructed from the components of an existing S&P benchmark index, with constituents weighted according to their quality score and float-adjusted market capitalisation.
According to Vinit Srivastava, senior director of strategy indices, quality has been academically proven to generate excess returns over the traditional benchmarks and is also distinct from other known factors like size, value, momentum, and low volatility. In addition, investors wanted to have a separate measurement of a company's ability to generate sustainable profits, have a strong balance sheet and competitive position."
More recently, late last year the S&P 500 Low Volatility Target Beta index came to the market. It was designed to track the S&P 500 Low Volatility index but maintain the same level of market risk as the S&P 500. The new index which has been licensed to Natixis for product development uses a beta-driven weighting scheme and includes a leverage factor that changes, based on realised historical beta. The objective is to bring the beta of the index close to that of the S&P 500.
Srivastava says there will be a continual evolution in both products and construction design. "One of the biggest changes that I have seen is that people are getting to the meat of the problem, and the issues that we had encountered, such as liquidity and rebalancing, are being addressed.
"Our role remains the same, though, in that we do not offer investment advice but our job is to create the benchmarks that offer less-expensive and efficient exposure to a particular investment theme. We let other people implement them, although we can create bespoke indices through our custom business to clients' specific needs," Srivastava adds.
Nasdaq is also hoping to make a bigger push into the single-factor arena with its purchase of Dorsey Wright last year. Founded in 1987, Dorsey Wright specialises in relative-strength indices, which recalibrate, based on market performance across various asset classes and geographies. The acquisition builds on Nasdaq's Dividend Achievers index as well as its home-grown AlphaDex.
The former set of indices was started in 1979, when Moody's Investor Service created a proprietary model designed to identify financially strong dividend-paying companies. It was acquired by Mergent in 1998 and then bought by NASDAQ OMX in 2012. The basic premise has remained the same. It comprises US companies that have consecutive years of dividend increases across different industries.
"Together, these acquisitions ensure that we have a competitive offering and have covered almost every corner of smart beta, whether it is factors, fundamentals or weighting," says Dave Gedeon the head of research and development at Nasdaq Indexes. "The aim is to be a one-stop solution provider for a range of customers, whether they be small or large institutions or retail investors."
Looking ahead, the field is expected to become more saturated as providers continue to dice strategies into ever-finer slices or expand their offerings to multi-factor indices. Innovation, of course, will be key, but different routes will be taken. Some firms such as EDHEC-Institute can tap into a wealth of in-house expertise. Others are expected to follow the acquisition route like Nasdaq or further consolidation such as FTSE and Russell which merged in 2014.