In the last decade, emerging markets went into overdrive on the back of a super-cycle fuelled by double-digit growth in China and a credit explosion in the US.
In this decade, they have switched into a lower gear. Their asset values have taken big hits – most recently from a massive flight of foreign capital when the US Federal Reserve first decided to taper its monthly bond purchases last year.
The scale and speed of the resulting sell-offs in the past 12 months have raised doubts about whether emerging market assets have lost their star appeal, according to the 2014 Principal Global Investors/CREATE-Research Survey, Not All Emerging Markets Are Created Equal*.
In the last decade, their annual economic growth ranged between 4% and 13%. In this decade that has nearly halved. The slowdown is more structural than cyclical. The decade-long boom created its own problems. China has grown too rich to sustain its stellar growth in low-cost manufacturing. Its annual wage inflation of 14% over the past 10 years has blunted its competitive edge.
For example, the unused capacity in China's steel industry now exceeds the total capacity in Japan and South Korea put together. Furthermore, China's rebalancing towards consumption requires investment to grow slowly, disposable income to rise quickly, a very different structure of production and market-driven interest rates.
The 2013 demonstration in Brazil showed that the gap between the haves and have-nots has reached boiling point. Inertia in Indonesia failed to create buffers against the collapse in the global demand for its commodities, and inflationary expectations remain high among the so-called Fragile Five – Brazil, India, Indonesia, South Africa and Turkey. Many emerging markets remain vulnerable to foreign capital outflows as, over the previous 10 years, inflows had grown by 400% compared with the nominal GDP growth of 200%.
While many emerging economies have accumulated large foreign reserves, they did not use the good years to reform their restrictive labour markets, opaque governance practices, protectionist trade policies and interventionist industrial strategies. Now, they are switching from quantity to quality in their economic growth – this is easier said than done.
There will be pain before gain. Hence, reforms now being implemented are gradual, piecemeal and incremental. Their pace will vary between nations (figure 1).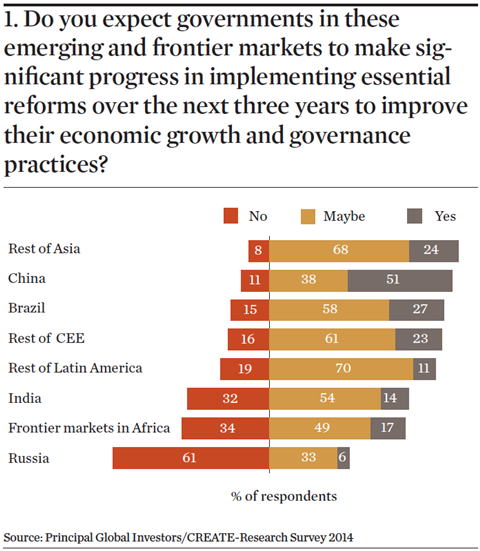 Just over half of our survey respondents are positive about China (51%), followed by Brazil (27%); and negative about Russia (61%) followed by frontier markets (34%) and India (32%). If anything, Argentina and Russia are seen as backsliding on reforms. Their associated risks can no longer be priced in at today's low market valuations.
Overall, emerging economies with double deficits – trade and budget – will progress more slowly than those with sound finances. Those caught in the so-called 'middle-income trap' will advance more slowly than those migrating towards the top end of the value chain. Those that are backsliding on reforms are more likely to move at a slower pace than those seeking a fresh competitive edge to make a new leap.
Entrenched vested interests remain more powerful in some countries than others, as they develop the institutional strength and economic openness consistent with rising economic maturity.
Hence, emerging economies will no longer be a distinct regional group that can be described by acronyms such as emerging markets and BRICs (Brazil, Russia, India and China). They will have as much that divides them as unites them, with just as many value opportunities as value traps. The gap between the best and the worst performers will widen.
This does not detract from the fact that financial markets in the East and the West will converge. First, the correlation between the emerging market and developed market equity indices has been rising over the past decade and will continue to do so. It now stands at around 0.9. In tandem, the ratio of average annualised volatility in emerging and developed markets has nearly halved from 1.9 to 1.1 over the past 30 years.
Second, the share of emerging economies in the MSCI All-Country World index will rise, especially with the likely inclusion of the mainland Chinese stocks (A-shares) over the next five years. The renminbi will emerge as one of the top three trade currencies, as China opens up its capital account and adopts a free float.
Third, the frontier markets in Africa, Asia and Latin America will continue to have favourable population and growth dynamics. Their market infrastructure has been extensively modernised, too. But political risks and governance risks will loom large over the next three years.
Rewriting the story
Investors have not lost faith in emerging market story; some are questioning it, and some are recognising that maturity follows rapid growth. Either way, the scales have tilted somewhat (figure 2, left-hand panel).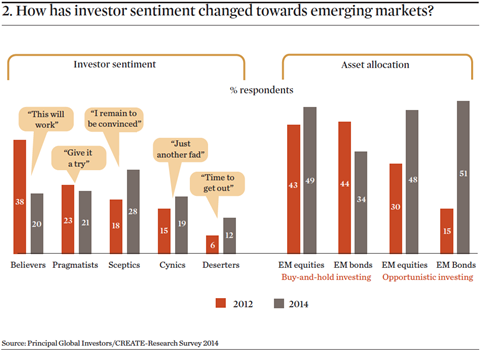 The percentage of 'believers' has declined from 38% to 20% and 'pragmatists' from 23% to 21%. At the other side of the scale, the percentage of 'sceptics' has risen from 18% to 28%, that of 'cynics' from 15% to 19% and that of 'deserters' from 6% to 12%. This tilt is duly reflected in their asset allocation (figure 2, right-hand panel).
On the buy-and-hold side of the scale, the percentage favouring equities has risen from 43% to 49%, since they currently trade at 1.4 times their book value compared with 1.9 times for developed market equities. At the same time, those favouring bonds have fallen from 44% to 34%.
On the opportunistic side, the sentiment shift has been most pronounced. The number of investors viewing emerging market assets as an opportunistic play has shot up – from 30% to 48% for equities; and from 15% to 51% for bonds.
This shift in sentiment marks yet another defining moment in the learning curve of the investor. In the 1990s, they underestimated the inherent risks when sovereign lending gained traction. This was duly confirmed when the Tequila Crisis in Mexico in 1994 sparked a contagion in Asian economies such as Malaysia and Thailand, culminating in sovereign defaults by Argentina and Russia.
In the 2000s, in contrast, investors overestimated the inherent strengths of emerging markets, when their growth dynamics and population dividends hogged media headlines worldwide.
Having waxed and waned between these extremes, 'wait and see' appears to be the dominant investor sentiment and opportunism the dominant choice – for now.
Gravitational pull heading West
In the meantime, the scenarios of asset prices for emerging and developed markets will differ over the next three years.
For emerging markets, the two key drivers of asset prices will be: slower economic growth (cited by 62% of respondents); and the Fed's taper programme (53%). Both are expected
to increase volatility, hit returns and promote opportunism. Their equities have underperformed the aggregate world index by a stunning 25% in 2013, with Brazil and Russia leading the pack.
In contrast, the scenario for developed economies looks rosier. The top three drivers of their asset prices will be: improved growth prospects (74%); the Fed's taper programme (60%); and the easing of the euro crisis (40%).
There will be regional variability though: continuing recovery in the US and weak recoveries in Europe and Japan, with an overall sub-par growth across the West. Macro risks will continue to overshadow its financial markets. More than 70% of pension plans will have de-risking strategies in place to cope with more randomness and extreme events.
Yet overall investor sentiment remains positive. It rests on the belief that the economic recovery and rising stock markets are now anchored in improving economic fundamentals, not just sugar highs from the Fed.
Over the next three years, the US recovery will not only drive the global economy, but it will also deliver the best returns among all the key regions, according to 47% of respondents.
Significantly, though, the BRIC rose will lose its bloom, with Russia, India and Brazil at the bottom of the pile. However, emerging market equities will do well on relative valuations. Using the past 10 years as a benchmark, our consensus forecasts envisage a notable reduction looking ahead 10 years.
Illustrative reductions are:
•EM equities, from 14% to 9%;
•EM hard currency bonds, from 9% to 4%;
•EM local currency bonds, from 10% to 4%.
In summary, notwithstanding the progress made since 2008, the global economy will not return to rude health until its root causes are tackled via reforms – both in the East and the West. Principally, they need to reduce debt, strengthen public finances, boost and promote competitiveness and improve governance.
Irrelevant catchy acronyms
In the transitional phase, emerging markets will not move in lock step, as they have done in the past under the toxic influence of cheap money from the West. Over the past 10 years, such inflows have grown by 400% compared with nominal GDP growth of 200%. The double-deficit countries remain especially vulnerable to violent outflows.
Since 2008, the BRIC concept has proved a clever marketing tool but a dumb investment strategy for most investors.
Pockets of under-valuation will prevail in all markets, while they are driven more by politics than economics. Stock picking will be the main source of alpha.
Selectivity is vital due to wide dispersions in valuations of stocks, bonds and convertibles. Investors will be far more discerning about countries and strategies when investing in emerging and frontier markets. The days of blanket acceptance are over.
In conclusion, passive funds have been one of the dominant vehicles used by those investing in emerging market equities and bonds. Lately, the return dispersions within and between these markets have been getting bigger, thereby diluting the overall returns of the chosen indices.
This trend will intensify as variable geometry characterise their growth patterns. Each country will have its own narrative on what it stands for and what it can deliver.
Nick Lyster is CEO of Principal Global Investors (Europe) and Amin Rajan is CEO of CREATE-Research
*Available free form amin.rajan@create-research.co.uk