Brendan Maton finds there is some wariness about how long high-yield debt will continue to offer good returns in the current environment, although investors still find the asset class attractive
At a glance
• High-yield debt has performed strongly since the global financial crisis of 2008-09.
• Some worry that the boom period could be coming to an end.
• There are fears that the performance of the European market depends entirely on macro factors.
• There is a debate about whether or not large funds suffer a drag on performance.
High-yield debt has been one of those asset classes that has boomed since the global financial crisis. From 2009 to the end of last year, the US market has delivered more than 8.5% annualised, with just one negative year.
The data on volatility – going back further than quantitative easing or the global crisis – look even better. Over the past 25 years, the annualised return per unit of risk for US high-yield has been 1.0. For US large-cap equities, the return per unit of risk has been 0.6, while for US small-caps the figure is 0.5.
Returns on both equity classes have been higher. But in the current environment for pension funds, risk-adjusted returns are more desirable.
And the best risk-adjusted returns seem to come from the riskier end of the debt spectrum: in Europe, yields on core countries' government debt are currently negative, investment grade offers only about 1% while high yield is about 3-4%. Further ECB buying will make the last category even more attractive.
So what is not to like about high yield? The obvious worry is whether the good times are coming to an end. "I don't think this year will be as good as 2016," says Mark Cernicky, a product specialist at Principal Global Investors. "But we believe there are still decent returns ahead."
One explanation is that the US is moving from monetary to fiscal stimulus as its main policy lever. That means infrastructure spend and Cernicky points out that plenty of the companies involved in converting the $1trn (€900bn) touted by US President Donald Trump into new roads, bridges and energy supply will be local issuers. But Cernicky also points to stronger earnings, the better health of the energy sector and, most importantly, a rising-rate environment as other benign indicators (historically, high yield and leveraged loans have outperformed in three out of four rising-rate periods).
Michael Kirkpatrick, senior portfolio manager of the Ridgeworth Seix High Yield fund, agrees that it is an attractive time to be in risky assets, but that is faint praise from a manager who relies on dislocations in the market to outperform. After a bumper year in 2016, thanks to shrewd early buys in the struggling energy sector, his team is struggling to find great opportunities. "New issues are not robust," he says. "We're waiting for pockets of volatility. There has been a little around hospitals in expectation of alterations to the Affordable Care Act and we added to positions after Brexit. But the storm is yet to break."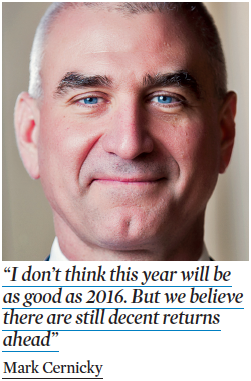 In Europe, there are fears that the market is entirely macro-dependent. One way to moderate this risk is to strip out the financials, which are relative to newcomers to the index but currently dominate it. Kirkpatrick agrees that there is a lot of finance but he says the more pervasive problem is a distinct lack of value.
Cernicky's view is that the European market is not macro-dependent but "bank-loan dependent". He says that the current trend is for every company in need of finance to issue loans because there is no call protection, leaving issuers free to renegotiate monthly – if they have the nerve.
Loans and high-yield debt management often get lumped together, alongside emerging narket debt, securitised debt, collateralised loan obligations (CLOs) and non-agency issuance, in the category of alternative credit. A decade ago Europe's pension funds would have been wary of most of these categories The proof is how few of these asset classes were directly hit by the great financial crisis – the asset classes that did suffer in 2007-09 were in exotic, opaque and mis-priced debt derivatives.
Now, however, alternative credit is in the sights of even smaller pension funds. For the purposes of diversification and convenience, many pension funds obtain exposure to alternative credit via multi-asset credit strategies (MACS). Spreading bets this way is driven by the large investment consultancies: more than 200 MACS searches have been undertaken by these firms on behalf of their clients in the past 24 months.
As ever with acronyms born out of marketing, however, MACS do not possess a universally accepted definition. Some, like Partners Group's, are weighted towards illiquids, albeit structured to appeal to defined contribution clients too. Others, like Western Asset Management's, focus on tail-risk protection and dynamic allocation within more liquid markets.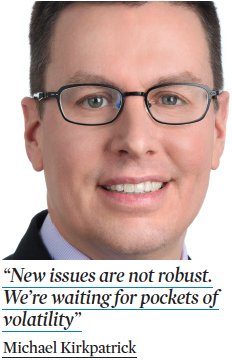 Legal status and consequent regulatory demands also shape choices. Cernicky points out that in countries such as Germany and Italy, many insurers do not want to set aside extra capital under Solvency II to hold riskier alternative credits. In these markets, Principal is marketing its Global Credit Opportunities strategy, which Cernicky describes as an investment grade-like MACS.
All the above offerings propose greater diversity than high yield alone, which is a good thing. according to Ed Britton, leader in alternative credit at Willis Towers Watson (WTW), one of the world's biggest investment consultancies. "High yield, per se, is not a very good asset. It's very volatile and there are more managers chasing returns than in other credit classes," he says.
Born out of experience broadening the exposure of its largest clients to alternative credits, WTW launched its own Alt Credit fund three years ago. Britton estimates the global opportunity set is $40trn, of which $8trn is in high yield. He says pension funds should not restrict themselves to the one category but take advantage of trends such as the reduction in lending by banks.
"High yield, per se, is not a very good asset. It's very volatile and there are more managers chasing returns than in other credit classes"
Ed Britton
This brings us to the question of size. WTW claims it can source managers in the sweet period before weight of assets potentially kills their capability to outperform. Britton says that some managers agree with WTW's assessment of their capacity and others do not. The consultancy has withdrawn $1bn in one of the latter cases rather than "go with the flow".
But is big always bad? As the current debate on fees suggests, much depends on what investors are paying. There are stalwart funds such as Vanguard's HY Corporate Fund, advised by Wellington since its launch in 1978, with over $20bn in assets under management and almost 500 holdings. The total expense ratio is 13bps and against its Composite Benchmark index, 36-month trailing beta is 0.89.
The Vanguard fund is active. The problem for those looking to go one measure further on the spectrum and acquire simply beta exposure is that no proper index-tracking product exists for high yield. The likes of Vanguard are, arguably, as close as it gets. Trading costs are too expensive, especially when it comes to accessing fallen angels, and this is borne out by the tracking error, measureable in tens of basis points, of even the largest high-yield ETFs such as iShares' HYG or State Street's JNK.
On the other hand, many investors are looking to reduce their beta exposure. Many MACS draw on absolute-return techniques to do so, while there is also much interest in standalone strategies, such as the Insight Global Absolute Return fund, to boost returns using collateral within liability-driven portfolios.
Moreover, many MACS, including WTW's and Western's, report returns in absolute terms.
Investing In High-Yield Bonds: Is the party winding down?
1

Currently reading

Investing In High-Yield Bonds: Is the party winding down?

2

3

4

5