A selective approach could work best
KEY POINTS
Volatility has fallen to low levels and spreads have tightened despite concerns over geopolitics.
Valuation levels for US, euro-zone and UK debt are comparable at present.
There are several approaches to managing assets in this area including focusing on sectors and selecting favoured names.
The last year or so has been an interesting and frustrating time for any serious investment-grade bond manager. As Nick Maroutsos, fixed-income manager with Janus Capital notes, bond traders are not accustomed to having to factor politics quite so baldly into their investment decisions. Yet political headlines and the threat of extreme political events have been front and centre to an extraordinary extent.
"You always have to be mindful of what could constitute a credit spread-widening event. We've had the US election surprise, Brexit, the French elections, Syria, North Korea and on and on. The market has definitely been getting frustrated with the level of political risk out there, but that seems to be dying away now," he notes.
In reality, volatility has fallen to low levels and spreads tightened in the opening months of 2017. For Maroutsos, now is a time to be marginally defensive on bonds. The problem, he points out, is that the world is in a waiting period while the market pauses to see if all the good news that got factored in to prices after the Trump election, pans out.
"So far, what we have seen has been a kind of a triumph of style over substance. Not much has been implemented and the markets, both equity and fixed income are now waiting to see if the new administration can actually get significant tax cuts implemented," he comments. If it can, the market will roar away again. If it cannot, there will probably be a significant correction.

In Europe too, political risk in particular, seems to have lessened markedly. As Paul Malloy, head of fixed income and investment strategy at Vanguard, notes: "In the fixed-income space, the first round of the French elections hit some big-name French companies quite hard, followed by a bounce back when the results came in. But, all in all, volatility in Europe is very low. We had the Dutch election, and they went for the status quo. Austria had a flare-up, but that settled down, and the coming UK election is not making waves. The next potentially difficult political event is the Italian elections expected later this year or early next year. But for the time being, political risk is fading".
Malloy points out that while both Europe and the US seem to be in a steady-as-she-goes state, one has to be mindful of the fact the economic cycle in Europe is still behind the US. So far, Europe has only had a few months of above-expectation growth. This has been enough to get the European Central Bank (ECB) starting to lay the groundwork for removing some accommodation, but the action the ECB takes is virtually certain to be gradual.
In this environment, a reasonable strategy for credit is to focus on attractive companies, he argues. "My feeling is that we are range bound for the near term, with 10-year US Treasuries stuck between 220 and 250. Trying to time the rate-rise game is next to impossible, so it really is all about finding names that you like," he says.
It seems that the low volatility, not-much-happening environment for credit is global right now. Dave Torchia, portfolio manager with Stone Harbor Investment Partners, points out that valuation levels for global investment-grade corporates are comparable to their equivalents in the US or to the euro aggregate corporate option adjusted spread. "The US has about a 117 basis point average spread, which is very comparable, and the benchmarks for both the US and global investment-grade credits have tightened about five basis points since the start of the year. So, if you look at the US, euro and sterling credit universes, we are not taking any significant geographic bets, one way or the other," he says.
On a dollar-weighted basis, Stone Harbor has slightly more US-denominated bonds, so could be said to be a little underweight in euro and sterling, but there is nothing much in it, Torchia says. "We are telling our clients that we are expecting about a 20-basis point tightening in spreads by the end of 2017," he says.
The alternative to doing the bond trader's equivalent of stockpicking is to take a bottom-up, sector-driven approach. Jeremy Cunningham, investment specialist at Capital Group, says that his approach now leans heavily towards a bottom-up, defensive approach. "This is now late in the cycle, with equity markets at or near all-time highs. By definition, then, this is less of a top-down, returns-driven market. So you have to get your sector selection right in a late-cycle market if you want to add value to your portfolio," he says.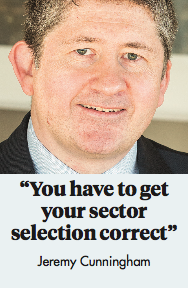 He sees significant potential, for example, in the pharmaceuticals sector at the moment, driven in part by the amount of M&A activity going on in the sector. "Our objective is to outperform our benchmark, so we have a variety of strategies for achieving this," he notes. The Bloomberg Barclays US investment grade corporate benchmark currently sits at about 3.24% so CAP will try to outperform that by about 100 to 150 basis points – a target it has met for the past seven years.
To do this, returns need to be driven from the bottom up. "We have world-class research and we collaborate heavily with our equities teams. If you drive your strategy from the bottom up, then you are not reliant on identifying the overall market movement and direction. You are trying to find idiosyncratic returns, but not in a random, pick-any-name-you-fancy way," he says.
"If you take a decision to buy Total versus BP, you might get a few basis points of additional return on credit, but if you do it across a whole range of issuance in a sector, then it adds up to quite significant outperformance over time," he explains.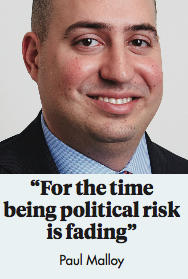 Interestingly, Vanguard's head of fixed income for Europe, Paul Malloy prefers picking names. "While my focus is at the broader asset allocation level, our portfolio managers are finding value in some sector allocations and security selection. We're seeing good cash generation and a good environment for companies to make progress. Spreads are tight, of course, and probably tightening, but that plays well for us since we focus on being low-cost. Fee levels really matter given the current low-yield environment. There are a lot of uncertainties out there in the market, but the one really sure and certain thing is that expenses are a profound drag on credit investment returns. Everything else we do has some possibility of upside, but high costs are a guaranteed drag to the downside."
Credit: Opportunities despite challenges?
1

2

3

4

Currently reading

Investment grade: Focusing on attractive firms

5

6

7