The advent of the new MiFID II regulations is fundamentally changing the way asset managers relate to research
Key points
• The MiFID II directive prohibits asset managers from using research they have not paid for
• The main choices for asset managers are either to absorb the costs themselves or establish a research payment account (RPA) for clients
• RPAs can involve a separate annual research fee or paying for each transaction
• Numerous managers will pay for research out of their own balance sheets
The unbundling requirements under the updated version of the European Union's Markets in Financial Instruments Directive (MiFID II) are intended to shake up investment research. Over the past year, the tremors have been apparent.
Competition is snapping at sell-side firms with new independent platforms entering the market and buy-side groups employing their own analysts. The pricing of research is still moving but is expected to be downward over time.
"For the first time it will be illegal for MiFID II asset managers to get research they have not paid for, which will create an unprecedented information asymmetry between managers based on their ability/willingness and available budget to buy research," says Neil Scarth, principal of Frost Consulting.
The origins of this change can be traced back to the 2001 UK Myners report. This explains why the Financial Conduct Authority (FCA), has forced asset managers to pay financial institutions directly for research instead of combining the cost with commission.
There are two main routes that asset managers can follow. They can either pay for their own research or establish a research payment account (RPA) for clients of which there are two types. The first is the accounting – or Swedish model – which was originally proposed in early drafts of MIFID II guidance and pioneered by Scandinavian fund managers.
According to Michael Mayhew, chairman, founder and director of research at Integrity Research Associates, this involves an asset manager establishing a separate annual research fee. This would be charged directly to the client and used to pay for all research the manager used on the client's behalf. Agreements from each of their clients would need to be obtained to cover the payments on either a monthly or quarterly basis. The appropriate time scale would depend on the frequency with which the firm makes payments to its research providers.
The second method is the transactional approach. In such cases, an asset manager would execute unbundled trades with credit support annex (CSA) brokers, establishing a defined execution rate and research charge, according to Mayhew. Although, there are no figures, market participants point to anecdotal evidence that this is the preferred RPA option. They reason it is the closest approach to existing procedures that meets the rules. It is also easier to understand and firms can leverage CSA infrastructure, which is more cost effective.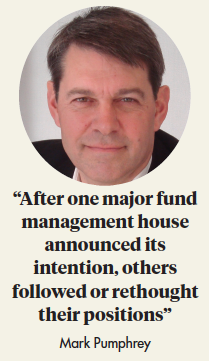 However, both approaches come with conditions, most notably that research budgets cannot be set on the volume or value of transactions and that they need to be assessed at both the aggregate and client level. If research charges exceed the budget, managers will have to make up any shortfalls from their own funds. Moreover, they need to disclose what providers they are using and why, as well as how the research will benefit clients.
Although firms, particularly on the continent, are deciding which direction to take, there has been an increasing number of buy-side firms deciding to pay for research out of their own balance sheets. "A year ago, there was a view that it would be split 50/50 between asset managers paying from their own P&L and those applying a RPA and using client money," says David Pearson, head of post-trade at Fidessa. "However, it now appears that a much larger proportion are going down the P&L route, especially after the JP Morgan Asset Management (JPAM) announcement in the summer."
Following JPAM's decision, many other fund managers followed suit. Some studies show that over 70% of firms intend to cover costs themselves. These include Invesco, Janus Henderson, Schroders and Union Investments, all of which backtracked on earlier decisions to deploy a RPA, to BlackRock, Northern Trust, NN Investment Partners, M&G Investments, Pimco and T Rowe Price.
One reason is the operational and administrative burden of running an RPA, whether it is under the new accounting or reconfigured transactional model. Another factor is peer pressure, according to Mark Pumfrey, head of Liquidnet EMEA. "After one major fund management house announced its intention, others followed or rethought their positions," he says. "Their plan sponsors and investment consultants started to ask questions and this, combined with the complexity as well as the granular detail required in an RPA, accelerated the shift."
For those staying the RPA course, the Investment Association, the Alternative Investment Management Association and the Association for Financial Markets in Europe have published a template called the Research Charge Collection Agreement, which simplifies the research payment arrangement. It covers budgeting, the charges and use of a third party or RPA administrator.
There is also a RPA code of conduct but as Jon Wilson, projects director at Cordium points out, having "a code that set out best practice and the research relationship between the buy- and sell-side seemed like a good idea a few months ago when firms were still deciding whether to use an RPA structure. However, a greater number than expected have chosen to pay from P&L and there is less need for a code. Although, there are some good reference points."
The general view is that the code will be adopted by smaller and medium-sized firms that are unlikely to be able to afford to pay for research themselves. "We wrote the code in consultation with 50 asset managers to help with the interpretations and practicalities of unbundling," says Mike Carrodus, founder and CEO of Substantive Research, the firm that initiated the code. "The aim was to ensure that people are paying the right price and that will depend on consumption patterns."
According to Carrodus, the focus is on three principles: transparency, governance and the alignment of interests. The code not only covers the calculation of a research budgets but also research valuation and sourcing, and fair charging. It is also intended to be used as a resource for pension funds, sovereign wealth funds and retail investors to help them identify best practice in research procurement.
Given the unexpected migration to P&L, Carrodus says Substantive Research is launching a consultation to determine the best practice in this bracket.
Jack Pollina, head of global commission management at ITG points out the operational burden will be onerous because asset managers will have many providers and controls to handle research payments operationally. "Some of which are to perform AML [anti-money laundering] and KYC [know your customer] checks, procure invoices from research providers, as well as VAT structure, reclaims and determine budgets and value of research received," he adds. "Just because one pays from P&L does not remove the need to measure research consumption and valuation along with the administrative process of procuring and paying for research."
However, some market participants, such as Jon Foster, co-founder at Smartkarma, do not accept there is a need for any type of code and that competitive forces will drive firms to become more innovative which will drive price transparency, efficiency and best practice.
Investment Research: A new regime dawns
1

Currently reading

Investment Research: A new regime dawns

2

3

4

5