The dovishness of the developed markets (DM) central banks continues to be one of the main themes for capital markets. Although no easing action was forthcoming at the ECB's May meeting, President Draghi's subsequent comments made quite clear the bank's readiness and intention to ease further, referring both to the strength of the euro and to dissatisfaction with the "projected path of inflation".
For the new Federal Reserve President, Janet Yellen, her reasonably dovish statement was focused on the lethargic housing market, and the weak labour market. Interestingly, the headline unemployment rate is falling towards 6%, although the Fed pointed to low wage growth and the number of 'involuntary' part-time workers, which would indicate a higher degree of slack in the job market than the headline figure suggests.
While the major DM central banks are still very much in accommodative mode, several emerging market (EM) central banks are in the middle of policy tightening cycles. One notable exception is China's PBOC, which appears to be moving closer to loosening its monetary policy. China's April inflation figures, below the 2% level, have prompted many observers to suggest that the PBOC could possibly be sending out easing signals.
Although China will generally have a big influence on capital markets, the importance of events in eastern Ukraine bear little relation to the size of that European economy. However, Russia's size does matter, particularly in its large supply of energy to Europe, which accounts for 30% of the EU's gas imports.
The Russian currency has weakened significantly as global investors have been moving out of the country, with Q1 outflows amounting to around €46bn. At the end of April, the Russian Central Bank hiked one of its rates by 50 basis points, citing inflation worries, which were certainly exacerbated by the weakened rouble.
Although markets in Russia, Ukraine and their close neighbours have all been significantly affected, so far there is little sign of contagion – although this is not to say that anyone is overly sanguine.
Instead, they surely remain on high alert as, unfortunately, the situation has the potential for very dramatic change.
Focus: Inflation and the El Niño effect
Developed market (DM) central banks' monetary policies continue to diverge from those of emerging markets (EMs), as do their respective inflation outlooks.
Falling EM currencies have dramatically increased domestic prices of food and oil, for example, while DM central bankers keep referring uneasily to the weakness of inflation trends.
Agricultural prices have already risen substantially this year and could rise further if various meteorological agencies are correct in their predictions of an El Niño weather pattern developing later this year. While the chances of El Niño occurring this year do appear to be rising, it is not yet possible to predict how dramatic its weather influences might be over the next 12-18 months.
El Niños can cause droughts in some areas and extreme rainfall in others, but not necessarily with the same degree each time. This means it is difficult to forecast with any certainty what the direct effects will be on agriculture and food prices generally.
What El Niño situations have always done, however, is greatly increase the volatility of agriculture prices, as well as the uncertainty in EM inflation trends, which tend to be much more closely dependent on food prices.
The weather effects of El Niño can bring on abnormally hot periods across both the US east and west coasts, and throughout Japan, though most of the weather impacts tend to be concentrated over equatorial areas.
Perhaps northern European footballers should be studying their meteorological charts extra closely as El Niño has, historically, brought significantly higher temperatures across Brazil in June and July.
Bonds
The Fed has maintained its accommodative stance, with little change in the timing of future rate hikes, throughout this year. While nominal rates up to and including five-year maturity are essentially unchanged, the US yield curve has flattened as longer bond yields have declined steadily this year.
The sustained fall in longer yields is a little puzzling, particularly given the ups and downs of the US economic outlook. Some have argued that there has been a structural increase in demand for longer-dated debt from US pension funds, and very possibly some central banks, which have overwhelmed expected bond market reactions to data.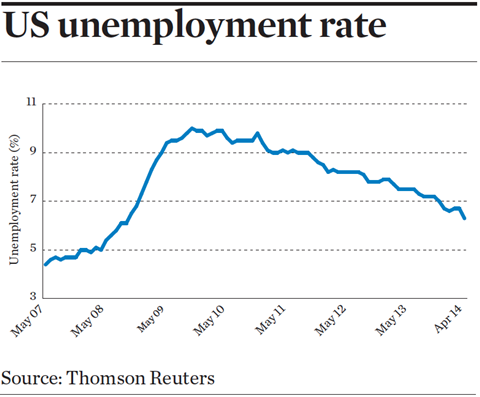 What also seems plausible is that the flatter yield curve is conveying a more realistic and subdued economic outlook than the steep shape suggested at the start of the year. Should economic growth pick up markedly, one would expect the curve to steepen, with rates moving higher possibly across the length of the curve.
Credit within DMs appears to have been a direct net beneficiary of outflows from EM debt markets, as well as, in the US at least, from a dearth of new supply. Credit spreads remain at or near historic lows. Although corporate activity is picking up, the search for yield has ensured that financially repressed investors take almost any spread offered on DM bonds.
EM credit looks like it will stay cheap. Economic growth for various EMs is now markedly lower than after the financial crisis. Inflation is becoming a problem for many economies with weakened currencies and rising agriculture prices. Unexciting growth outlook in China and the US means the external environment is less supportive to EM growth generally.
Currencies
One conundrum for currency forecasters is why the US dollar has failed to appreciate more, despite the US economy showing a reasonable bounce-back from the negative effects of the harsh winter. The rebound in the EUR/USD since mid-2013 has come despite a marked decline in both the two and five-year swap differentials.
The weekly trading range of the euro against the dollar is now at its lowest since the introduction of the single currency, and it is possible that this very low volatility can explain some of the dollar's lacklustre performance. In an environment of falling US bond yields, higher yielding currencies – those of New Zealand, Australian and Norway, for example – have appreciated notably this year.
Dollar weakness in the face of relatively strong US economic news harks back to the aftermath of the financial crisis, when strong economic news was equated with 'risk off' and the Fed stepping back from QE, turning off the money taps.
US Treasury data shows that foreign buying of Treasuries picked up very sharply in February. Some analysts suggest that buyers could be China's reserve managers, allocating some more of the US dollar reserves accumulated over the past year.
US bond yields are staying lower than dictated by economic fundamentals, and bond market volatility – expected on strong US economic data – has often felt rather muted.
If China's buying has depressed US yields and dampened demand for dollars, then the question is, when will the buying cease? The Chinese have already achieved success in weakening their currency, but that does not directly imply that their US Treasury purchasing plans are complete.