Fonditel is a curio in the Spanish savings market. With almost €3bn under management it is by far the largest funded company pension arrangement, for sponsor and owner Telefonica. Fonditel also caters for retail savings, which have a smaller aggregate value but nevertheless a meaningful effect on investment policy. It is the use of ETFs, however, that marks the Madrid-based investor as most unusual in a world where pension funds still prefer segregated mandates and mutual funds for index-tracking.
Fonditel has long been a champion of passive management and its newly-arrived head of investments, Fernando Aguado (pictured), carries the standard. "It is very difficult to have alpha in the long term without having other risks," he begins.
It is a subtle echo of the academic findings that alpha is not only hard to find but rarely persistent. "If I buy a passive instrument, I know why I used it. If you have been with an active asset manager, then there is pressure to buy funds or reverse agreements."
Aguado's starting-point is that active management brings numerous risks, including the danger of a 'star' manager or team walking out the door or the pressure of a manager's style falling out of favour as the economic cycle changes and the potential for ensuing style drift just to maintain returns.
Fonditel does not totally avoid such risks, as even a cursory glance of its portfolio demonstrates. There are numerous active managers employed, including Candriam Investors, AXA Investment Managers, Principal Global Investors and Neuberger Berman in the relatively racy 'Albatros' compartment alone.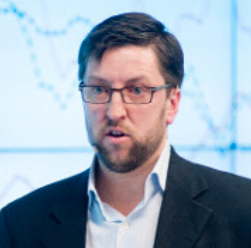 Fonditel wants to use those funds that assume what it sees as desirable risks. The Madrid-based fund has a consistent policy, however, on when and where to use active managers. They are to access specialist opportunities such as high yield where there is neither sufficient in-house expertise nor an adequate passive exposure to capture those desired risks. Many of these currently revolve around private-sector debt.
The in-house team makes active stockpicking selections in European bonds and equities while further afield, passive instruments are much more commonly used where Fonditel does not have the capability in- house to assert or assess a strong view. And so, even in supposedly inefficient universes such as emerging markets, passive strategies are preferred for equities and bonds.
But the high percentage of assets in passive strategies also reflects Fonditel's confidence in dynamic asset allocation. At this level rather than stockpicking it believes there is more opportunity to obtain better returns and smaller losses. The dynamism is more than just tinkering at the edges: risk exposure was cut to 60% at the start of the year and has remained static since. The reasons why reveal not only much about the fund's character but also help answer the intriguing question of why a major pension fund uses ETFs so much.
The bubble in the Chinese stock market popped in the summer of 2015 and the local indices had been volatile ever since. By the end of December the Shanghai Stock Exchange had mustered a rally but Fonditel was bearish. "The fourth of January was the first market session in Europe after the China discussion," recalls Aguado. "We opened with a very different tone to the previous year."
Fonditel cut all its positions in more liquid ETFs and in the following weeks sold more index funds to rebalance using ETFs as well as derivatives such as options.
"As a long-term investor you don't have to act in the middle of a market session," says Aguado. "But our clients expect us to do it."
Everyone knows that ETFs as trading tools are speedier than index-tracking funds. Fonditel's swift moves proved to be excellent calls.
But why would a pension fund frequently need to make such trades? Aguado points out that while the assets for employees and pensioners of Telefonica constitute most of Fonditel's total, there are smaller funds for the retail market. Although all should be long term in outlook, Fonditel is aware of media scrutiny.
Another way to understand the sensitivities is to recognise that the weighted average age of Fonditel's clientele is 58. People this age are more interested in wealth preservation than wealth accumulation (and Fonditel is starting to take a greater interest in absolute-return products to preserve clients' wealth in the years ahead).
Easier trading is one advantage of ETFs but then there is a price to pay. Aguado acknowledges that they can be more expensive than index-tracking funds but for liquidity purposes, Fonditel can pay that premium. And in regions such as emerging markets, Aguado notes that the price competition is becoming fiercer. Regarding futures, which Fonditel also uses extensively, he notes that the negative interest rates mean that often ETFs are now cheaper to use.
Fonditel at a glance
• Founded 1992 to run occupational pension assets for Telefonica.
• In 1998 Fonditel opens mutual funds business for the general public.
• In 2003 Fonditel opens third-party occupational pension fund business and Fonditel Gestion, specialising in alternatives.
• Fourth largest pensions management company in Spain. Total assets under management of approximately €4bn.
So what about the risks of using ETFs? Aguado voices concerns on illiquid and obscure categories such as hedge fund replication and leveraged loans. "When we get back to fundamentals it is possible we will have a bust in credit," he says. "There are more long-term leveraged loans so I have some doubts about the cycle."
Hitherto, however, shocks involving ETFs have occurred for short periods and on the most liquid markets. Witness the gap that appeared between the Guggenheim S&P 500 Equal Weight ETF and underlying stocks on 24 August 2015. With all the client and media attention, Fonditel is very concerned about reputational as well as monetary losses. It should be noted here that the fund's aggregate holdings are weighted towards debt while equity holdings and even credit are minorities by assets, even if their risk weighting is higher. Globally, Fonditel looks like a fairly conservative core-satellite investor.
And then there is the diversification by holdings even covering the same index. Using futures, funds and ETFs spells flexibility for Fonditel. It also diffuses counterparty risk. All in all, this structure means that a bust in any credit instrument would likely wipe no more than 20bps off even the racier portfolios.
But there is the risk of contagion: low probability but high impact. Aguado adds that one means of defence specific to ETFs has been to increase emerging market exposure from just two lines to five. To preserve liquidity and reduce counterparty risk, Fonditel also does not currently participate in securities lending on its ETF holdings.
If there are threats ahead, Aguado also sees opportunities. He sees thematic investment as a growing trend and expects Fonditel's market share to grow here. Thematics he defines heterogeneously – robotics, ESG and smart beta are all mentioned.
Aguado's comments are interesting because he feels that thematics run across current index provision and Fonditel uses indexed products so greatly. "We are trying to substitute ETFs with thematics around ideas such as robotics," he says. The fund has already launched a smart beta offering of its own rather than using third-party smart beta products.
"Even if you are not a fan of smart beta, it presents a refreshing perspective on market capitalisation indices. The market cap index is not the most efficient way of investing," Aguado adds.
It is an entirely consistent summary of Fonditel's own pragmatic, dynamic approach. The question is how the asset management industry, including Fonditel itself, will respond to the challenge of finding thematic ETFs that meet the needs of investors today.