---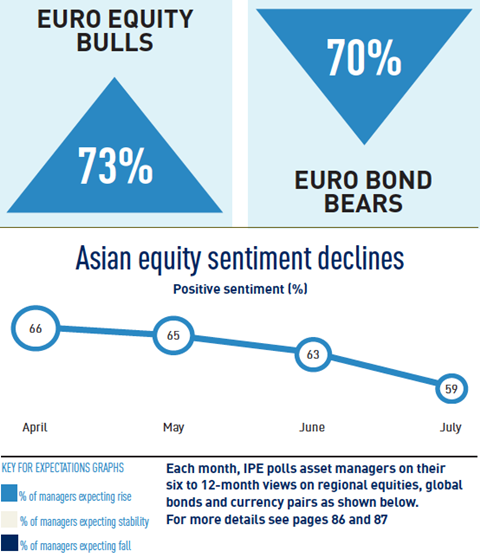 Unlike autumn where change is evident, the shift to summer is less dramatic. One day the air feels different than before, and before you know it, the chill in the nights has left, and a new season officially arrives. With relatively few meaningful shifts evident on the surface among manager expectations recently, change has been harder to recognise, but it does seem the nights are getting warmer. As often in high summer, storms – in the form of volatility – may be on the horizon.
Bonds
The cumulative difference across all denominations between the proportions of managers predicting bond prices to rise and bond prices to fall has been around the same low level since May 2017. Over the past months, this 'bottom' has seen expectations for dollar bond prices to fall consistently decline since the beginning of 2017. So, too, there are greater expectations of rising prices. A reminder here: divergent expectations can be a sign of volatility.
Equities
Among equity markets, the picture is different. Euro-zone, Japan and Asia equity sentiment declined a little, while the UK increased and sentiment in the US was virtually unchanged. As with the divergent expectations for dollar-denominated bonds, static US equity sentiment was the result of an increase in both positive and negative expectations. That makes two signs of volatility for US markets.
Currencies
Among currencies, there was a marginal move lower in cumulative expectations for dollar strength, but the largest shift was toward stability – versus the euro and sterling at least. On the surface, across each asset class, we have an image that appears little changed, but within the sentiment the temperature is becoming noticeably different.
Supporting documents
Click link to download and view these files