---
Key points
• New holiday allowances fund to keep Denmark's LD in operation for several extra decades.
• A planned new capital pool will require a distinct asset allocation strategy.
A complex new plan devised by Denmark's government, employers and trade unions to deal with the consequences of compliance with EU rules on holiday pay will give the country's legacy pension fund Lønmodtagernes Dyrtidsfond (LD) several decades of extra life.
The plan is set to give LD another DKK80bn (€10.7bn) in assets – nearly double its current fund level.
Before the proposal was published in late August, LD had resigned itself to shutting its doors for good in 10 years' time. The fund was originally set up in 1980 to manage "frozen cost-of-living allowances" granted to workers by the government and paid out as a supplementary lump sum pension upon retirement.
Some 37 years later, the fund still has DKK42.8bn of members' assets under management, even though almost half of its membership is now over 60 – the age at which they are entitled to withdraw their money.
Even though the investments have made good returns, at an average 9.8% a year after tax and costs since the fund began, LD's assets will inevitably dwindle as its membership ages.
"What we have been looking at is closing down in 10 or 12 years, depending on how quickly people withdraw their money – and they haven't, in fact, been doing that very quickly – and we have been assuming that in 10 years the amount would be too low for us to keep our organisation open," says Dorrit Vanglo, chief executive of LD.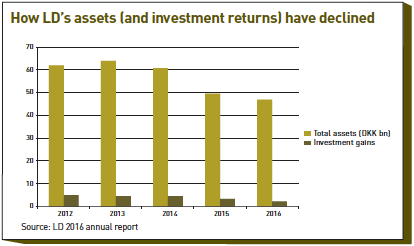 Where the money came from
After an EU Commission decision that Danish rules on delayed holiday rights were against EU law, the Danish government set up the Holiday Law Committee (Ferielovsudvalget) in 2015 to solve the problem.
Its solution is to change domestic law so that, from 2020, staff will be able to take some holiday from their very first month of employment. However, people already in the system could have up to an extra 12 months' worth of holiday entitlement when the change takes place.
To prevent the Danish economy losing so many employee hours in a single year, the committee has decided to freeze the financial value of this extra holiday allowance and put it into an invested fund for those individuals until retirement. It is this money that LD is set to manage.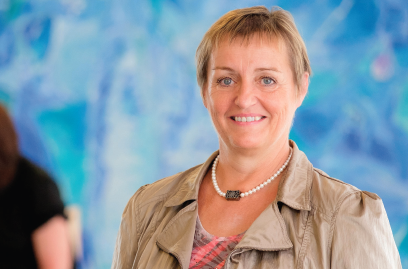 With the addition of the holiday pay fund, LD is now on track to remain operational for an entire life span, Vanglo says. From 2020 it will start holding money on behalf of the youngest people in Denmark's labour force, keeping and investing those assets until their retirement, securing the fund's existence for longer into the future.
The plan has yet to be approved by Denmark's parliament, but Vanglo says the legislators are highly likely to pass it in its current form.
"They could change some things in it, but it is a tripartite proposal between the employers, employees and government, which together formed the holiday pay committee, so parliament is likely to respect this agreement," she says.
LD was the obvious candidate to manage the new fund because the nature of the arrangement was similar to the original sum of money LD was established in the 1970s to manage.
Where the money will go
The holiday fund will consist of a one-off sum of money relating to each individual in the work force in 2020, and will not be supplemented with later contributions.
The money in the old fund will have to be kept separate from the incoming cash belonging to the holiday fund, but Vanglo says there will still be a great deal to be gained in terms of economies of scale for investment and organisation.
"With the Kapitalforening [capital association] subsidiary we run, we have all our quoted assets in a separate investment pool, and we will be able to put the money from the holiday fund on top of these, within the same external mandates, so this will lower the costs overall," she says.
"It is a tripartite proposal between the employers, employees and government, which together formed the holiday pay committee, so parliament is likely to respect this agreement"

Dorrit Vanglo
However, the new fund will require a different investment strategy because it has a different time horizon and liquidity requirements from the old fund.
"We may look into investing in some other asset classes, but the basic mandates we already have will be building blocks for the new strategy, and that will lower the costs," Vanglo says.
These and other cost savings will affect not only the new fund to be set up, but also the old fund, which means that the original fund will be cheaper to run than it would otherwise have been. It will also mean LD will be able to manage it for longer.
Vanglo says LD would not have been chosen to manage the proposed new fund if her organisation had not done so well with the existing portfolio.
"There was a lot of discontent at the time the allowances were granted because people needed the money at that point, but now people actually come up to me and say, you have made that money grow and now it's a sum I can see and really use," she says.