This second article on a new survey argues that investing will remain a relative-value game
Pension plans worry about how to price assets in markets addicted to cheap money. They also worry about whether the global economy has finally achieved the escape velocity that cuts it loose from the deflationary mindset. Despite a flattening yield curve, reflationary sentiment appears to have the upper hand – for now. Lower-than-normal policy rates and lower-than-normal growth rates are here to stay. Markets are at an all-time high, with unusually low volatility.
The unconventional monetary policy action by central banks has been one factor. The other is the reflationary proposals of US President Donald Trump. Evidently, markets have priced in all their good elements even before they are formalised, 'assuming the best' until proven otherwise. Their downside risks cannot be underestimated, as argued in our previous article (IPE, December 2017). We are in the midst of a Fed-induced bubble. That script rarely has a good ending, according to the 2017 Amundi/CREATE Pensions Survey.*
Hence, while prices of all asset classes are artificially pumped up above their intrinsic worth, pension plans are striving to build portfolios that are resilient to fat-tail events, capitalise on periodic market dislocation and use bottom-up asset picking to add value. That means targeting asset classes with bond-like features and equity-type returns.
It also means getting exposures to well-remunerated factors, avoiding poorly remunerated ones and putting ESG at the centre of risk-based diversification. Holding periods for core assets are also being increased to allow time for risk premia to materialise. Three themes will influence their asset allocation over the rest of the decade.
The first one is the continuing pull of quality equities that gain more by losing less, outperforming the market over a full cycle. Asset classes once considered too risky can acquire safe-haven status when the market environment changes. Of the top 10 asset classes that are likely to be favoured over the next three years, four are equity-related (see the north-west box in the figure). They will offer relative-value opportunities provided future corporate earnings rises compensate for the negative effects from rate rises (see case study). Overall, non-US equities are likely to outperform US equities, which are overpriced on any measure.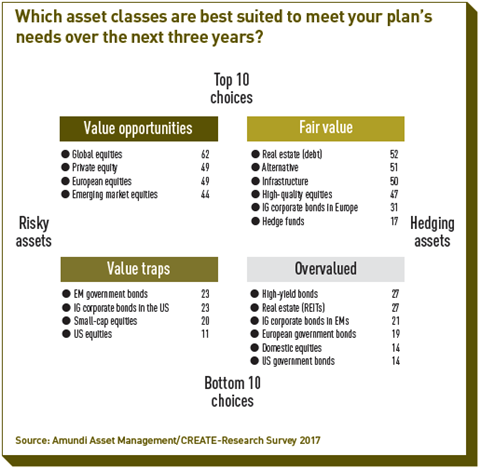 Emerging market (EM) equities will continue to retain their hallmark – high average volatility – due to their greater exposure to geopolitical and protectionism risks. Yet, they will still be favoured because of solid economic recovery, a strong demographic dividend fuelling consumer demand, strengthening quality of earnings and economic growth increasingly fuelled by domestic demand. With the high dispersion of returns, selectivity by country and company will be essential. Not all EMs are created equal.
The second theme influencing asset choices is the continuing rise of alternatives. Nearly half of our respondents have singled out real estate, alternative credit, private equity and infrastructure. Real estate will go on attracting rising allocations after scoring new highs lately. Like infrastructure, it is now credited with defensive features such as steady capital growth, regular income and inflation protection.
The search for yield will continue to penetrate the alternative credit landscape – covering direct lending, senior loans and mezzanine finance. It will remain popular among pension plans that want to exploit the illiquidity premium, despite their expected lower returns. Indeed, the search will extend beyond illiquid assets. However, alternatives will continue to suffer from three impediments that will widen the gap between strategic targets and reality: increasing 'dry powder' as investment opportunities diminish; over valuations across the patch; and inadequate new issuance of assets
The third and the final theme influencing asset selection is the concern that the 35-year bull market in bonds is ending. An increase in real rates could jack up default rates. The efficient frontier for sovereign bonds has shifted to the point where they are no longer a safe-haven asset in the strategic asset allocation. Hence, pension investors will stick to the strategy of reducing duration and credit risk – in the belief that the Fed will hike rates again in 2018, as promised, and the ECB and the Bank of England will follow suit.
Case study: a Danish pension plan
In itself, the US rate rises are not bad for equities because the Fed usually tightens when the economy overheats. This also means that earnings are growing robustly.
Both rates and earnings play a role in setting equity values. A company's market value reflects the present value of its future earnings. As rates rise, present value drops.
However, if earnings are rising enough to compensate for that, rising equity valuations can exist alongside rising rates. It is when earnings growth is too low - or negative – that the Fed's rate rises can have an outsized negative impact on valuation.
The pick-up in global growth since mid-2016 has boosted earnings in all the key regions. So long as that continues, rate rises will not be a problem. We also believe that current equity valuations are OK because the total return they provide is worth more than bonds.
Comparing valuation metrics with past levels may be a poor guide to the future due to price distortion caused by central bank action. Today, investing is more about relative value and less about intrinsic value.
The main risk to equities comes from two proposals from US President Donald Trump. The first one is an aggressive fiscal policy that could overheat the US economy and force the Fed to fast forward its rate hike plan to forestall inflationary pressures. Aggressive rate hikes have been the root cause of US recessions in the past.
The other proposal relates to protectionism and the risk of retaliation by other nations. The net effect of the Trump agenda might well be higher inflation.
*Back to Long-Term Investing in the Age of Geo-political Risk, available from amin.rajan@create-research.co.uk
Pascal Blanque is CIO of Amundi Asset Management and Amin Rajan is CEO of CREATE-Research