Securities services providers have little choice but to go with the flow of new technology
Key points
• Securities services firms are shaking off their staid image and entering the fintech domain
• Firms are making significant investments in advanced analytics, automation and robotics, big data and risk management
• They are also developing algorithms for equities and foreign exchange
• The most promising opportunities lie with small and mid-sized asset managers
Securities services firms may not have the same cachet as chic tech companies but they are increasingly encroaching onto the tech firms' territory either through partnerships or homegrown initiatives. They are not only deploying the latest tools for the traditional offering but also developing data analytics, dashboards and algorithms to be used across the trading lifecycle.
In many ways, these organisations have had no choice but to change their business model. Stock markets and volumes may have soared over recent years but margins in their core custody and fund administration businesses have been squeezed. A recent study on the industry by management consultancy McKinsey showed growth stood at only 3% a year from 2010 to 2016.
Client pressure on fees was partly to blame but tighter spreads on the back of depressed interest rates, a slide in securities lending activities and of course the onslaught of regulation have also played a part. Northern Trust Capital Markets' head of business development for institutional brokerage, Gerard Walsh says the run-up to MiFID II has been a key catalyst. The regulation "focused minds and there has been a step change in spending and an increase in the number of partnerships with fintechs," he says. "The entire industry is always looking for an edge and there was this realisation that technology could make a difference quite quickly."
The investment net has been cast over a wide range of applications including automation and robotics, as well as innovative services in data transparency, risk management and regulatory reporting.
While the larger asset servicing players have the resources to create their own solutions, even they are turning to fintechs for a helping hand. According to the McKinsey report, over 70% of securities services-oriented fintechs are developing products and services for incumbents. Unlike in the past, they are no longer targeting the end customer and trying to disintermediate existing players, but are actively looking to work together.
To date, the most attention and progress has been in the monetisation of data. Although this is far from a new trend, custodians are in a pole position with trillions of euros of assets under custody. Traditionally custody data was held separate from accounting and from risk and performance. But with the advent of big data technology that is all changing, according to David Brent, global head of technology sales, investor services at JP Morgan.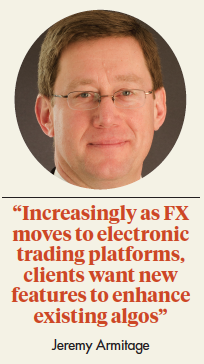 He adds that the same toolsets traders use to manage risk on a tick-by-tick basis are now being used by investment and operations teams to analyse fund-wide performance on a daily and monthly basis. "Flat files and reports are turning into interactive dashboards with sophisticated what-if analysis capabilities bolted on," Brent says. "With ease, a chief investment officer is now able to determine the impact of a 25bps increase in interest rates or the removal/addition of a particular strategy. And that's just the beginning. Machine learning and AI tools are being deployed to analyse that structured data before it even reaches the CIO's desk."
Not surprisingly, Amazon, Google and Twitter have been role models for many. "We constantly look at innovative technology companies to see whether their technology could be applied to our custody and funds business," says William Pryor, managing director, global product head data and analytics for Citi's Custody and Funds Services. "The industry has historically been bogged down by a report-centric model and clients wanted a big-data strategy that they could integrate into their own operating model."
The US bank's platform – Citi Velocity Clarity – utilises private cloud technology and features an intuitive and customisable dashboard interface that offers instant analysis, valuation, holdings, net asset value, counterparty risk, country exposures and trading flows across a multitude of investments. "The aim is to tailor the platform more to the requirements of our clients," says Pryor. "We now have a data lake that asset owners and managers, as well as traders and portfolio managers, can drill down and navigate through what had been, until today, many disparate data sources."
BNY Mellon is also using its own deep well of custody assets to offer clients market commentary on flows across FX, fixed income and equities to influence trading decisions as well as fine-tuning and enhancing its range of algorithms*. Launched at the start of the century, BNY's algorithm suite has become more sophisticated to incorporate a wider range of strategies from benchmark to volume and price and liquidity-seeking.
"The entire industry is always looking for an edge and there was this realisation that technology could make a difference quite quickly"

Gerard Walsh
"One of the biggest changes we have seen is the increased regulatory focus on transparency," says Ron Hooey, head of sales trading at BNY Mellon Capital Markets. "Today, clients want to know what venues they are routing to, how their orders are being filled and what is happening to their child order [a series of smaller trades] – all in real time," he says. "They also want the algo to reassess a situation so that if a news story comes out that impacts their portfolio, they can either avoid it or get ahead of it."
Walsh also notes that greater emphasis is being placed on the quality of execution. "Total costs of execution are much more transparent to the client under MiFID II and, as a consequence, we are being asked to help with more work," he says. "This involves breaking down the cost so that they can make better decisions in terms of trading and venue selection."
Choosing the wrong venue can be an expensive proposition and can potentially hurt the performance of a fund. For example, a recent study by Aquis Exchange based on Liquidmetrix statistics shows that European investors including pension funds and retail investors are losing €2.8bn each year by buying and selling shares on incumbent stock exchanges that have high levels of toxicity – adverse trading conditions.
The same trends can be seen in FX which is starting to emulate equities in terms of electronic trading. Northern Trust entered the fray two years ago with a range of active and passive algorithms through its partnership with fintech company BEx, while State Street, a long-established player, has been polishing its offering.
Helping its clients manage the FX risk inherent in global investments is a key priority for State Street's securities services business, according to Jeremy Armitage, global head of FX trading, State Street. "However, increasingly as FX moves to electronic trading platforms, clients want new features to enhance existing algos. For example, instead of using a TWAP [time-weighted average price] algo for an hour, they may want to accelerate the speed if they think they can get a better price after 10 minutes."
While the opportunities for new revenue streams might seem obvious, there are also several challenges, especially as behemoth asset managers are breeding and buying their own solutions. "There has been a lot of consolidation in the asset management industry over the past few years and these big groups have huge bargaining power and can force large custodians to adapt their platforms and products," says Axel Pierron, co-founder and managing director of consultancy Opimas. "If they want to remain profitable and continue to develop innovative solutions, then the securities services firms will be better placed developing services for the tier-2 intermediate fund managers."
* This sentence has been amended at the request of BNY Mellon to clarify that the integrity of client data is not compromised in any way
GDPR – a regulatory sledgehammer?
Brian Bollen
No one with an email account will have escaped the bombardment of messages warning of dire consequences following the implementation of the EU's General Data Protection Regulation (GDPR) in May if they did not agree to continue receiving messages from eager vendors.
For most ordinary individuals this represented a unique chance to at least slow the rise in the junk tsunami that has been enabled by near-universal email and internet access over nearly 25 years since the internet began to become pervasive.
What might surprise some people is the extent to which custodians, whether local, regional or national, were affected. This was partly a result of the business that some of them conduct with non-institutional clients (that is, extremely wealthy individuals and families).
It is also partly down to the volumes of work carried out on behalf of smaller asset managers that do not possess the staff resources needed to comply with the likes of the GDPR and must, by default, outsource related activity to custodians or other suppliers.
The latter of these suppliers is especially relevant to RBC Investor & Treasury Services (RBC I&TS), which has seized the commercial opportunity presented by GDPR. "We saw it as an exciting opportunity and have greatly enjoyed the work involved over the past year or so," says Wendy Phillis, managing director, governance and regulatory solutions, Europe, Asia Pacific at RBC I&TS.
"From a custodian's perspective, we see the biggest impact on two areas," she says. "One, know your client. Two, transfer agency." Transfer agency, or TA, is the euphemistic term used to describe the drudgery involved in keeping abreast of basic shareholder information such as current address and current shareholdings. To give an idea of scale, in Europe, RBC I&TS has 9.5m shareholders in its TA business.
What undoubtedly helped RBC I&TS with preparing for GDPR is that it already had a privacy and data framework for several years, says Phillis. "But there was still a lot of work to do in order to be fully ready."
Jean White, senior consultant, regulatory solutions, at Northern Trust, adds private equity and wealth management to the list of areas she has seen affected by GDPR. "With some of the services that we provide as a custodian we don't see the underlying beneficiaries' personal data, but in Transfer Agency we interact directly with our fund manager clients' investors. With this comes a greater level of responsibility coupled with a more significant change.
"There has been a significant amount of data mapping across our business functions to identify where further enhancements to existing processes are required," she says. "We have always had a good handle on data privacy. What GDPR means is we can't simply rely on existing good practice; we must more heavily evidence how we do what we do and why, as well as make operational change to afford individuals their new rights under the legislation."
With the implementation date receding into history, attention turns to what might happen next. One market expert notes that GDPR is open to interpretation in several ways, and where there is room for interpretation there is further work to be done. Only one thing is certain, says this expert who asked not be identified. "GDPR is one giant regulatory sledgehammer being swung to crack a small nut."
Elsewhere, the implications go beyond the May deadline and, indeed, beyond Europe, says Phillis. "This is a valuable piece of regulation that is a significant uplift on what went before, and it will set the standard for privacy globally.
"We are already hearing that Asian regulators are thinking of following suit by cherry-picking the best of GDPR. And while investors there might currently know little or nothing about it, in conversations in recent months we have almost literally been experiencing classic light-bulb moments, when reality sinks in."
Securities Services: The evolution has begun
1

2

3

Currently reading

New Technology: A case of adapt or die