Climate action group Fossil Free is launching a lawsuit against the Dutch civil service scheme ABP, together with a number of the pension fund's members. The group wants a judge to rule whether ABP needs to divest from fossil fuels in order to align its investment policy with its promise to adhere to the Paris Climate Agreement.
In bringing the case to court, Fossil Free has been inspired by the recent, successful court case by Milieudefensie (Friends of the Earth Netherlands) against Shell, a spokesperson for the group told IPE. In this case, a judge ruled the oil major had to accelerate its plans to reduce its carbon emissions.
Fossil Free expects to send an injunction to ABP within weeks in which the pension fund will be asked to divest from fossil fuels. The precise formulation of the injunction is yet to be determined.
"We will look at this together with ABP members over the coming weeks as we want to make sure we use the correct legal terminology in order to make the best chance to win the case," the Fossil Free spokesperson said.
Fossil Free is also still busy fundraising for the case. A crowdfunding initiative to raise a budget for lawyers that was launched on Saturday has already brought in €10,000, according to the NGO.
ABP: Moving from the street to court
Diane Griffioen, head of investment policy at ABP, said in an interview with trade publication Pensioen Pro a couple of weeks ago that she was looking forward to a possible court case. "It's interesting to see what their demands would be, because there are so many different options," she said.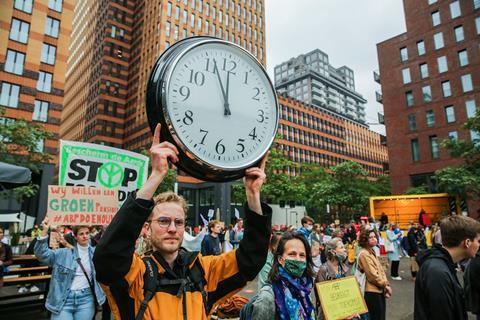 ABP has been preparing for the possibility of a court case for a while, said Griffioen. "We're seeing that the climate lobby is now moving from the street to the court room. And not without success. Of course we have already been discussing the various scenarios around a court case."
Responding to Fossil Free's announcement it will bring ABP to court, the pension fund said it is currently formulating a new, more ambitious climate policy.
"In 2022 we will make public our adjusted policy, which will be in line with the climate plans of the Dutch government. If we were to adjust our policy sooner, we will communicate this to the press," ABP said in a press release.
According to its own data, ABP invested €15bn of its €493bn in total assets in fossil fuels at the end of 2020.
Fossil Free has been piling up the pressure on ABP to divest from fossil fuels for a while. The movement occupied several offices of ABP and its asset manager APG over the past few months.
A petition calling on ABP to divest from fossil fuels has already been signed 20,000 times, according to Fossil Free.
To read the digital edition of IPE's latest magazine click here.