The market penetration of pension schemes of medium sized companies – Mittelstände – in Germany is stagnating, according to the report Betriebliche Altersversorgung im Mittelstand 2023 published by Generali Deutschland and F.A.Z. Business Media.
"This year the study's main findings relate to digitisation [and] market penetration, with a noticeable stagnation, a decline at times, [of occupational pensions] and a crisis taking hold," Florian Sallmann, head of broker at Generali Deutschland, said presenting the study today at the Handelsblatt occupational pensions conference in Berlin.
The share of employees signing up for occupational pensions is in some cases declining, for example employees in top management positions who use at least one occupational pension offer went down this year to an average of 56%, the report showed.
It also noted that the percentage of employees opting for occupational pension arrangements is now 39.8% in small and medium-sized firms, the lowest value compared with previous surveys, and 1.7 percentage points lower than the previous year's figure.
"We really have to think about how to make significant progress," Sallmann said.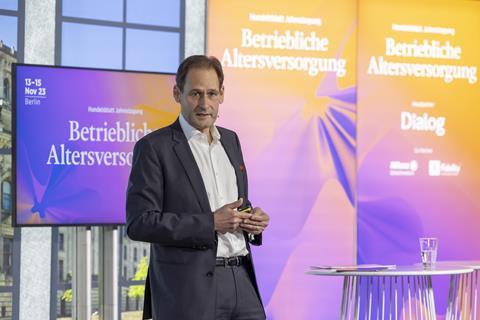 The percentage of employees in top management positions in smaller companies with 50-100 employees opting for occupational pensions is higher, at 59%, followed by medium-sized companies with 57.2% and larger companies with 46.8%, the report disclosed.
Employees are turning away from deferred compensation because of high inflation both in mid-sized firms and in larger companies, and hardly demanding compensation for rising inflation, according to the report.
Digitalisation
According to the report, German mid-sized companies are determined to make further progress by managing occupational pensions by using digital applications.
Sallmann noted that digital solutions have long since found their way into company's pension funds, but he said there is room for new providers of such digital platforms.
Digital solutions are mainly used for contract information, both for companies and employees, followed by digital management of further contract options, and for digital administration when dealing with employee benefits, according to the report.
The report showed that 83% of the companies surveyed use at least one digital application for their own pension plans, and only 17% completely forego digital applications to manage company pensions, the report added.
The respondents have underlined that one important element to make occupational pensions more attractive for employees of mid-sized companies is the offering or survivor's pension, simplifying processes to join company pension schemes, and convenient forms of contributions.

Luigi is IPE's Berlin-based DACH correspondent. His coverage includes regulation and the latest pensions and investments trends, and, being a native Italian, he also covers Italy's pensions market. He has reported from Italy and Germany on international politics and business for European and US publications including USA Today, Bloomberg BNA and for the investigative magazine L'Espresso. He was previously Germany correspondent for Mergermarket covering M&A.
View full Profile