The environmental and ethical body coordinating the work of Sweden's AP funds on those issues is to be fundamentally rethought, and the man who has led it for the last 12 years is leaving as part of the probe.
In an announcement on Friday, AP1, AP2, AP3 and AP4 – the biggest four buffer funds behind Sweden's income pension, part of the state pension – said they would "jointly conduct a strategic review of the Council on Ethics, as ESG and responsible investment practices are increasingly integrated into the AP Funds' asset management strategies and objectives".
The funds, which collectively manage nearly SEK1.8trn (€179bn), said: "In connection to this, John Howchin, Secretary General of the Council on Ethics since 2009, announces that he is leaving his role."
Howchin described the review as a natural opportunity for him to go.
"I want to thank the AP funds for the trust I have received during this time, and it is with pride that I finish my mission," he said.
The four buffer funds said the council was formed in 2007 as a collaboration between them with the aim of influencing global portfolio companies through dialogue and engagement to improve their work on environmental, human rights, and corporate governance issues.
"Since its formation, the Council on Ethics has engaged thousands of listed foreign companies in dialogue," they said.
"Sustainability and responsible investment practices has gained in importance and been more widely in the strategies and processes of the AP Funds in recent times, including in their legal mandate," the funds said.
It was against this background that the funds had now jointly decided to review the council's mission and strategy, according to the announcement.
The four CEOs of AP1-4 – Kristin Magnusson Bernard, Eva Halvarsson, Kerstin Hessius and Niklas Ekvall, respectively – said Howchin had played a central part in taking the council to where it was today, with great commitment and strong leadership.
"We would like to thank him for his important contributions and wish him every success in the future," the leaders said.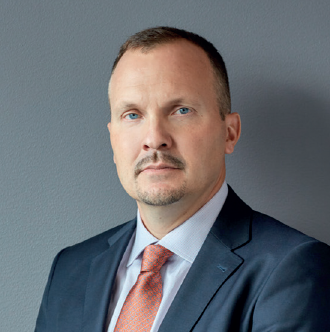 They said the council played an extremely important role in driving positive change at foreign companies where the funds were owners.
"The purposeful work has highlighted dialogues as an effective tool for improved sustainability work and better long-term returns – a work that will continue and be further developed," the CEOs said.
In a post on LinkedIn, Howchin said that a structure set in place 15 years ago for four very similar AP-funds needed a redesign to better suit the four diverging AP-funds of today, with their own strong sustainability strategies.
"This was always the likely course with four different AP-funds evolving their approaches and I wholeheartedly support what I believe is a natural development," he said.
Looking ahead, Howchin said he planned to take some time off after leaving.
He suggested he could spend some time with his friend Ashish Gadnis, and the blockchain platform Banqu he founded – which claims its technology helps lift people out of extreme poverty - or perhaps visit mines and review the ongoing implementation of the Global Industry Standard on Tailings Management.
"Plenty of work to do in the real world," said Howchin in the social media post.
He said he was leaving at the end of this year. In its announcement, the council said an acting secretary-general responsible for its day-to-day operations would be appointed shortly.
Looking for IPE's latest magazine? Read the digital edition here.