The municipal pensions market is undergoing structural change as private providers are returning with new products
Key points

Competition set to increase in the municipal pensions market as a new hybrid DB/DC public sector scheme will launch in 2020
Storebrand has hired Jon Hippe to lead its new business drive
About 20 pension tenders are expected from local authorities
New product as flexible as private sector DC schemes
Norway's municipal pensions market is set to re-open to competition. A new line-up of bidders is equipping teams ahead of the many pension tenders they expect from Norwegian local authorities in 2020.
A new pension scheme for public sector employees was passed by parliament in June and will come into effect in January 2020. The scheme – a hybrid defined benefit (DB)/defined contribution (DC) arrangement – has been seen as catalyst for more competition because it has lower barriers to entry than the existing DB scheme. In addition, its launch creates a watershed in pensions management which may prompt many to consider a new provider.
Norwegian municipal pension fund KLP currently has a dominant grip on the market, following the departure from the sector by DNB Liv and Storebrand several years ago.However these two players are now back.
Storebrand has picked an expert with a multi-faceted experience with local authority pensions to lead its team. Jon Hippe, former general manager of the Fafo Research Foundation, has settled in as head of the firm's new public sector department within its business market division, since his June appointment.
"We are taking this step by step because we are looking at this re-entry as a long-term activity," he says.
"At this point, we are expecting around 20 tender offerings from Norwegian municipalities next year," he says, adding that these pension schemes have an average of NOK1.5bn (€150m) in capital and NOK200m in premiums.
The arrival of the new public sector scheme was important in attracting commercial pension providers back into the municipal pensions market, but Hippe explains that other proposed legal changes which could prove decisive for potential providers of the old DB scheme.
"We expect new legislation on the market value adjustment reserve, which will make these funds transferable to another provider. This is set to be in place by year end – and given that this will increase total transferable assets for municipalities by around NOK10bn, that will have some positive effects on the market. This is first and foremost an issue for the public sector in Norway," he says.
Storebrand's approach to building up its new public sector department began with an investment in a dedicated IT system for the new product.
"We are investing quite heavily in IT and we are also gradually building up the organisation. We will have all our key personnel in place by Christmas, and of course there are a lot of resources and manpower we can and are already using from Storebrand," says Hippe.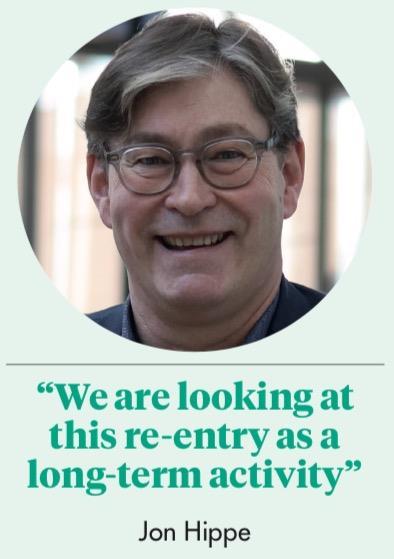 Storebrand has drawn on its historical experience and understanding of this market in order to devise its main pension product for municipalities, says Hippe. "We are basically doing what they tell us – provide the product so it is in line with all the regulation and have a close dialogue with the labour market parties in order to offer a product that meets their expectations.
"When it comes to retirement and withdrawal of pensions, the new product is just as flexible as the private-sector DC scheme product, which means scheme members can work as along as they like, for example," he says.
Pensions may be the headline product, but the last time Storebrand was active in the municipal pensions sector, it also provided other products to public sector employees including occupational accident and collective insurance.
"So we are also analysing whether we should provide all these products again," Hippe says.
The Norwegian municipal pensions market is huge. Beyond the local authorities themselves, there are also over 2,000 organisations and companies owned by the public sector, and providers to the public sector such as nursing homes. Many of these employers have historically had public sector pensions for workers and some still have them.
"This means there is a separate business opportunity providing public sector pensions outside the municipalities, and that market actually functions better," says Hippe. "Since we have the public sector pension product on our shelf, we can also provide it to these other entities, and it is a huge segment we are looking at."
Hippe majored in political science at the University of Oslo, and 10 years later went on to a PhD at the University of Bergen. Since then he has worked at Telenor, Storebrand as well as being general manager of Fafo from 2004 to 2014. He has also held – and still holds – many non-executive directorships at Norwegian companies and organisations including the pensions portal Norsk Pensjon.
He has both headed and sat as a member on several official panels, including the 2009-10 Financial Crisis Committee and the Banking Law Commission between 2010 and 2015, whose work included new regulations for paid-up policies and collective pension insurance.
"I've been into pensions most of my working life," he says. "I wrote a PhD on the interplay between public and private pension arrangements and have had a lot of experience on both the public and the private side of the pension system."
When working with public sector pensions, Hippe emphasises the importance of understanding the market and having good contact with the individual local government authorities.
"Public sector pensions are different in Norway from Sweden and other Nordic countries. They are fully regulated by collective bargaining, and although the central government or state pension is a pay-as-you-go system, for local authorities the scheme is funded; for the employee the product is basically the same," he says.
"Apart from anything, it is a generous pension, as illustrated by the fact a public sector employer will typically pay between 15 and 20% as the employer contribution. This adds up to more than NOK40bn each year – twice the level paid annually by private sector companies.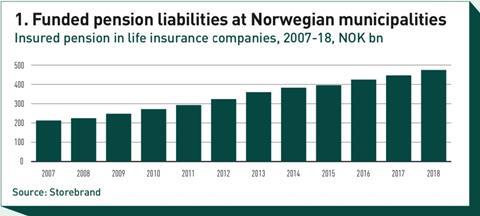 "The drivers behind public sector pensions as a market are employment growth – and Norway has the strongest public sector in Europe – and wage growth, which is determined by collective bargaining," he says.
For Storebrand, Hippe says it has been important to demonstrate that its new public sector pension product is in line with regulations, and that within Norway it provides both the current product and the new future product.
But are municipalities more likely to tender for pension providers now?
"That remains to be seen," he says. "With the new product now in place, we know what the next few decades will look like in one respect, but the extent to which there will be procurement activity is uncertain.
"At the same time though, we have been having a lot of structural reform in the local government sector and that in itself creates a need to have procurement for public pensions, and we expect to see more than 20 being put out to tender next year," says Hippe.
While Storebrand had been working the tenders expected next year when the new public sector pension officially comes in, it has already made one bid in response to a call from the new municipality of Nye Øygarden Kommune, just outside Bergen.
"It was a bonus; a nice start," says Hippe. "Though we didn't win it, it was good to see early on where we stand on both services and the economic proposal, and that we actually offered the best economic proposal showing possible gains for many local communities."
Denmark: Fresh blood replaces the obsolete
1

2

3

4

5

6

Currently reading

Norway: A civil revolution