Like digital brands, passive products will continue to benefit from the network effect, in which a product or service is perceived as more worthwhile the more people use it. The classic example is the telephone: a growing user base enhances the value to each subscriber.
It also alters industry dynamics, making passives part of the mainstream. As the assets in the exchange-traded fund (ETF) wrapper increase, the ability to innovate and move around asset exposures increases as they attract more funds. ETFs are viewed as uniquely suited to this decade's investment environment: used and traded by an ever-growing number of investors. With the rise of passives, the distinction between asset classes and vehicles is becoming more sharply defined.
Of course, much depends on how passive products will react to future market corrections. Apart from cap-weighted indices, no other passives have been yet significantly stress-tested by time or events.
The changing core
For now, the rise of passive products and solutions is recalibrating the traditional core-satellite model (see figure).
At the start of this decade, the core part of a portfolio was dominated by directly invested (not held in a passive wrapper) large-cap equities and sovereign bonds, as well as regional equities and investment grade bonds.Growth in passive vehicles has, however, catapulted passive products alongside the core portfolio assets like global equities, US equities and sovereign bonds. Reportedly, out of the seven most traded stocks today, five are ETFs. Ever more asset classes have been shunted to satellite status as part of alpha–beta separation. The core is dominated by items trading in markets offering deep liquidity; the satellites by items trading in illiquid markets.
The precise designation of the asset classes in the figure is open to debate. The substantive point is that the current index revolution is recalibrating time-honoured investment approaches and pushing passives centre stage for the foreseeable future.
For them to retain and enhance their relevance, however, it is essential for the next innovation to secure improvements in three areas, as identified by our survey*.
Some 48% of our respondents want to see improvements in fee models, as rising volume generates economies of scale. This observation applies especially to smart beta, where fees sit between pure passives and actives.
Some 47% want to see improvements that enhance the risk–return trade-off of all factor-based strategies: especially in the discovery, choice, timing and weighting of factors over different phases of the market cycle.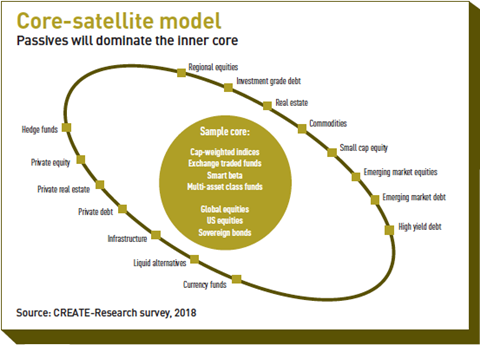 Another 39% of respondents want three improvements in multi-asset strategies that blend actives and passives. Specifically, they want fees charged on net performance that reduce the 'netting risk', a deeper understanding of the correlation between component styles, and an effective blending of high-conviction and rules-based styles.
However, these suggestions do not detract from our survey's dominant message. Passives are reshaping the investment universe, notwithstanding their potential drawbacks.
"Healthy markets require the Warren Buffett out there to be picking individual stocks and others to be exploiting the resulting price efficiency"
This rise has caused a foundational change in the ways pension plans manage their portfolios, blending actives and passives. A return to previous arrangements is highly unlikely, as is the demise of actives. Each style has its place. Safe havens will remain rare.
Hence, the real debate is not about actives or passives. It is about how to grow the market by driving out the mediocrity that has conspired against investors' interests. With the rise of passives, that process is well under way.
A disruptive innovation
ETFs have spearheaded the growth in passives recently. They are used to pursuing specific themes while gaining low-cost exposure to different markets, with intra-day pricing and trading. Their role will be, if anything, elevated in the future. They are viewed as the most disruptive innovation of the past three decades, yet their popularity will outlast the crisis that helped spur their uptake.
ETFs are becoming the centrepiece in the traditional core-satellite model to pursue specialist themes at half the cost, while active funds struggle to deliver value. Their daily liquidity is a substantial benefit for investors. They are used in fast-growing multi-asset class funds to gain access to various asset classes. Finally, ETFs are used for periodic tactical tilts and hedging.
These advantages do not detract from the downsides of passive proliferation – namely, that a high level of trading ensures that the differential between the prices of individual stocks and their fundamental economic worth may be skewed. Valuations are increasingly influenced by whether a stock is included in traded indices or not.
On the positive side, markets rely on the rapid transfer of information. A low-cost systematic style of investing such as ETFs – which eliminate at least some of the potential for human error – arguably, may produce better outcomes than active funds.
In this context, our survey respondents offered three concluding observations. First, fees are now seen as a key source of value creation given that quantitative easing has borrowed against future returns. Second, the separation of alpha and beta is an irreversible structural feature of pensions investing. Third, prudent diversification favours both active and passive investment models.
Passives and actives are complementary sources of returns. Actives make sense in volatile unpredictable markets. As one respondent put it: "Healthy markets require the Warren Buffett out there to be picking individual stocks and others to be exploiting the resulting price efficiency."
*Passive Investing: Reshaping the global investment landscape
Amin Rajan is CEO of CREATE-Research and Eric Wiegand is head of passive sales strategy Europe and Asia Pacific at DWS