Morten Hemmingsen of PensSam tells Rachel Fixsen about his fund's changing fixed income priorities
The essence of PenSam's strategic investment process for fixed income is the same as that for other asset classes – it focuses on the expected returns for investments at any given point, rather than sticking to pre-determined relative asset allocations.
But while the strategic process is based on varying allocations with changing risk premia in this way, the Danish labour-market pension fund also runs a very active tactical process on top of this, explains Morten Hemmingsen, head of fixed income and equities. "Since the crisis we have increased diversification and rotated the asset allocation mix a few times," he says.
In the wake of the 2007-08, PenSam raised its allocations to credit – high-yield bonds, loans and other instruments – taking them from 6% of the balance sheet to 20%. In recent years, however, the pension fund has partly rotated from liquid credit into illiquid credit, bringing down allocations to high-yield bonds and increasing investments in private credit instruments.
Today, PenSam's fixed-income portfolio is a diverse mix of domestic investment grade bonds – including government bonds and mortgages – US and European high-yield bonds, emerging markets sovereign dollar-denominated bonds, leveraged loans, privately negotiated senior and mezzanine corporate loans and portfolios of non-performing loans. "On top of this, we run hedging of liabilities and a number of hedge fund strategies," Hemmingsen says.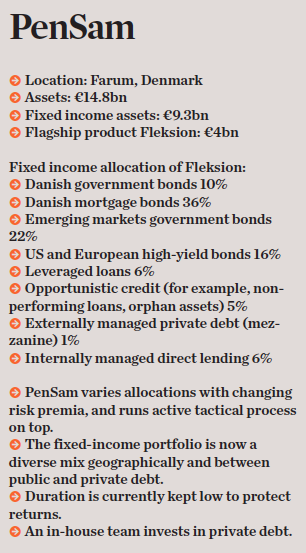 PenSam's fixed-income portfolio is constructed this way in an attempt to generate value and achieve diversification, Hemmingsen continues. "We believe that the portfolio has some diversification to equities but also understand that this is questionable at these low yield levels."
Quantitative easing by central banks has pushed most asset prices higher, and diversification benefits might be limited when this monetary tide goes out again, the fixed-income head explains. For this reason, the fund keeps duration in its fixed-income portfolio tight.
What sets PenSam's fixed-income investment apart from those of its peers is the fact it runs more strategies than most, according to Hemmingsen, as well as the fact that it focuses on what the internal team can create, rather than what external managers can offer: "Each portfolio manager runs a few leveraged hedge fund strategies on top of the cash portfolios. Some strategies are quite systematic in capturing traditional or alternative risk premia, whereas others are more tactical."
Looking back, Hemmingsen says the vast majority of the value creation PenSam has achieved against benchmarks, as well as against peers, has been done internally.
The fund is not alone in having concluded that there is better value to be found in credit books than in public debt. But the difference, according to Hemmingsen, is that his team has invested in this sector itself – for example, via direct lending – whereas many peers have hired external managers to do this.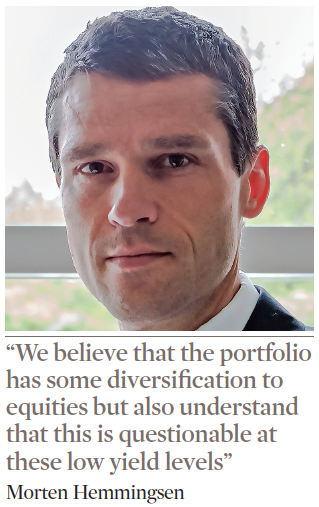 Investing directly has meant taking on more staff, and these have come from the bank side, particularly to satisfy the regulator, which watches closely to make sure direct investors have the expertise to analyse balance sheets thoroughly. Direct lending opportunities have proved much easier to find than the pension fund expected, Hemmingsen says, partly because of the huge need for flexible funding.
Having benchmarked its book of investments to performance by the best managers, PenSam has found itself to be up to par. Potential borrowers and others in the chain have come to trust PenSam as a direct lender. "We have shown we actually deliver," as Hemmingsen puts it.
"We try to be professional and respond quickly to the people who come to us. Sometimes direct lending funds find a proposal that is a bit too big for them, and then they approach us."
The challenge with direct lending and outsourcing is mainly the management fees, PenSam finds; Hemmingsen notes that what is good value before fees is not always so after fees.
In the last few years, the most interesting fixed-income external mandates have been non-performing loans or other orphan assets PenSam has been able to pick up from "motivated sellers".
These investments have given the pension fund double-digit returns after fees: "The drawback with these investments is the lack of liquidity. As a long-term investor we are well suited to hold non-liquid positions but even for us there are costs associated with illiquidity." This means PenSam has to perform a balancing act.
Looking ahead, will rising interest rates affect PenSam's strategy? Hemmingsen does not expect a sharp rise in interest rates, but acknowledges that AAA government bonds and euro swaps do not seem good value at that moment, and says the risk-return on these instruments is skewed.
For this reason, PenSam has trimmed the duration on its balance sheet to less than a third of the length it was a few years ago, he says. "For us, rising rates are not a solvency concern but a return concern," he says. "At the end of the day we are only here to produce retirement payments to our customers and, therefore, returns are key. We have done a number of things both from the asset side, as well as the liability side to protect our clients from dramatically rising rates."
The regulatory landscape has changed for fixed-income investment and this has, in turn, altered the way PenSam invests. "A few years back we were very active in CLOs, but with the latest on Solvency II, this is a closed chapter for us," Hemmingsen says, adding that repo lines are becoming a scarce resource from the banks. But challenges always create opportunities: "Assets need to find new owners and in that process money can be made."
Fixed Income Challenges: These peculiar times
1

2

3

4

5

6

7

Currently reading

PenSam: Challenges create opportunities

8

9

10