Brendan Maton delves into the opaque – and controversial – world of pay in the pension fund sector
Earlier this year, IPE looked at the cost of internal asset management for pension funds. According to CEM Benchmarking, the global average all-in cost of employing someone within the investment teams of the pension funds it benchmarks, including all overheads, is $250,000.

Global averages, however, can seldom be turned to practical advantage in diverse national markets. Pension fund executives' remuneration is no exception, especially as it has long been recognised that there is a 'Canada effect' in global averages for this field of occupation.
The Canada effect was first identified in a global survey of pension funds by KPA Advisory Services in 2011. Keith Ambachtsheer, president of KPA Advisory Services, writes in his latest book that the two most important high-pay drivers in that survey were the number of employees directly or indirectly employed in the investment function and a Canadian location.
Canada's seven big funds pay a lot of money to a lot of people. Canada Pension Plan Investment Board's total personnel costs alone were CAD594m in the last fiscal year for a workforce of over 1,200 people. That means the average cost of a full-time equivalent employee at CPPIB is CAD495,000 ($385,000), far above the global average found by CEM Benchmarking, whose study only focused on key staff.
The Canada effect, however, is not noticeable solely at home. One-third of those costs at CPPIB go on employees outside Canada (none of these figures include external management costs). Looking at management, CPPIB forked out just over CAD20m for its six top executives. Mark Machin, head of international, and since promoted to CEO, was awarded the equivalent of US$4.5m for the latest fiscal year.

These figures all relate to a fund with almost CAD300bn in assets under management. Only a handful of institutions in Europe established to fund pensions are bigger; none are as sophisticated. So does the Canada effect concern pension funds on this continent? The answer is yes, because of those people abroad employed by CPPIB and its peers. Many are already over here, mostly in London.
Alberta Investment Management Corporation was one of the last to establish a London office, in 2014. But the Canadians have plans to expand further and that means more competition for all asset managers operating in Europe's biggest financial centre, especially for the services of those managing real assets, a speciality of Canada's premier pension funds.
Last month, the chair of Universities Superannuation Scheme (USS), a large UK pension scheme – although with assets far smaller than the big Canadian seven – decried remuneration levels at the Canadian plans as "completely and utterly unacceptable in the public-purpose world". Her worry was retaining good staff as the Canadians increase their presence in Europe.
The problem for Europeans is that the Canadians reckon they are paying 'public purpose' salaries. CPPIB's fifth principle for its own directors' compensation pay declares an approximate 20% discount to full market remuneration "given CPPIB's public purpose" funding pensions across Canada.
Who is right or fair depends on your perspective. Ambachtsheer notes that, from his 2011 survey, the median top-five compensation among pension funds was roughly 10% of the top-five average compensation for major commercial financial institutions. Moreover, while the median top-five base/variable ratio in the survey was about 60/40, it was 10/90 for the top five executives at one of Canada's largest commercial financial institutions (which, to give some perspective, had approximately 72,000 employees at the time).
The point here is that pension funds are not competing solely with each other for talent but also with the commercial world, and no one IPE interviewed for this article suggested that salaries in Canada were lower in the private sector than in the 'public purpose' sphere.
McLagan, a subsidiary of Aon Hewitt, is probably the world's leading benchmarking company for remuneration in financial services. Alexander Verweij, a partner in the London office of McLagan, says that in-house pension funds and their fiduciary subsidiaries in Europe do benchmark compensation against the commercial sector. The private equity investor in Sweden's national pension buffer system, AP6, is one example. But benchmarking does not mean paying the same levels. AP6 hired McLagan to compare its personnel costs and found on average its total remuneration was 15% lower than private sector peers in Sweden.
Commercial stress
Verweij says that the pension funds and their fiduciary subsidiaries have to attract key staff for other reasons. "There are a lot of folk out there who have made their money in London or New York who are now looking to return home, possibly for family reasons," he says. "There is also the stress of the commercial sector. In-house might not bring you the same financial remuneration but there is the stability and breadth of the asset base," he says. "Remember that if you go over to the commercial sector, you're probably going to have to come back to the same pension fund knocking on the door trying to sell."
If pay is less in the 'public purpose' world, pension funds are, nevertheless, structuring remuneration in a similar way. Verweij reckons that means some elements of bonus up to eight years after the commencement of some projects for infrastructure teams.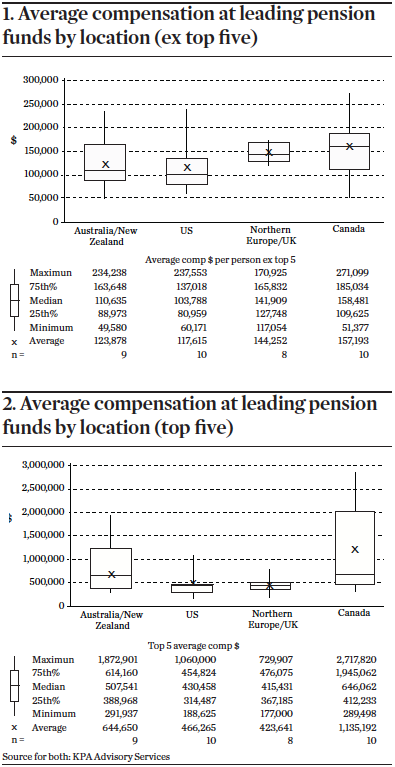 Such long-termism is evident in the remuneration of pension directors and chief executives too. One UK head revealed that 60% of his bonus was in stock deferred for 5-7 years, plus a year's vesting period. A real split, however, is evident between this kind of executive remuneration, designed with similar ratios and characteristics to a competitive commercial environment, and executive remuneration designed to distinguish itself from 'the bonus culture'.
Sweden's AP funds are a good example – executives receive additional pay but no performance-related bonus. The same is true for the Leader Team at Norges Bank Investment Management running Norway's Government Pension Fund Global.
Contrast the Scandinavians with another of the premier Canadian plans, Ontario Teachers, where each member of the executive board received last year more than CAD3m in remuneration, of which base salary constituted less than CAD500,000.
Moreover, throughout Northern Europe, where performance-related bonuses are paid, for portfolio managers below executive level, it is common for the worth of that variable pay to be capped at just two months' base salary. There are exceptions, notably APG, fiduciary manager of Europe's largest pension fund, where roughly 500 staff received average bonuses of €63,500 last year.
This did not stop one analyst joking that "compensation levels just keep getting worse the further north-west you travel in Europe".
But not everyone is laughing. Gustaf Hagerud was deputy head of AP3 in Stockholm until two years ago when he left to become a partner in a London-based investment manager, Kestrel Investment Partners. Hagerud says there should be a much greater chunk of variable pay for portfolio managers – "at least 50%" – even though pay at public purpose funds will always be lower. "You get to manage a huge portfolio. That gives you breadth and the opportunity to do things that make the job interesting and [that] are much harder to come by in the commercial sector," he says. "The problem Kirsten Hessius [AP3's CEO] and I had was when the benchmarks for the public sector were all wrong. They wanted to compare portfolio managers with folk in the national debt management office or central bank – but the jobs are completely different."
This example draws us back to suitable peers for European pension fund staff. The pressure on AP funds suggests simply sticking to one's own country and sector is not enough. If you don't need an international office and aren't worried about the Canadians buying up local infrastructure, then there are more accurate universes available (at a price) from the likes of McLagan, Mercer, Willis Towers Watson and also specialists such as Cepec in Switzerland, which runs a benchmarking exercise for 40 Swiss pension schemes, covering not just investment professionals but all kinds of in-house employees.
Consistency
Because in-house investment or executive pension fund roles in any European market do not constitute a large universe, however, much is still done on 'feel'. In spite of all the metrics around executive compensation at investee companies, one headhunter in the UK said there was no consistency in how pension fund executives were recruited, who recruited them (is the company sponsor's HR department involved?) or the benchmarks for remuneration.
In part, this lack of common practice stems from the different nature of pension schemes in the UK. Some have corporate sponsors, some public; some are established as trusts, while others fall under national legislation.
The headhunter said that her best client spoke with peers in order to obtain an informal sense of what employees ought to be paid.
Then there is the issue of retention. Like Hagerud, the UK headhunter reckoned that finding interesting projects for staff was crucial because the opportunities for promotion are few and far between. And, of course, money will never match the commercial sector.
Here a couple of ironies present themselves. While the EU's cap on bonuses does not necessarily extend to pension fund managers, it is clear that they are affected by the zeitgeist. Severely limiting variable pay is one of many messages from governments, financial regulators and electorates that they do not like unpleasant surprises from financial markets participants. The idea is that tantalising short-term incentives are a root cause of irresponsible behaviour; chop the former and the latter will wither.
But Damian Carnell, a specialist in executive compensation at Willis Towers Watson, says that the regulatory clampdown on bonuses has been countercyclical and counterproductive. "All that has happened is that remuneration has gone into fixed pay. The presumption of imposing a cap on bankers' pay was that total pay would go down but, instead, what has happened is that it has gone into fixed remuneration," he said.
One could add that top earners, including at pension funds, have been rewarded via 'workarounds', clever forms of payment that help avoid rubbing up against caps.
And so, according to the Bank of England, the salary cap has made for a more brittle financial system rather than a better one. This leads to a second irony that, as banks in certain European states are put under pressure, the country's asset management can also suffer by proximity. Banks own the dominant asset managers in many EU countries. Toine van der Stee is head of Blue Sky Group, fiduciary manager for the KLM pension funds and others in the Netherlands. On the one hand, he is happy that Dutch banks and their asset management subsidiaries are weaker. This means recruitment and retention at Blue Sky Group, where variable pay is capped at two months' annual base pay, is not a problem. On the other hand, van der Stee is perplexed by his country's zeal for reducing its financial services sector. Like Carnell, he feels it is counterproductive.
"We Dutch have a tendency that when the EU introduces new regulations, such as salary caps, we want to go further than anyone else. It's been damaging
Toine van der Stee
"The Netherlands is an open economy; we need a substantial financial services sector," he said. "But we Dutch have a tendency that when the EU introduces new regulations, such as salary caps, we want to go further than anyone else. It's been damaging."
The final irony is that politicians and the public expect pension funds to be a breed apart in financial services, without pondering the difficulty in attracting and retaining in-house staff. Pension funds are not a ready-made answer to the questions posed by the financial crisis. They do not have the human resources at hand to fill in all the gaps left by commercial houses.
Building those resources, especially in managing real assets, means paying more and there is no guarantee of success. Look at the UK Treasury's clumsy attempts to foster more pension fund investment in domestic infrastructure. All this could pale into insignificance if Ambachtsheer's latest recommendation is realised. In his book, The Future of Pension Management, Ambachtsheer recommends that Norway's Government Pension Fund Global – the world's largest asset owner – convert itself along Canadian lines into a real assets owner (GPFG has only recently started purchasing real estate). Were that to happen, a talent war with the Canadians might break out. The rest of Europe's pension funds with in-house investment ambitions would be left to deal with the 'Oslo effect'.
Pension Fund Governance: The pension pay challenge
1

Currently reading

Pension Fund Governance: The pension pay challenge

2

3