Sweden's largest pension funds have been thrust into leading roles in a money-laundering scandal over the past few weeks, as Swedbank was raided by fraud investigators and forced to fire its CEO.
The curtain rose on the central act a week before the bank's annual general meeting (AGM) in Stockholm on 28 March. A much-anticipated report from forensic accountants detailed several allegations – originally made in a Swedish television documentary – including that SEK40bn (€3.8bn) of criminal money could have gone through both Swedbank and Danske Bank's branch in Estonia.
Danske Bank is now the subject of investigations and legal action in several countries as a result of the "serious case of possible money laundering" that it accepts took place in Estonia. That recent experience meant Swedbank shareholders were primed to take swift action to any negative revelations.
When the report itself — which was expected to shed light on the past goings on — instead contained extensive blacked-out words and phrases, big shareholders spoke out.
Johan Sidenmark, chief executive of the SEK121.8bn AMF – which holds 4.4% of Swedbank's shares – said the pension fund had expected more from the report.
Alecta, the third-largest shareholder in Swedbank with a 5% stake, said neither the report nor Swedbank's proposed plan of action lived up to the firm's expectations. Ramsay Brufer, head of ownership at Alecta, called for more transparency to restore confidence in the bank, and said it was important for the Swedish regulator to be able to present its review as soon as possible.
Folksam, Swedbank's second largest shareholder with a 7% stake, was a rare supportive voice, saying the report provided answers to important questions.
Pre-AGM changes
Growing interest in the affair led Swedbank to make a last-minute switch to the location of its AGM, hiring the 1,400-seater Folkets Hus and abandoning its original plan to hold the event at Stockholm's Oscarsteater, which seats 947.
The bank then proposed the investor-pleasing addition of a financial regulation heavyweight to its board of directors: Kerstin Hermansson, former CEO of the Swedish Securities Dealers Association (Svenska Fondhandlarföreningen). Magnus Billing, CEO of Alecta, described Hermansson's election as "a first step".
But just a day later Swedbank was back in fire-fighting mode when its headquarters in Sundbyberg was raided by the Swedish Economic Crime Authority. The fraud investigators said they had gathered information that painted a picture of the bank "appearing to have spread misleading information to the public and the market about what the bank knew about suspected money laundering within Swedbank in the Baltic countries".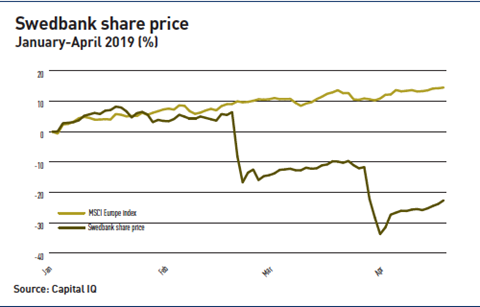 The bank said at the time that no individual or legal entity was suspected of a crime, and that it would co-operate with the authorities.
CEO Bonnesen fired
On the day of the AGM, Folksam, Alecta and AMF all said they would refuse to discharge Swedbank's chief executive and president Birgitte Bonnesen from liability for the problems, ahead of meeting that afternoon. Hours later, the bank announced that its board had decided to sack her.
Explaining the decision, Lars Idermark, chair of Swedbank's board of directors, said developments over the previous few days had created enormous pressure for the bank – but the blood-letting at executive level proved to be insufficient for some investors.
On 29 March, Alecta's Billing said he would not rule out calling another shareholder meeting in order to put a new supervisory board in place.
Idermark resigned a week after Bonnesen's sacking, saying that the "recent strong debate about Swedbank and questions about the bank's control of suspicious money laundering in the Baltics" had brought him to the conclusion that the media attention was not compatible with his chief executive role at forestry Co-operative Södra.
Divestments
With divestments continuing and investigations expanding, Swedbank is far from out of the woods. The fund management arm of Swedbank's rival SEB – until recently Swedbank's 10th largest shareholder – cut its stake in the bank by more than half to just under 1% because of the revelations.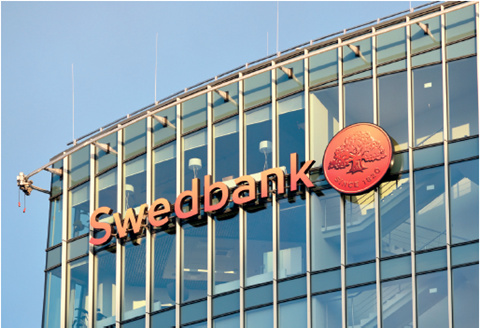 While Folksam did not cut its stake, it attempted to reassure customers that the rapid fall in the bank's share price would not affect its stability. Swedbank shares fell by 25% between 26 March and 29 March, although the price has subsequently recovered somewhat as of 17 April.
"If the Swedbank share today lost all its value, Folksam Life's solvency ratio would fall to 161%, compared with 163% at the end of the year," the provider said.
Meanwhile, Estonia's state prosecutor is broadening an investigation into Danske Bank to include Swedbank.
The Baltic money-laundering mini-series could have a happy ending – of sorts. The Estonian FSA published data in mid-April to back its claim that risks linked to serving non-residents had declined in the country's financial sector.
"We are giving a single and consistent message to the managers of the banks that Estonia is no place for dodgy banking," the authority said
Connecting climate dots
1

2

3

4

5

Currently reading

Pension funds act as Nordic drama engulfs Swedbank

6

7