German pension investors are boxed in. With the prospect of negative 10-year Bund yields, they are forced to expand their fixed-income exposure, according to Rachel Fixsen
At a glance
• The prospect of negative 10-year Bund yields presents a challenge and a conundrum.
• Infrastructure and provate debt are underrepresented in portfolios.
• Many funds have relaxed the credit restrictions they imposed at the height of the euro crisis.
German pension investors are facing strategy headwinds that many surely expected would disappear as record-low bond yields normalised over time. Far from materialising though, that scenario is increasingly giving way to the bizarre, looking-glass world of negative rates.
Illustrating the degree to which pension schemes are having to adapt to new territory, Georg Schuh, management board member and global chief strategist at Deutsche Asset & Wealth Management, relates that within the industry people are discussing whether the discount rate for pension liabilities could go negative. Although experts differ on whether this is possible or simply mathematically flawed, it demonstrates the extreme conditions pension investors are grappling with. "This already shows how absurd things have become," he says.
Asset allocation is undergoing significant changes as many German pension schemes deal not only with the interest-rate conundrum – but also higher market volatility and the economic outlook — within the context of the regulatory limits they are bound by. These limits vary depending on the type of pension fund.
On the one side, corporate pension schemes, or bAVs (Betriebliche Altersvorsorge), may be structured as Pensionskassen and Pensionsfonds and face tight investment restrictions where they offer defined benefit (DB) pensions. Whilst direct promise (Direktzusage) schemes using a contractual trust arrangement (CTAs) to hold assets to secure its pensions liabilities, are theoretically freer in their investment mix, although many choose to abide by the insurance supervision act (Versicherungsaufsichtsgesetz or VAG) that governs insurers, including Pensionskassen. On the other side, Versorgungswerke — first-pillar pension providers for professional groups — are subject to different regulations.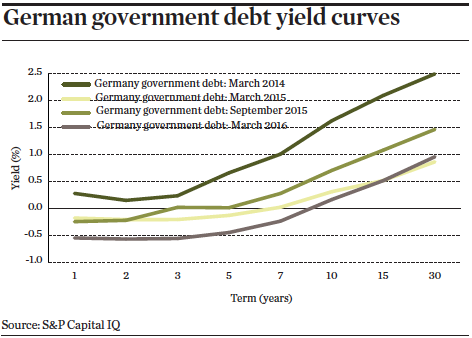 "Regulation does have a large impact on investment behaviour," says Michael Schütze, responsible for corporate and insurance clients at Allianz Global Investors in Germany and a member of the investment committee of Germany's occupational pension association (aba). "The highly regulated ones, the corporate Pensionskassen and others regulated under Germany's insurance supervision law (VAG) but not yet subject to Solvency II, are really hunting for basis points," he says.
They cannot invest more than 35% in risky assets, meaning that 65% is in fixed income and real estate. These investors are taking on as many illiquid assets as they can within the 35% risk assets portion, such as infrastructure and private equity, while broadening their fixed income as much as possible.
However, because the investment regulations that govern these schemes are quantitative and depend on stress testing, many are forced to hold less in risk assets than they desire.
The difference in asset allocation between corporates and more regulated pension fund types is apparent from Mercer 's 2015 EU Asset Allocation Survey, which separates the two categories.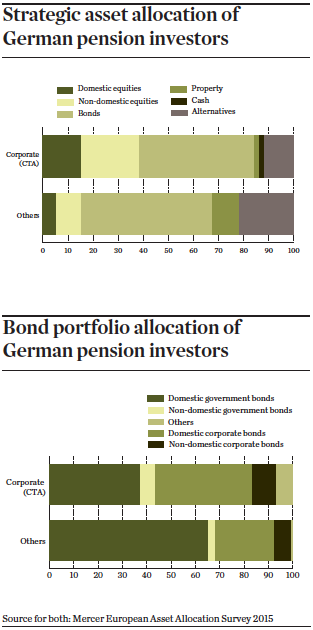 Corporates had 46% in bonds, 38% in equities, 2% in property and 12% in alternatives on average, while non-CTA pension funds had an average of 52% in bonds, just 15% in equities, 11% in property and 22% in alternatives.
The 2015 data revealed that a shift had taken place in strategic asset allocation by German pension investors in the previous year, with non-CTA pension schemes having whittled 13 percentage points off their fixed income allocations, increased allocations to alternatives and property 12 points from 21% and nudged equity allocations up one point from 14%. Corporates, meanwhile, had added eight percentage points to their equity allocations.
Michael Grob, consultant at Aon Hewitt , says investors are concerned about the level of 10-year Bund yields, which are currently at 10-15 basis points and could go negative.
Over the next three to five years, German pension fund portfolios are set to take on more return-seeking assets in response to the low interest rate environment, such as more illiquid assets like real estate or infrastructure, he predicts.
Carl-Heinrich Kehr, principal at Mercer in Frankfurt, says the universe of asset classes is likely to continue to expand and become more differentiated and fragmented, predicting pension investors will expand their range of assets into this universe. "Safe haven investments will become even more scarce than they already were," he says, adding that it will be increasingly difficult for investors to justify excluding any asset class, or source of diversification.
"Allocation to illiquid alternatives will add the benefit of their valuation latencies when liquid asset classes increase in volatility. While real estate and private equity have already been in the spotlight for most investors for some time, infrastructure and private debt are represented only in a few investors' portfolios," he concludes.
As a consequence, investors will have to spend more effort determining their appropriate liquidity budget and the liquidity of their portfolio, he says. Nigel Cresswell, head of investment consulting at Willis Towers Watson Germany, observes that on the equity side, there is still bias towards the euro-zone, according to data collected in his firm's 2015 Pension Risk Management study of the German market.
"This is not something we would recommend, because the big picture is they are probably not taking enough risk to get the returns they're looking for," he says. There are several barriers in the way of corporate pension funds diversifying their asset allocation further, Cresswell says, noting that while most respondents in the study said they want more portfolio diversity year-on-year, the changes they make do not match this intention.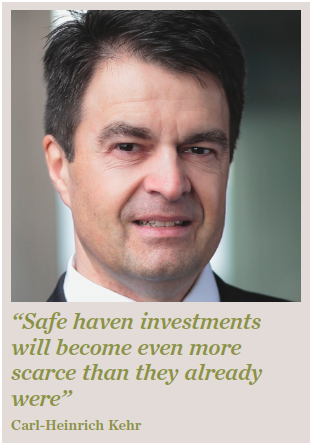 Pension investors face regulatory and implementation issues as well as governance structures that do not facilitate such changes. "Implementation of alternative strategies is not easy in Germany, as laws surrounding investment and tax transparency make it very difficult," Cresswell says.
There could be a cultural aspect to the reluctance to move away from fixed income, stemming from the fact that, in the corporate sector, pension scheme funding (as opposed to book reserves) has only become widespread in the last 15 years.
But now with interest rates at such lasting lows, pension investors are forced to act, he says.
"I think in the last few years there has been a mentality of hunkering down and waiting it out, but last year, that attitude changed." The relentless lowering of interest rates has meant liabilities have risen exponentially, and to levels that cannot be ignored, he says.
Fixed-income diversification
With nine-year yields on German government debt already negative, Schuh says it is possible for 10-year Bunds to turn negative too, even though he does not see the scenario as sustainable.
However, while investors are forced to use Bunds as collateral, he says that for many pension investors and Versorgungswerke, high-grade sovereign bonds are no longer a vehicle they can use. "These are instruments you only use if you are not allowed to take derivatives to match a certain duration profile. If you are allowed to get to your duration exposure another way you certainly take a lot of periphery, and many pension funds have chosen to drastically reduce the ratio of duration in their portfolios," he says
In recent months, Deutsche Asset & Wealth Management has cut duration in its portfolios by between two-thirds and a half because it sees current market risk as skewed. "If for any reason the ECB were to taper then yields will jump quite dramatically," says Schuh.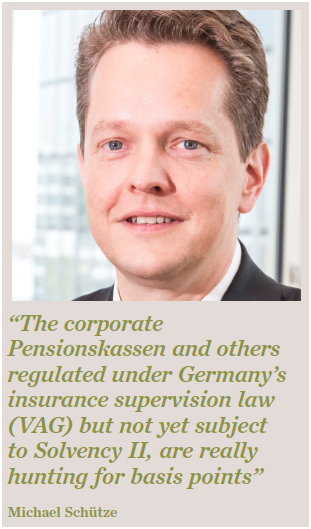 Schütze says that as the highly regulated pension schemes in Germany can carry up to 30% currency exposure – in their hunt for basis points – many are choosing to broaden their fixed income investments geographically. "Most of those investors have been pretty much fixed on German paper, but now they are turning to the whole of euroland, and some are looking at the whole of the OECD," he says.
Cresswell notes that German corporate non-CTA pension schemes have been diversifying portfolios in many ways over the the last two to three years. This has taken place as a relaxation from the period immediately following the financial crisis, when many institutional investors tightened up the range of credit ratings they were prepared to accept, he says. "When that disappeared, clients moved along the credit spectrum in the search for yield which was a classic consequence of QE," he says.
According to the Mercer 2015 survey data, non-corporate German pension funds have 66% of their bond portfolio allocated to domestic government bonds, while corporates have just 38% allocated to this type of bonds. For non-corporates, 29% of the bond portfolio is in domestic corporate bonds and 7% in non-domestic government bonds, while corporates have 40% and 6% in these sub-categories respectively.
Grob says pension funds have taken new positions in high yield and emerging market debt. But while other types of debt such real estate and infrastructure debt may appeal, little actual investment is being implemented. "They are searching for more return-seeking assets and therefore are looking at these type of investments, but more often than not they discard the plan," Grob says.
Rachel Fixsen
Germany's largest Versorgungswerk, Bayerische Versorgungskammer (BVK), is currently making considerable changes to its asset allocation in response to the altered economic and financial market environment it finds itself in. "Our direct fixed-income investments are being significantly reduced, and on top of that, broadly diversified," says Andreas Hallermeier, executve affairs spokesman at the €74bn fund.
Within fixed income, BVK has had exposure to high-yield and emerging markets debt since 2005. To achieve the further diversification BVK is targeting, the fund is bringing new asset types into its fixed income portfolio. These include real estate, infrastructure financing and the provision of municipal loans and corporate promissory notes (Schuldscheindarlehen).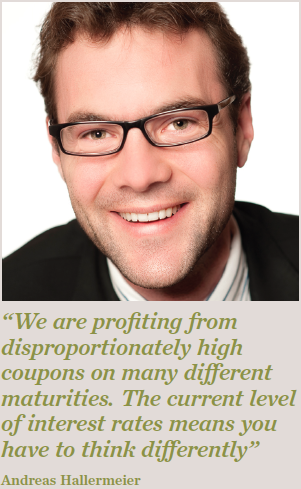 As examples of these forays into new areas, Hallermeier mentions the large-scale real estate financing deals BVK has signed such as those underpinning the construction of the Silberturm and Tower 85 in Frankfurt-am-Main and the Mall of Berlin shopping centre.
As well as entering these fixed-income asset sub-classes, BVK is also increasing its overall portfolio exposure to illiquid assets such as as private equity, infrastructure, timber and property, in order to capture an illiquidity premium.
Real estate is one of BVK's fastest-growing asset classes right now, with the fund investing directly in German property and also buying up assets in international locations via Spezialfonds vehicles. "We are also generally building up our equity investments, because, as long as the fundamental rules of the market economy are still valid, equity has to yield more than debt, at least in the mid to long run," Hallermeier says. Increased exposure to equities is also being implemented through Spezialfonds.
The low interest-rate environment is reducing BVK's overall risk-bearing capacity and has forced the fund to re-shape its asset allocation. This had to change because the increasing likelihood of the deficit widening would have put limits on investment diversification, he says.
"With the asset allocation we had up to now, the discount rate would hardly be achievable in the future. But, all these shifts have to be done in compliance with the regulation which stipulates various ceilings on individual asset classes," Hallermeier explains.
Apart from continuing to diversify its risk within the fixed-income portfolio, BVK has also decided to use some assets to invest in a particular concept that provide an inflation hedge as well as changes in the steepness of the yield curve.
In order to achieve this, it had made investments in simply structured interest rate products, such as so-called steepeners largely with variable interest rates. "In this way, we are profiting from disproportionately high coupons on many different maturities. The current level of interest rates means you have to think differently."
Hallermeier concludes: "Because of our duty to achieve long-term performance, it remains the case that capital preservation takes precedence over return in order to be fair to each generation."
Pensions in Germany: The joys of negative rates
1

Currently reading

Pensions in Germany: The joys of negative rates

2

3

4

5