Denmark's entrepreneur panel wants the country's largest pension fund to do more to support the growth of young Danish companies
Key points
ATP's mandate could be broadened to embrace investment in growth companies and employment
The fund's chairman argues against political interference in pension fund investment
ATP holds DKK28.7bn (€3.9bn) in listed Danish equities
As Denmark's largest pension fund by far, ATP is a substantial investor in Danish companies. But a new proposal aimed at supporting growth of young companies aims to multiply the resources the fund directs towards the domestic corporate sector.
An entrepreneur panel – Iværksætterpanelet – was established earlier this year by the Ministry of Industry, Business and Financial Affairs (Erhvervsministeriet).
It was tasked with identifying challenges and barriers standing in the way of entrepreneurs and growing companies in Denmark, and with producing suggestions about how achieve better conditions to support these businesses.
As part of the package of proposals it came up with in September to increase the amount of capital for growth companies, the panel suggested the ATP's mandate could be expanded to include investments in future Danish jobs.
Specifically, the panel, which is headed by Danish technology entrepreneur Tommy Ahlers, suggests the clause in the ATP law which states the pension fund's purpose, along with its funding clause, should be changed.
The new wording should make it clear, the panel proposes, that the idea of serving members' interests includes not only maximising their savings, but also reinvesting pension customers' savings in Danish growth companies.
The proposal suggests that ATP's annual report should contain a closer analysis and statement of its direct and indirect investments in Danish companies, perhaps anticipating that this may lead to public pressure over investments. "Danes must be able to see how their savings are reinvested in the society they and future generations live and work in," the entrepreneur panel said.
Its report said the challenge of investing in growth companies also extended to other pension funds. However, in its proposal, the panel said it was targeting ATP alone, since it was the only Danish pension fund not governed by EU law which, it said, would be hard to alter.
Jørgen Søndergaard, chairman of the supervisory board at ATP, has headed off the proposal, arguing against political interference in the fund's investment strategy. ATP strives to achieve the best possible return on its investments, he says, adding that, there are many desirable assets in Denmark.
But he cautions: "We will only be able to achieve the best possible returns by focusing on the best investment opportunities available, that being in companies and assets in Denmark as well as internationally.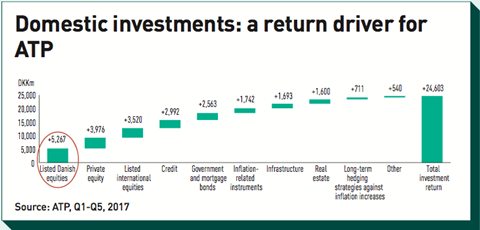 "Investments dictated from a political point of view will not help the Danish people who depend on us making high returns," says Søndergaard.
ATP does invest heavily in domestic investments in various asset classes, including DKK28.7bn (€3.9bn) in listed Danish equities, according to first-half 2017 figures.
This amounts to more than a tenth of the DKK221.4bn total market value of assets in its investment portfolio.
In its interim report at the end of June, ATP said the biggest positive return in the year so far came from the portfolio of listed Danish equities (see figure).
Holdings in Vestas Wind Systems and Genmab were the main positive contributors to performance in the first half, while the holding in jewellery company Pandora was the main detractor, it said.
The pension fund holds large volumes of shares particularly in the biggest Copenhagen-listed corporates, such as Dong Energy, Novo Nordic and AP Møller-Mærsk, and has holdings in 40 listed Danish companies in total.
ATP made a large profit from its private equity and debt investment in Danish payments company Nets, which held its initial public offering (IPO) in September 2016.
Over the course of 2016, the pension fund made about DKK5bn profit on private equity investments in DONG Energy and Nets.
However, one high-profile Danish equity investment that has not worked out so well for ATP is OW Bunker, the collapsed shipping company that went to market with a large IPO in 2014.
ATP is now in a group of 24 Danish institutional investors that have filed a lawsuit against Morgan Stanley and Carnegie in relation to the corporate failure and resulting investment losses.
Claus Wiinblad, head of domestic equities at ATP, has put the pension fund's success with Danish listed shares down to its thorough knowledge of the companies in which it invests, along with its active ownership approach.
As the largest Danish institutional investor, he says ATP has always had good links with the businesses it invests in on its home terrritory, and has been building the relationships over a long period.
He has described ATP's domestic listed equities strategy as a combination of being an active owner and a "traditional research-driven bottom-up approach".
Norway: A trillion dollar issue
1

2

3

Currently reading

ATP: Domestic pressure

4

5

6

7