Denmark: Strength in size
Rachel Fixsen looks at the importance of co-operation and collaboration between Danish pension funds as the price of real estate and infrastructure investments continues to grow 
At a glance
• Denmark's pension funds work together over investments, although some types more easily form partnerships than others.
• A generally pragmatic attitude facilitates link-ups between entities.
• The small size of many pension fund investment teams in Denmark makes co-operation a good option.
• Sharing due diligence and risk is seen as a key advantage of collaboration over deals
The system of pension provision that Denmark has developed has won accolades for effectiveness. It is held up as an example to other countries with less functional pension structures.
Pragmatism has arguably helped Danes to reform the system according to the prevailing perception of needs. Denmark's pension funds have proved they can work together on investment deals and share knowledge for their mutual benefit. This is despite the competition among the lateral labour-market pension funds as well as between the big commercial players. 
Francois Xavier Douin, head of institutional business in the Nordic countries for JP Morgan Asset Management, sees Danish pension funds co-operating over many areas of investment. "They may hire a manager together, giving a bigger mandate to that manager than they would do individually and therefore sharing the due diligence, particularly when a new asset class is involved," he says.
"On another level, investment people at the pension funds call someone else they know in the industry to get a second opinion about a deal — one that doesn't come from a consultant," Douin says.
While pension funds in Denmark do compete in many ways, the sector is notable for the mergers and alliances that have formed, and the link-ups that have been dissolved, he says.
"Danes are very pragmatic people," he notes. "The mentality is let's compete when we need to compete but collaborate when it suits us."
To what extent do the funds see themselves as competitors or collaborators?
Henrik Nøhr Poulsen, director of equities and alternatives at PFA Asset Management, says that although the knowledge base of investment professionals is high, these people are usually part of small teams. "This means they have limited bandwidth for some of the work that is involved in deals, so that is one factor that calls for collaboration," he says.
"In the Danish market, investment deals requiring billions of kroner, typically those over $200m (€170m), require more due diligence, and can attract several different types of investor who may be interested in private equity, mezzanine or other parts of the structure"
Jesper Langmack
"Another factor is the sheer size of these transactions is often at a level where they would be too chunky for a single pension fund to lift, so that calls for co-operation too," he says.
Pension funds in Denmark benefit from co-operation in terms of risk sharing but also in knowledge sharing, he says. "We have seen the heritage on the real estate side over the last 10 to 20 years, and it is interesting that pension fund partnerships in this asset class have been shifting around a lot and there have been no preferred partnerships," says Nøhr Poulsen.
This does not seem to be the case in infrastructure investment, however. "So far, what I've experienced is that you team up to get very close with other pension funds because these deals are complicated also from a risk point of view. 
"You tend to team up with institutions which are like-minded and you know very well," he says, adding that these partnerships are usually composed of a similar set of players over several deals.
The difference in this way of doing business is probably the result of infrastructure deals being viewed by pension funds as longer-term and more illiquid than real estate, he says.
Nøhr Poulsen adds that there is a cost benefit to sharing the technical or legal due diligence that needs to be done on a transaction. But the final decision on a deal will always be made separately and confidentially by the board of each pension fund, he emphasises.
Meanwhile, Jesper Langmack, investment director at Danica Pension, gives many reasons why he likes working together with other pension funds. "First of all, we can get an extra pair of eyes evaluating the deal, we can share the due diligence and also, it is often good to have more investors to lift the equity and share the risk," he says.
Langmack was working at the commercial mutual pension provider PFA in 2013, when it linked up with statutory pension fund ATP, along with Goldman Sachs, for a deal to recapitalise the state enterprise DONG Energy.
Even though in some cases pension funds may be competitors to some extent in terms of attracting customers, when they work together on an equity deal they typically share all relevant information they have along with all dealing costs, he says.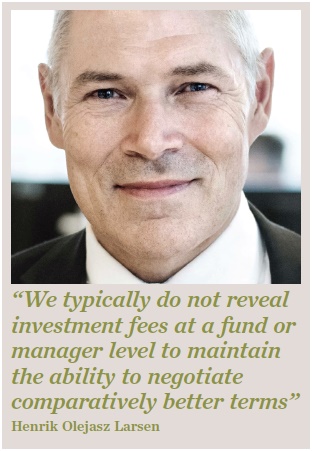 In larger financing deals there is often scope for other investors besides pension funds to work together — even if they have different investment time horizons and risk appetites.
"In the Danish market, investment deals requiring billions of kroner, typically those over $200m (€170m), require more due diligence, and can attract several different types of investor who may be interested in private equity, mezzanine or other parts of the structure within equity and debt," Langmack says.
A good knowledge of the people working in the pensions investment sector in Denmark and their backgrounds can be the key to making such collaborations happen. "You tend to know which of your colleagues in the industry have interests in different areas, so when you get a lead about a transaction that maybe too big for your organisation on its own, you can get in touch," says Langmack. Trusting each other personally is important, he says, so you know information about a deal that turns out not to be appropriate will not then be passed on.
While pension funds can work together, Langmack agrees that the biggest, commercial, competitors perhaps have more difficulty co-operating. "You do see many different constellations, but it is very rare to have the large ones working together," he says.
At Sampension, chief investment officer Henrik Olejasz Larsen agrees that Danish pension funds have benefitted from collaboration on specific investments and knowledge-sharing. "We are co-operating with Danish pension funds on a regular basis, and we have the ambition to leverage the advantages that this can give even more in the future," he says.
"This goes both to reduce internal and external due diligence costs, to get access to a better deal flow, to negotiate better qualitative terms — for example regarding investor oversight and influence — as well as lower management fees," he says.
On its initiative, he says, Sampension two years ago teamed up with TDC Pension, AP Pension, JØP and DIP to set up a €485m senior commercial real estate debt fund — the Kronborg Fund — appointing AXA Real Estate Investment Managers SGP to manage it.
Some secrecy is always necessary between competitors in the investment market to have a good negotiating position for the best deals. "We typically do not reveal investment fees at a fund or manager level to maintain the ability to negotiate comparatively better terms," says Olejasz Larsen, although he stresses the pension fund is open to disclose fees on a more aggregate level. 
"We think we in particular can influence fees when we take the initiative and formulate the investment proposal, whereas it is much more difficult to influence prices and other terms when, for example, a private equity fund raises a new fund in continuation of a sequence of successful predecessor funds," he says.
Olejasz Larsen says Danish pension funds do have different risk appetites both with regard to general investment risks and to concentration risks. 
"While this may hamper some types of corporation the different funds may also find different roles that facilitates a specific investment project, for example, one fund investing in equity and another fund in debt in the same underlying," he says.