Iceland: Slowly but surely
Iceland's capital controls imposed in the wake of the country's banking crisis eight years ago are being lifted for pension funds, writes Rachel Fixsen 
At a glance
• Iceland's capital controls, granted after the 2008 turmoil, are gradually being lifted for pension funds.
• Pension funds are putting their allowances into global equities and short-term credit.
• Domestic market strength means foreign investment dents overall returns for pension funds.
For several years after the 2008 banking turmoil Icelandic pension funds were barred from investing in foreign assets. They are now taking advantage of a limited foreign investment allowance.
In January 2016, the Icelandic central bank said second and third-pillar pension funds could invest ISK20bn (€141m) overseas during the first four months of the year. The exemption was allocated to schemes in accordance with their size and contribution levels. This followed the bank's decision in July 2015 to grant funds an allowance of ISK10bn to be used over the second half of 2015.
Thorey Thordardottir, managing director of Landssamtök lífeyrissjóða (the Icelandic Pension Funds Association) says the association expected pension funds to be granted further tranches of foreign investment, but was unaware how much this would be. "It's really positive for the pension funds in order for them to diversify their asset allocation, and this is step in the right direction," she says.
Halldor Kristinsson, managing director of Íslenski lífeyrissjóðurinn (ISLIF) pension fund, says that even though the latest allowance represented a small portion of the fund's asset allocation, it has still made use of it. "We have put the allocation into global equities, using two or three funds within our overall portfolio," he says.
Taking advantage of the exemption to invest at least some of its assets internationally has definitely improved the fund's position in terms of diversification, he says, but in the short term, at least it has done nothing for returns. "It has had a negative impact on returns because interest rates and investment return rates domestically are so high by comparison to foreign markets," says Kristinsson.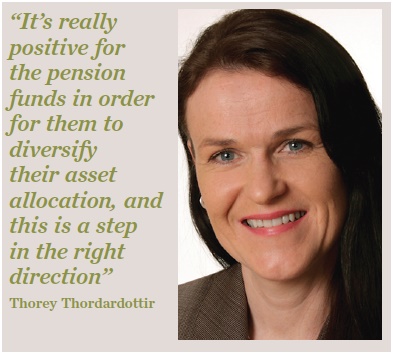 For instance, domestic equities produced a return of 40% in 2015, he says. "Iceland is at quite a different point in the cycle from other countries right now, and there is high GDP growth and no unemployment. We are coming from a low base, of course, but we haven't yet had any overheating in the economy," he says.
Despite the return differentials, ISLIF intends to take advantage of any further foreign investments allowances the central bank grants. "We will definitely do it and we will allocate to foreign equity markets," he says.
The pension fund expects to see further allowances being granted in the rest of this year to the tune of ISK60bn in all, including the ISK20bn granted this January.
Looking ahead, he expects further, broader relaxations of capital controls, but says the country's currency will always be managed to some extent. While the fund will focus upon foreign shares when it is permitted, on the fixed-income side, investment will remain domestic.
"We will focus on diversifying the equity exposure," says Kristinsson. "We have quite a high interest rate here in Iceland, the bond market is linked to core inflation and all our liabilities are in Iceland, so there is quite a benefit for us in investing in domestic bonds."
Marinó Örn Tryggvason, chief investment officer of Frjalsi Pension Fund, says the strategic asset allocation of his fund has been affected by capital controls. The fund has had limited opportunities to use tactical allocation between local and foreign asset classes, he says.
"In recent years, we have had strong economic growth in Iceland and an increase in asset prices. We think the economic outlook is favourable in Iceland for the next few years, and it is likely that we will see the krona appreciate," Tryggvason says.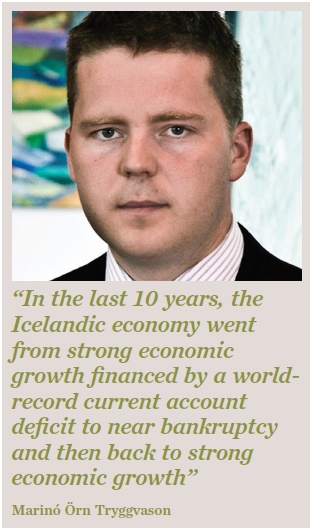 But he, too, says investing abroad will have a negative effect on the fund's expected return, at least for the short and medium term. "We have had limited opportunities to invest abroad in recent years and because of that we will increase our allocation to foreign assets to improve diversification," he says.
Frjalsi has invested all of its foreign allowances in equities and short-term fixed income, Tryggvason says. But, having to concentrate on the domestic economy over the last few years has been useful in terms of education. "It has been interesting to see the rebirth of the Icelandic capital markets," he says.
"In the last 10 years, the Icelandic economy went from strong economic growth financed by a world-record current account deficit to near bankruptcy and then back to strong economic growth," he says.
Capital markets can fluctuate much more than people predict.
"I think that it is psychologically difficult to forecast more change in asset prices than one standard deviation but every year we see much more fluctuation in many important markets. "To manage a portfolio you need to fight this limitation," Tryggvason says.
The ISK174bn Frjalsi pension fund has about 25% of its assets invested abroad, and Tryggvason says it has organised its internal work around the belief that Icelandic investors will be allowed to invest abroad sooner or later.
Even though the pension fund will probably outsource most of its management of global assets it is changing its focus to spend more resources on foreign markets. This should enable it to outsource successfully, he says.