Norway: Seeking illiquidity
Åmund Lunde, chief executive of Olso Pensjonsforsikring, tells Rachel Fixsen how the fund has improved returns through an increased allocation to real estate and infrastructure
Key Data
• Originates from Akers Kommunale Pensjonskasse which was established in 1901. Incorporated as Oslo Pensjonsforsikring AS in 2001
• Occupational pension fund for employees of the municipality of Oslo, municipal entities, many council companies as well as staff of a hospital previously owned by the council
• Assets: NOK72.0bn (€7.7bn) in OPF's collective portfolio at end of 2015
• At the end of 2015, the scheme covered 33,000 active members, 35,000 pensioners and 70,000 former members
Åmund Lunde, the chief executive of Oslo Pensjonsforsikring (OPF), Norway's largest municipal pension fund, takes pride in the improvements it has made over the last few years. "We have gradually been trying to professionalise our asset management and investment strategy and we are continuing doing this — and we are quite proud of that."
The NOK78bn (€8.4bn) fund covers employees of Oslo city council, council bodies and companies as well as workers at the local hospital which was previously owned by the municipality.
Last year, OPF made a return of 5.1%, slightly reduced from 7.5% the year before, with infrastructure and private equity the highest-performing asset classes with returns of 13.2% and 16.2% for the period. "The changes we have made to asset allocation have not been very big, but the returns we have been achieving – they have been quite good," Lunde says.
Having compared the fund's asset allocation between 2015 and 2010, he says that in asset class terms, the changes have been small. The most noticeable shifts have been increases in the real estate and private equity allocations, he says.
"What we have been doing, rather than seeking to put more money into the traditional asset classes such as equities and bonds, has been to try to take more risk within certain asset classes, without changing the composition by more than around five percentage points," he says.
In its moves to take on more risk, the pension fund has been undertaking larger infrastructure and real estate investments, for example. "In these, we are trying to benefit from being a very long-term investor and the fact that we do not require liquidity in our investments," Lunde says. 
In 2015, OPF bought a big hangar at Oslo's Gardemoen airport for over NOK950m, and a swathe of industrial land from Norsk Hydro coupled with a land-lease contract that by Norwegian standards is huge. The seller has said its book gain on the deal is expected to be about NOK350m.
"We have done some of this type of investment, going into less liquid parts of certain asset classes and trying to get the illiquidity premium.
"That kind of deal is interesting for us, but we can't put our whole balance sheet into that, of course, and it does require a lot work to understand each deal because they are complicated," he says.
Overall, allocations to real estate and infrastructure are likely to rise further, he says, but adds that this depends on the deals present in the market.
The fund will stick to domestic Norway for these investments, Lunde says, because it would not want to take on the political risk of foreign investments.
The relative shortage of investors competing for these kinds of deals spells potentially bigger returns.
"The lack of liquidity means there are some investors who don't participate in that kind of deal, they don't do that kind of investment, so maybe there is an enhanced return for the ones that have an abundance of liquidity for a long time," he says.
"We're not taking on more market risk, but we are taking on more illiquidity risk," Lunde says.
The expansion of the real estate and private equity allocation to about 3% of assets from 1% in 2014, can also be attributed to the pension fund's attempts to harvest illiquidity premia. "We are trying to compensate for the fall in interest rates that is dragging returns down," he says.
As for equities, OPF's strategy involves having a large part of its allocation in low-cost index funds and adding hedge fund exposure to that. Hedge funds make up about 3% of the overall allocation, and once it has selected them, Lunde says OPF tends to stick with its managers for a long time.
Within real estate, the tilt towards less liquid investments means OPF has been slimming down its allocation to buildings in Oslo's central business district. But because its overall assets are growing, this does not mean it has been selling; rather, it has been buying such prime assets at a slower pace, Lunde points out.
Norway's currency has depreciated by about 46% against the dollar over the past two years and by about 16% against the euro. "We are fully hedged on principle. Of course, last year there were very big returns to be made if you were unhedged," Lunde says.
However, all the pension fund's liabilities are in Norwegian kroner.
Economically, a weaker krone makes sense for Norway right now, though, Lunde points out, with the reduction in oil investment that is still going on. "That is not only due to the oil price but also to an investment boom that has finished," he says. "There is a need for other sectors to grow, and in order to make that happen, very low interest rates and a depreciation of the krone are very important."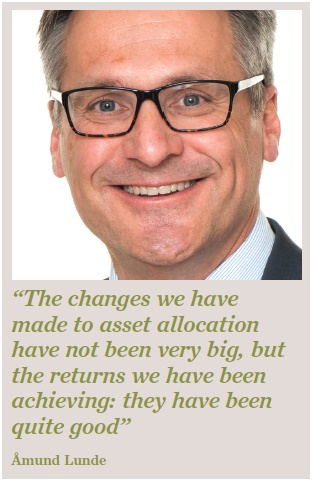 In the south-west, the economic environment is tough owing to job losses at oil companies, he says. In other parts, tourism is increasing because of the cheaper currency.
OPF has paid particular attention to building up its buffer capital. The goal is to exceed – rather than just meet – the levels required under the Solvency II legislation introduced at the beginning of 2016.
In its 2015 annual report, OPF said its preliminary Solvency II capital ratio ended at 211%, which is twice the minimum demanded under the new rules. "For us to achieve a good return in the long run, we think we have to be fairly consistent in our investment policy; we can't sell shares when they have declined a lot and buy them when they have risen a lot," he says.
"So for a given asset allocation, we have to be able to withstand quite large swings in the market, so that we don't have to change our allocation due to expected variations in equity prices," he says.
In this way, the level of solvency capital the fund has built up furnishes it with good prospects of being able to maintain high returns, he says.
Norway is already on track to bring in capital requirements for the country's pension funds based on a simplified version of Solvency II, with the finance ministry having in February backed the Finanstilsynet in its proposals for this area.
Lunde is happy with the capital requirements contained in the new legislation. "In our company, we think these rules do take these things into account in quite a sensible manner," he says.