Allenbridge, Treasury Select Committee, UN PRI, Martin Currie, Russell Investments, BlackRock, Aon, Hymans Robertson, Rogge, Hermes, Cairn Capital, Tikehau, Muzinich, Ernst & Young, QUAERO Capital
Allenbridge – The UK-based advisory firm has re-hired former UBS Global Asset Management CIO John Harrison as managing director. He was previously a senior adviser at Allenbridge for 18 months between 2013 and 2014.
He worked at UBS for 24 years, as a fund manager and latterly as CIO. He has been working with a number of UK public sector pension funds since leaving UBS in 2010, including the local government pension funds for Devon, Surrey, Gloucestershire, and Northamptonshire. He is also a visiting professor at Cass Business School, where he runs an investment course for charities.
Harrison succeeds John Arthur as managing director. Arthur will remain with Allenbridge as a senior adviser, the consultancy firm said.
Allenbridge CEO Odi Lahav said: "In this challenging investment environment, we believe the demand for genuinely independent advice and client solutions will continue to grow. I am confident that John's breadth of experience and expertise in asset management, and his significant management and consulting experience will enable us to continue to build and evolve our services to meet the changing needs of our clients."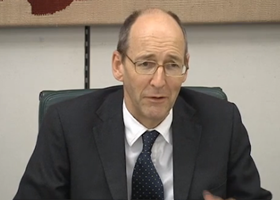 UK Treasury Select Committee – Andrew Tyrie MP, the chair of the Treasury Select Committee, has announced he will not stand for re-election in the UK's general election on 8 June. He has chaired the committee of politicians from the UK's lower house since 2010, and been involved as a member since he was first elected in 1997. He also led parliament's commission on banking standards.
During his tenure as chair of the committee, he gained a reputation for putting pressure on senior bankers and other politicians, particularly relating to the financial crisis and the Libor-rigging scandal. Andrew Bailey, chief executive of the UK regulator the Financial Conduct Authority, said Tyrie "played a major role in enhancing the accountability of economic and financial policy at a time of great change".
UN PRI/Martin Currie – David Sheasby has joined the Principles for Responsible Investment's ESG Engagements Advisory Committee. He is head of governance and sustainability at UK boutique manager Martin Currie. The committee works to coordinate collaborative efforts to engage with companies on a variety of environmental, social, and governance issues. It now has 10 members, including asset manager and asset owner representatives.
Russell Investments – Joe Linhares has joined from BlackRock to take on the role of head of Europe, the Middle East, and Africa (EMEA). He spent 16 years at BlackRock and Barclays Global Investors – which BlackRock bought in 2009 – in senior roles based in EMEA and the US. He was most recently global head of platinum accounts, and has also lead the iShares exchange-traded fund business in EMEA.
Aon – Gareth Doyle has been appointed as a senior investment consultant in its defined contribution (DC) team, based in Edinburgh. He will lead the consultancy firm's DC business in Scotland. He joins from Hymans Robertson where he was an investment consultant and head of DC research.
Separately, the firm has also hired Gerard-Jan van Berckel from Rogge Capital Partners as head of sales for European insurers within its fiduciary management business. He was previously head of continental European sales for Swiss Re and Conning Asset Management.
Hermes Investment Management – The asset manager wholly owned by the BT Pension Scheme has hired Andrew Jackson as head of fixed income. As well as developing its credit and direct lending teams, Hermes said in a statement that Jackson would work on "a multi-asset credit offering capable of accessing all areas of the global credit markets for pension funds and other long-term institutional investors". He joins from Cairn Capital where he was CIO and head of the investment committee. He has also worked at Bank of America, Fitch, and PwC.
Tikehau Capital – The alternative asset manager has appointed Peter Cirenza as head of London operations. He has been a member of Tikehau's advisory board since 2005, and in his new role will focus on the firm's private debt, private equity, and real estate offerings. He previously had a 20-year career at Goldman Sachs, and has been a lecturer at the London School of Economics since 2009.
Muzinich & Co – The specialist credit manager has hired Jan Henrik Reichenbach as head of private debt for Germany, Austria, and Switzerland. He joins the firm's Frankfurt office from Ernst & Young, where he was a partner in the group's capital and debt advisory team.
QUAERO Capital – The Swiss asset manager has hired James Hepworth as head of sales for the UK. The company said he would lead efforts to build relationships with UK institutions. Hepworth joins from Asset Managers & Advisors Cie, based in Paris, which he founded in 2009. The firm set up joint ventures in areas such as sellside equity research and fundraising for international asset managers.