Danish pensions major PFA today announced two new plans to boost its real estate exposure, involving link-ups with management companies in the Danish senior living and Swedish residential sectors.
PFA, which is Denmark's biggest commercial pension fund, said it has earmarked DKK2.5bn (€336m) to invest in nursing homes and senior housing across the Nordic country over the next few years via a joint venture with non-profit care firm OK-Fonden (OK Fund).
The new joint company is to create several welfare facilities in conjunction with local authorities, targeting 10 of Denmark's main cities as locations.
PFA and OK-Fonden said they were already in talks with several municipalities and expected to build around 70 to 100 nursing homes and between 40 and 50 senior homes under OK-Fonden's "Housing for Life" concept – a flexible arrangement for people wanting to live in their own home for life, even if they need help and care.
Under the joint venture – whose formation is subject to competition approval – OK-Fonden will run the facilities, which will be established and let to local authorities by the joint company.
Allan Polack, PFA's group chief executive officer, said demographic development meant places in nursing homes would be in short supply, and that as a large pension company, his firm knew this stage of life could come with many worries and insecurities.
"With our partnership with OK-Fonden, we want to create a high-quality solution that can help supplement the public sector, and which also takes place within a constructive dialogue with the interested municipalities," he said.
Separately, PFA announced a plan to enter the Swedish residential market via a new platform called PFA Bostad, which will be managed by Obligo Real Estate.
The Danish pension fund said the platform would invest in existing rental apartments in selected regional cities and municipalities around Sweden's major cities, which had stable growth and favourable demographics.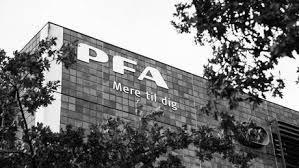 The aim was to build a portfolio of at least 500 apartments in each cluster, the fund said, for efficient portfolio management and to benefit from economies of scale.
Mikael Fogemann, head of Nordic real estate at PFA, said: "We are thrilled to finally be able to enter the Swedish residential market."
This neighbouring market shared many of the same characteristics and trends PFA saw in Denmark, he said.
"However, until now the lack of local presence and knowledge have made it difficult to invest in Sweden. That is why we are pleased to have this partnership agreement with Obligo," he said.
Fogemann told IPE the move was part of the firm's strategy to increase its relative exposure to residential.
Looking for IPE's latest magazine? Read the digital edition here.