Everything from batteries, visual displays, catalytic convertors to military hardware are reliant upon rare earths in their production. Unfortunately, investment opportunities in rare earths are not as widely available as their potential uses
Key points
Rare earths are not new but awareness has risen because of the trade war between China and the US
They are the 15 lanthanide elements on the periodic table, plus scandium and yttrium
China dominates world reserves
Investment opportunities are limited and the best way to gain access is through a producer or ETF
Despite the name, rare earths are not uncommon but they have recently grabbed the headlines because of the trade war between China and US. Prices have spiked and demand/supply dynamics have changed. Their niche status, though, has not altered and finding nuggets of opportunities is still difficult.
As Diego Oliva-Velez, Fitch Solutions commodities analyst and author of Rare Earths: Implications of Possible Chinese Restrictions, notes, the investment universe is small from an institutional perspective. "There are no future contracts, liquidity is quite linear and there are not that many ETFs [exchange-traded funds] or listed stocks of producers on the market," he says.
Chinese dominance
One of the main challenges is that China has a lock on the industry with a handful of players including China Northern Rare Earth, China Minmetals Rare Earth Co, Xiamen Tungsten and Chinalco Rare Earth & Metals Co. They have been part of the Chinese government's strategic plan to use rare earth to carve out a dominant position in the development of existing and future technology.
The group of elements (see box) which are projected to grow in value from $8.1bn (€7.2bn) in 2018 to over $14.4bn by 2025 are increasingly crucial components in high-tech products. These range from military equipment to healthcare and consumer electric goods, most notably computers and smartphones. In addition, they will continue to play a major role in the ongoing shift away from traditional sources of energy towards renewables such as wind turbines as well as hybrid and electric cars. In fact, more than 90% of these vehicles use rare earth-based magnets in their engines.
According to Fitch, China is the foremost global producer, with over 72% of global market share and a 39% chunk of the world's largest known deposits of rare earths. Countries such as the US, Australia, Russia, and Brazil comprise the remainder of the output. The US reigned for 30 years but producers pulled out in 2003 because they could not compete with China's low production costs and lenient environmental regulations. This explains why the US now relies on China for 80% of its rare earth imports. Extracting rare earths is an expensive and dirty business because the individual ores have to be separated as they are intermingled in the mining product.
What are rare earths?
Rare earths typically refer to the 15 lanthanide elements on the periodic table, plus two other related elements, scandium and yttrium.
They are far from unusual - there is an estimated 99m tonnes of them to be found in the Earth's crust — though it is hard to find large concentrations of them in one place.
They are the building blocks of modern technologies and electronics and demand has risen as new products have come onto the market. The most popular are Neodymium, Praseodymium and Dysprosium, these are deployed in magnets, electric cars, wind turbines, lasers and industrial robots.
Other well-known examples include cerium used in catalytic converters, gadolinium for X-ray and MRI scanning systems as well as television screens.
The list also includes yttrium, terbium, europium which are important in the manufacturering of televisions and computer screens and other devices that have visual displays plus lanthanum which can be found in in camera and telescope lenses.
Nervous times
It is no surprise then, that market participants are nervous over rising trade tensions. Between July 2018 and May 2019, the US imposed about $250bn of tariffs on Chinese exports although the bulk were implemented this May when talks broke down again. The Chinese government retaliated by levying $60bn worth of tariffs on American imports and is creating a list of 'undesirable entities' that damage its commerce and security. American firms are expected to develop their own blacklist.
While there has been no clear pronouncement on rare earths, the Chinese government is threatening to restrict the exports and, based on precedent, they are likely to make good on their warnings. As Oliva-Velez notes, "there could be restrictions unless there is a sudden de-escalation in trade tensions, which we at Fitch Solutions believe is unlikely."
He adds that the Chinese government acted in 2006 when it imposed global export quotas and duties for rare earth materials, while in 2010, the authorities reduced the country's rare earth export quota by 40%, which caused prices to skyrocket. However, the dispute between China and Japan over the Senkaku Islands – which China refers to as the Diaoyu Islands – captured the most attention nine years ago.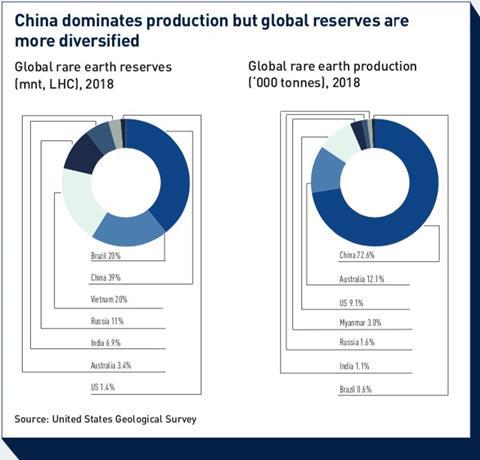 Chinese authorities allegedly halted rare earth shipments to Japan for two months while the US, along with the EU and Japan, brought a case to the World Trade Organization's Dispute Settlement Body against the restrictions in 2012. After a battle, China had to end its export quota system, but the rules are not expected to apply now because the country can argue that it is railing against 'unjust' trade practices initiated by the US government.
While it is difficult to predict the outcome, in the short term, the Fitch report predicts the restrictions will lead to higher prices, which will hurt US industries and consumers. However, in the long term, there are several reasons why China's dominance will be eroded. Rising labour costs and stricter environmental controls will diminish its competitive advantage, while the US already maintains stockpiles of rare earth materials for the defence industry. Moreover, companies such as Apple have begun to use processes that involve recycling rare earth materials from, for instance, old iPhones.
"Rare earth production at operations outside China is forecast to increase significantly in the years to 2028, as existing producers expand production capacity and numerous projects in Australia, Russia, the Americas and Africa are scheduled to be commissioned"
David Merriman
Perhaps more importantly, producers are developing their own processing facilities together and individually. For example, Australia's Lynas, which controls just over 10% of the global rare earths market, has entered into a joint venture with US-based Blue Line Corporation to build a separation facility in Texas. Meanwhile, analysts expect to see more activity from Brazil which, with a 22% market share (according to data from the United States Geological Survey) has the second largest deposits of rare earths in the world, as well as the African countries of Kenya, Madagascar, Malawi, Namibia, South Africa and Tanzania.
The result is that "rare earth production at operations outside China is forecast to increase significantly in the years to 2028, as existing producers expand production capacity and numerous projects in Australia, Russia, the Americas and Africa are scheduled to be commissioned," according to David Merriman, rare earths specialist at Roskill, a metals, minerals and chemicals consultancy. "I would not be surprised to see China's share fall to 55% to 60% over the next decade," he says.
Limited avenues of investment
The jury is out, though, as to whether the increased future output will bring a wider range of investment opportunities. "At the moment, there are not many producers to choose from and while this may change, rare earths will remain a niche area," says Jon Sigurdsen, portfolio manager at DNB Renewable Fund. "The barriers of entry are high and currently the price is not high enough to justify the capital investment. If investors are interested, then the best way to gain exposure is through Lynas from a risk-reward prospective."
The choices on the ETF front are even more limited. The most prominent is the VanEck Vectors Rare Earth/Strategic Metals ETF which launched in 2010. It tracks the MVIS global rare earth/strategic metals index that includes companies primarily engaged in activities related to the producing, refining and recycling of rare earth and strategic metals and minerals. However, the index suffered a correction due to the worsening trade dispute and the ETF's pricing slipped by 4.1% as of mid-July.
Financialisation: The commodities conundrum
1

2

3

Currently reading

Rare earths: The building blocks of tech