When the two mainstays of the Finnish earnings-related pension system decided to re-weight their vast passive equity exposure to reflect their environmental, social and governance (ESG) priorities, both found that, despite the plethora of ETFs now available, none met their precise needs.
That discovery led both Ilmarinen and Varma – the largest of Finland's four mutual pension insurance companies – to get involved with some of the most established sponsors of the tradeable index investment vehicles and help create a new breed of ETF with ESG tilts.
Ilmarinen took its first step as co-developer nearly two years ago, working on a project which resulted in the launch of the Lyxor MSCI EUR ESG Leaders ETF in February 2019.
The following month the Finnish investor, with a total of €46bn under management, invested in a new DWS US ETF listed on the New York Stock Exchange (NYSE), which it had also helped develop. Then in May of last year, Ilmarinen stowed €750m into a third ETF it had been involved in bringing to fruition, this time a fund from passive investment giant BlackRock. The listing of this vehicle, the BlackRock iShares ESG MSCI USA Leaders ETF Fund, was one of the largest ETF debuts in the US at the time. This BlackRock ETF follows MSCI's ESG index, which includes companies with the highest corporate responsibility ratings within different industries, and excludes the tobacco, alcohol, gambling and weapons sectors.
In September 2019 Varma announced the result of a similar ETF-creation exercise it had taken part in, having turned to a different set of collaborators, Legal & General Investment Management (LGIM) and index investment company Foxberry, to create a new responsible investment European equity ETF in which it then invested €200m. This new instrument, the London-listed L&G Europe Equity (Responsible Exclusions) UCITS, excludes certain companies on a blacklist guided by a largely Nordic committee. The five-person sustainability advisory committee which helps construct the portfolio includes Tomas Franzen, former chief investment strategist of Sweden's AP2, as well as Gustaf Hagerud, who was previously AP3's deputy chief executive officer and Vesa Syrjäläinen, responsible investment analyst at Varma.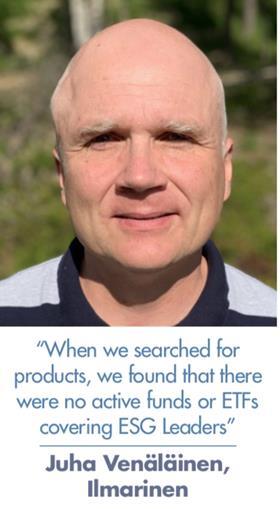 Following this initial foray into ESG ETF development, two months later Varma revealed it had been working with the same two partners to launch the LGIM US Sustainability ETF, in which it invested €500m. This fund, also listed on the London Stock Exchange, tracks the Foxberry Sustainability Consensus US Total Return Index. According to Foxberry, using an expert committee which can react to emerging issues by changing exclusions is a way of future-proofing the index.
The broader benefits
Juha Venäläinen, senior portfolio manager at Ilmarinen, describes how the pensions insurer started on the path towards creating these tailored passive investment vehicles, saying it began with a decision to allocate some assets toward MSCI ESG Leaders indices. "When we searched for products, we found that there were no active funds or ETFs covering ESG Leaders," he says, adding that the ESG market had been really fragmented at that time. "There was a wide range of products with unique ESG tilts and preferences which had caused low liquidity and excessive fees. Despite the growing investor interest in ESG, there was no single product with any muscle in the market."
Although an index fund was an option Ilmarinen could have taken at that point, Venäläinen says the organisation decided it was in a position to seed an ESG ETF that could benefit investors at large. He explains the reasoning: "Should these ETFs attract wider interest, increasing liquidity would keep the fees at bay and could encourage ESG adaption within passive investing."
To date, Ilmarinen has seeded five ETFs that follow the MSCI ESG Leaders Indices – two of those in US, two in emerging markets and one Europe, with €4.3bn – more than 90% of Ilmarinen's equity ETFs portfolio – having been invested in these ESG products. Discussions with the ETF and index providers have been surprisingly easy, according to Venäläinen: "There has been mutual understanding of importance of ESG investing and the benefits it brings to investors, providers and to the future."
Meanwhile Varma, which has total assets of around €44bn, chose to use ETFs for the passive ESG-tilted exposure it was seeking, rather than a more traditional external manager mandate, because it needed to substitute the traditional ETF-investments it had previously been using to gain passive market exposure. "Naturally this meant that we wanted to have a similar product but with a unique ESG methodology," explains Hanna Kaskela, Varma's director of responsible investments. "We wanted to minimise the tracking error versus the conventional index, while minimising ESG risks – more notably climate-related transition risks," she says.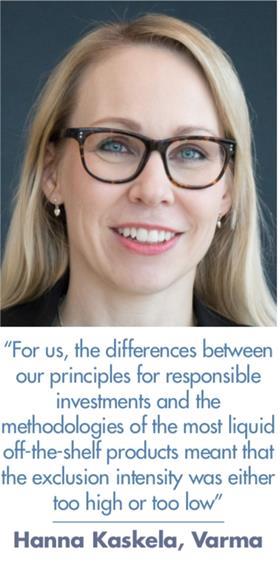 For example, in the bespoke ETFs, this was achieved by excluding the most CO2-intensive companies, and companies that posed the risk of stranded assets, says Kaskela. "The idea has always been that we want to have index exposure, but we don't want exposure to certain individual companies due to their ESG issues. For us, the differences between our principles for responsible investments and the methodologies of the most liquid off-the-shelf products meant that the exclusion intensity was either too high or too low," she says.
Challenging but worthwhile
For both the Helsinki-based investment institutions, taking the novel route of participating in the development of ETFs has had its pros and cons. An advantage of the approach, says Kaskela, is the transparency of the methodology, and the possibility of shaping the methodology to fit a particular organisation's own ESG principles. "On the other hand, the process of developing a tailor-made methodology can be time consuming, and you need to be aware of different ESG datasets that are available to use," she notes. "Also, for many ESG data fields, the historical data is relatively short, which makes back-tests far into the past highly irrelevant, and at the same time predicting the future performance a bit more difficult." Although collaborating with the ETF sponsors involved a lot of discussion of different ideas, which were then tested until all parties agreed on the methodology, she says that all in all, the process was straightforward.
The idea of creating a bespoke product originated internally from Varma's head of listed investments, she says, but implementing ESG in passive index investments had been discussed at Varma long before that. "Our principles for responsible investment and especially our climate policy include numerous ambitions and targets for our investments, including passive investments, which have also worked as a guide for these kinds of developments," she says.
Is Varma likely to engage in more collaborations in the ETF space? Kaskela points to the huge increase there has been in the number of ESG ETFs available, and the fact that the methodologies behind these vehicles are becoming more and more diverse. "So it may make sense to explore those options," she says.
Varma is also following the development of the EU Sustainable Benchmark regulation, which she says is sure to have an impact on the products the pensions insurer invests in in the future. "At the same time, the great thing about bespoke products is that you know exactly what you are going to get, and I believe there is always a place for them," says Kaskela.
Kaskela asserts that responsible investment needs to be essential part of every investment decision, so the passive index investment space needs to be more responsible too. "This is important because capital market overall has become more and more passive," she says.
As head of responsible investment, Kaskela notes that active ownership, including voting at shareholder meetings, is trickier for investors when it comes to passive index investment, and in many cases impossible, since investors do not own the underlying companies directly.
Resolving this problem may involve some additional and alternative ways to engage with the underlying companies, she says – either directly or via a third party.