Mandatory tendering in the UK market has fuelled rapid growth in the fiduciary management industry
KEY POINTS
Mandatory tendering for outsourcing more than 20% of assets is now in force for UK schemes
An increase in activity means managers and advisers are busier than ever
Some consolidation of providers could occur after retendering activity dies down
Fees are coming under pressure as trustees' understanding of the market improves
When the Financial Conduct Authority (FCA), the UK's financial services regulator, launched its landmark Asset Management Market Study in November 2015, national media focused on its findings regarding value for money (or lack of it) presented by products aimed at mass-market investors.
For the institutional pensions world, however, the biggest headline was the prospect of a competition review of the investment consultant and fiduciary management sectors.
For years, consulting giants Mercer, Willis Towers Watson and Aon had been hoovering up assets to their fiduciary arms based on the concept of implementing their own advice to pension scheme clients.
As of the end of last year, the trio managed almost €570bn in global pension assets, according to IPE's latest Top 500 Asset Managers report. Mercer alone runs more than €274bn, making it among the 100 largest asset managers in the world.
However, the process of moving from an advisory to an asset management arrangement was not always clear, the FCA argued in its market study. It requested a detailed independent review to ensure the rapid growth of the fiduciary market was in the best interests of pension scheme members.
The review by the Competition and Markets Authority (CMA), the government department tasked with strengthening competition, lasted 14 months. It has already had a substantial impact on the fiduciary sector.
Mandatory tendering
The introduction of mandatory tendering is the main direct effect on defined benefit (DB) pension schemes. The CMA found that some trustee boards opted to appoint their consultant as the fiduciary manager "even if a better deal may be available elsewhere". Only a third of schemes reported having held any kind of competitive tender for their appointments.
Effective from December 2019, any scheme outsourcing 20% or more of its assets to a fiduciary manager must go through a competitive tender process. This is defined as involving three or more bids from different companies.
In addition, any scheme that has previously appointed a fiduciary without a competitive tender must go to market by June 2024 to comply with the new rules. Schemes that appointed a fiduciary manager more than five years before the date of the CMA's order (10 June 2019) have until June 2021 to start this process.
Research by the CMA during its review found that only 50% of schemes that employed a fiduciary manager reported having run a tender. This implies that there might be a high level of retenders to come to market in the next few years. Anecdotally, most fiduciary managers IPE interviewed reported a significant uptick in requests for proposals (RFPs). Roughly half of all searches were for retenders.
Andre Kerr, head of fiduciary management oversight at XPS, says: "We have assisted a number of retender exercises and in many cases found that the current investment needs of the scheme and investment beliefs of the trustee are not aligned to the current fiduciary manager.
"This confirms to us that in many cases the existing adviser used their trusted-adviser status to gain an incumbency advantage. We are helping many of those schemes to now ensure they have the right provider moving forward."
Nikesh Patel, head of strategy at Kempen, says: "This has changed the fiduciary landscape. Prior to the CMA review, in the old world, there was £15bn-20bn [€13.6bn-18.1bn] moving from advisory to full fiduciary arrangements. Now we estimate that £30bn-35bn will change hands or move to fiduciary for the first time this year. Next year will be the same, if not larger."
Coping with demand
The rush of schemes coming to market has posed challenges to providers and advisers in terms of their ability to cope with the volume of RFPs.
Many had anticipated this spike in demand and increased their resources accordingly. Sion Cole, who was hired from Aon to lead BlackRock's expansion in the fiduciary market, says larger providers will be able to "redeploy people and resources" to respond to surges in demand.
Netherlands: fiduciaries brace for new pensions pact
Just as new legislation is transforming the UK, the Netherlands' new pension agreement promises to shake up the way fiduciary managers operate for years to come.
The move away from defined benefit (DB) to a combination of collective and individual defined contribution (DC) brings with it multiple challenges for all types of providers. Pension boards will often find themselves turning to their fiduciary manager for assistance and guidance through the complex multi-year transition period.
Bart Kuijpers, head of fiduciary for the Netherlands at BMO Global Asset Management (BMO GAM), says fiduciary managers will need to support pension funds through the transition.
He says: "All assets need to be reassessed. It puts a lot of scrutiny on the pension board, because they will be making decisions that were previously made by the regulations. If they don't have the right decision-making processes, they could find themselves in trouble.
"The regulations are not set in stone yet so we don't want to make decisions that might hamper what [clients] are able to do in the future. It's very difficult for pension boards to come up with a strategy for the current rules, but with half an eye on the new way of thinking."
Fiduciary managers will have to help their clients understand the implications not only of the new rules, but how to transition from one regime to another, Kuijpers concludes.
"Fiduciary managers need to advise their clients on these topics and adjust their processes and systems to cope with all these changes," adds Maureen Schlejen, head of fiduciary management at NN Investment Partners (NN IP).
BMO GAM and NN IP have already begun discussing with clients, consultants, custodians and other providers on how the Dutch system might change. While the rules are yet to be finalised, there is no time to waste.
"It probably makes sense that some of the more traditional advisory ideas will become a bit quieter as the fiduciary management industry continues to pick up pace," Cole says. "I think what you'll see is a migration of that talent towards where the work needs to be done."
Consultants such as Barnett Waddingham, LCP and MJ Hudson have added advisory capacity. Providers including Mercer, SEI and Willis Towers Watson all also brought in new staff and resources.
Despite their preparations, Kempen's Patel says providers may already be "stretched" by the increase in activity.
"Fiduciary managers have a capacity constraint on how many clients they can reasonably serve, and on their ability to complete questionnaires and attend pitch meetings," he says. "Then there is onboarding. All three of those aspects are stretched.
"It hasn't hit yet, but there is going to be a huge amount of activity in onboarding that will hit capacity later this year. Fiduciaries will have to be selective who they work with. From an asset management perspective, you don't want to be in a position where you're choosing between one client and another – but that is the reality."
Pandemic impact
The COVID-19 pandemic has hit the UK and global economy hard. For pension funds, funding concerns as asset prices dropped were soon overtaken by challenges related to business continuity. Staff in-house and at providers were forced to work from home or put on furlough.
Schemes that were looking into fiduciary management also put their plans on hold in the first few weeks of lockdown in the UK – but they have since come back to the market.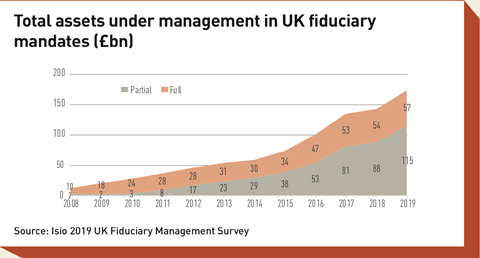 "There was a brief pause in April and May, but since then activity has been at the highest level we've seen," says David Curtis, head of UK institutional business at Goldman Sachs Asset Management (GSAM).
In addition, the pandemic's impact on financial markets may have encouraged more trustee boards to consider fiduciary management as a serious option, according to Jim Leggate, head of UK institutional business at Russell Investments.
"For those that haven't moved to fiduciary management, the market impact of COVID-19 will have caused some to question whether they should investigate it further," he says.
"This year has just heightened awareness of the need to have good governance," says Cole. "A lot of schemes will have gone through the market turmoil and been paralysed with an inability to do anything, whereas fiduciary managers would have been much more nimble and able to react to the changing circumstances."
Several commentators say the lockdown period may have improved scheme governance. Meetings held over video calls have often proven more focused and efficient, helping trustees identify important issues and act accordingly.
Some trustee boards may have been tempted to delay major decisions during the height of the pandemic and lockdown. IC Select director Donny Hay warns that they should not postpone retendering work too much longer.
"It takes roughly six months from the very start of the process to getting the fund manager agreement signed," he says. "At the moment, schemes are getting very competitive pricing, but if there is a rush next year you won't get that."
Looking to the future
The spike in activity is only expected to last so long. Once the mandatory retenders have been completed, the market will likely go back to a more 'normal' level of activity.
But that does not mean growth will stop. Of more than 5,000 DB schemes in the UK, just under 1,000 have adopted some form of fiduciary management arrangement, the CMA's data indicates. While not all will take the outsourcing route, providers are confident that new business will remain strong for the next few years at least.
Between 2018 and 2019, the number schemes grew by nearly 10% and assets under management increased by more than 20%, according to KPMG's annual survey of the fiduciary marketplace – now coordinated by Isio. The survey has shown for several years that the trend towards outsourcing investment implementation is not slowing. From 508 mandates and £72bn in assets in 2015, the industry has grown to £172bn in 946 mandates at the end of 2019.
The changing nature of DB will also inspire more trustee boards to consider fiduciary management, according to BlackRock's Cole. As more and more schemes turn 'cashflow negative' – paying out more than they bring in – and focus more on their endgames, trustee boards may find that their existing governance structures are not set up to cope with the significant changes this shift brings.
In addition, fiduciary managers will find themselves playing in increasingly important role in the endgame planning of pension schemes, says BlackRock's Cole.
"I think many schemes are looking to appoint a fiduciary manager as the last investment decision they make," he says. "They might be looking for a provider that can take them through to fully funded status, and from there to an insurance transaction or self-sufficiency."
In that final stage, says Tim Dougall, head of fiduciary management at Legal & General Investment Management, "it's not as much about growth assets, but instead about managing liabilities and looking for buyout opportunities – it's a lightly different skillset". His company has helped three of its fiduciary clients to reach buyout. In two cases, the insurer was parent company Legal & General.
The CMA effect
"The CMA review is having the impact that was anticipated: more competition, more optimal outcomes, and higher competition on fees," says GSAM's Curtis – and this is essential for the wider pensions sector.
Fees are already coming down (see panel), and more fiduciary providers are winning business from the traditional big players, industry experts say.
But once the spike in retendering activity subsides in the next few years, where will that leave the newer and established players?
The Aon-Willis Towers Watson merger
The planned merger of global financial services giants Willis Towers Watson and Aon could have a substantial impact on the fiduciary business in the UK.
Between them the two companies manage €295.4bn in fiduciary assets as of December 2019, according to the IPE Top 500 Asset Managers Survey.
The merger – worth an estimated €80bn when it was announced in March – gained shareholder approval in August and is expected to complete in the first half of 2021.
Greg Case, Aon's CEO, said at the time of the approval that the pandemic had demonstrated why the merger was necessary.
"The events of 2020 are illustrative of the exact type of transformative long-tail risk our new organisation will be best positioned to address, creating significant value for clients, colleagues, and shareholders," he said.
The merger means further consolidation within the pension consultancy market as well as the fiduciary space. Towers Perrin and Watson Wyatt merged in early 2010 to create Towers Watson, which then merged with consultancy and brokerage firm Willis in 2015.
The deal also follows Mercer's 2019 acquisition of JLT, which also had significant investment consulting and fiduciary management businesses.
After this "one-off shift in assets", any providers without the scale and resources to compete on service provision and price will struggle, says Kempen's Patel. New business flows will fall and other forms of competition, such as the commercial consolidators, will emerge.
"It's quite possible that the number of providers shrinks in the medium term," says Cole. "Fiduciary management is a scale business. You have a number of established providers with significant scale, significant buying power and innovative solutions that can drive down prices."
When the price is right…
Mandatory retendering of fiduciary mandates has resulted in many schemes cutting their management costs significantly, industry insiders tell IPE.
Even when trustee boards have ultimately decided not to change provider, the extra industry understanding gained through the tender process has often led to negotiations on charges.
IC Select's Donny Hay points to the example of a £140m (€154m) scheme that chose to remain with its fiduciary manager but negotiated a cut in charges. They were reduced from 30bps to 18bps after seeing the prices available from other managers.
The scheme was able to save money not only from the management cost but also avoided the often-costly process of changing provider. Other schemes have managed to cut fiduciary costs by 40-50%, Hay says. Other fiduciary industry professionals report similar outcomes from some tenders.
"It suggests that trustees don't necessarily have any issues with their providers, but they also hadn't seen the whole market," says Kerrin Rosenberg, CEO at Cardano UK. Through a competitive tender, trustees can "get a good sense" of the pricing levels on offer and use this information to their advantage.
However, Rosenberg urges trustees to be cautious and not to judge purely on costs. They must be certain of what underlying services the fee buys and how each proposition compares – or does not compare – with the others.
Patel agrees. He adds that anyone trying to enter the market now will not only face challenges from the scale and resources of established players. They will also have to convince the gatekeepers – the third-party evaluators – of their credentials.
Ultimately, regardless of how many fiduciary managers there are, the market has changed significantly – and it will keep evolving as the retirement industry evolves.
The next two years will be transformative for the UK DB pensions sector. Decisions made in this period could be critical for ensuring that promises made to members can be kept.
"It's an unbelievably serious responsibility," says Curtis. "It's not just a mandate – these are outcomes for members. We will be judged by meeting members' benefit payments, and that's a serious responsibility."
No pressure on that next RFP, then.