Providers of passive products like ETFs are no longer passive when it comes to stewardship. In active investment circles, stewardship has always sat naturally beside active stock selection as a way for portfolio managers to add value. That has not been the case on the passive side, where the focus has traditionally been on technical aspects of tracking indices, such as minimising tracking difference, to deliver for investors in terms of relative performance.
This is changing, however. Passive investing is increasingly becoming active when it comes to stewardship.
We can define stewardship as active engagement by stock holders in public companies to promote good corporate governance consistent with encouraging long-term value creation, although increasingly it is also associated with promoting sound social practices, such as mitigating climate change. There is evidence that institutional investors are looking more at stewardship when selecting which products to invest in.
In 2019 DWS commissioned a study1 by CREATE-Research into how pension funds approach and view stewardship. It involved surveying 127 pension funds globally. The study found that over 84% of pension funds cited stewardship practices as being pivotal to improving the quality of beta returns while generating positive societal spin-offs. Also, a manager's track record on stewardship was cited as a criterion to a 'large extent' in manager selection by 56% of respondents, while 80% of respondents expected stewardship demands on their index managers to increase.
1 Passive Investing 2019, The Rise of Stewardship, CREATE-Research/DWS, 2019: https://www.dws.com/AssetDownload/Index?assetGuid=9aec657b-68c7-480c-aaa2-2d515412d909&consumer=E-Library
2 Proxy Voting by 50 US Fund Families, Growing support for ESG Resolutions, but the largest lag behind: https://www.morningstar.com/insights/2020/02/12/proxy-votes?utm_source=linkedin&utm_medium=social
Although the report only covered pension fund investors, the same drivers – soaring demand from investors for socially responsible investments, entrenched very low interest rates, fee compression requiring ETF providers to seek new ways to differentiate their services, and so on – are present across the investor spectrum. Stewardship practices are, therefore, moving up the agenda for all institutional investors.
With this in mind, a number of research organisations have started to analyse how big asset managers proxy vote in relation to environmental, social and governance (ESG) specific shareholder resolutions on topics such as climate change, diversity, human rights and so on. An example from this year is Morningstar, which put out a report2 in February which analysed the proxy voting activities of 50 of the largest asset managers active in the US.
Morningstar found that asset manager proxy voting support for ESG-related shareholder resolutions has increased considerably over the last five years, with average support across 50 large fund families moving to 46% from 27%. However, the researchers also found that five of the 10 largest fund families in the US voted against more than 80% of ESG-related shareholder resolutions. They also found that large fund groups voting against ESG-related shareholder resolutions kept many initiatives from achieving majority support.
The various studies that are emerging have highlighted one notable trend, which is that there are considerable differences between asset managers in terms of proxy voting on climate change issues.
Take for example the latest analysis from ShareAction, a UK charity that encourages and lobbies for responsible investment. Its 2019 report3 reviews how 57 of the world's largest asset managers have voted on 65 shareholder resolutions linked to climate change. The resolutions cover topics such as climate-related disclosures, company lobbying activities and the setting of targets aligned with the goals of the Paris Climate Agreement.
3 ShareAction Report 2019 – Voting Matters: Are asset managers using their proxy votes for climate action?: https://shareaction.org/ research-resources/voting-matters/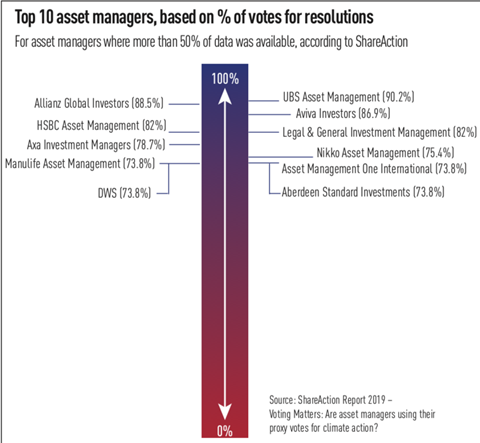 ShareAction cites strong regulatory signals on sustainable finance at the EU level (such as the EU's Sustainable Finance Initiative), and at the country level (such as Article 173 of the French Energy Transition Law and the Dutch Climate Agreement) as contributory factors to strong engagement by some managers. As the importance of stewardship and responsible corporate behaviour, including by asset managers, receives more attention, and with the possibility of the political environment evolving towards more climate-friendly policies, we might start to see progress across a broader range of providers.
As active ownership of passive investments becomes the norm, stewardship is emerging as an area of ETF provider competition. Passive investing no longer means passive stock holding. That change is good for the market, and good for investors.