Price wars are nothing new for passive asset managers, but the contest has been particularly intense in the exchange-traded funds (ETF) space as new and existing players jostle for position. While low cost is always a draw it is clearly not the only factor in the investment decision process.
To date, the battles have been more prominent in the US than Europe with BlackRock firing the latest salvo in June, cutting the fee on its iShares Core S&P 500 ETF by one basis point (BP) to 3bps to match Vanguard's version. Overall, research from data provider FactSet shows that by the first half of 2020, the asset-weighted average annual expense ratio for equity and fixed-income funds in the US slipped from 21bps to 16.9bps and 16.6bps respectively since 2017.
Specialised ETFs also saw declines across the board. FactSet reports that the ratio for active fixed income ETFs, for example, fell from 44bps to 42bps while among ESG-focused equity ETFs, the hit was even more significant – a drop to 21bps from 27bps during the same time period.
"The more complex ETFs are more expensive than the vanilla strategies but all of them are subject to cost pressures," says Elisabeth Kashner, FactSet's director of ETF research. "However, there is a very simple explanation and it happens in all industries: Competition on the supply side pushes prices down to the marginal cost of production. Those who have the ability to manage portfolios at scale can pass the cost savings down to the end investor."
The playing field in Europe is different and, although price tags have fallen, market participants believe they have some way to go. Figures from Refinitiv show that the average total expense ratio (TER) in the European ETF universe fell by 1bp to 33bps between June 2019 and June 2020. Drilling down, this translated into 32bps and 35bps for bond and equity ETFs respectively while commodities was the only asset class to show an increase – up 2bps – from 39bps to 41bps.
Kenneth Lamont, senior analyst, manager research, passive strategies at Morningstar, notes its research also shows that the bulk of ETF fee cuts have impacted mainstream – mostly equity – market exposures while most strategic-beta exchange-traded products (ETPs) still demand a sizable premium above their market-cap-weighted equity peers.
However, he adds: "We think that the development and management of these products do not entail much in the way of additional costs for ETF providers to justify much higher fees relative to plain-vanilla offerings. A glance at the US market suggests that there is still plenty of fee fat to be trimmed should competition between providers heat up again."
Comparing apples and oranges
One reason for the disparity is that the European ETF industry is less mature than the US but also the institutional rather than the retail players dominate the arena. As Rima Haddad, head of UK institutional sales, SPDR-ETFs, State Street Global Advisors, points out, the zero or exceptionally low TER approach is potentially more effective in the B2C space, where providers can seek to promote other products and services. For some retail direct clients, the 'bait' of a zero/very low-fee product could be an incentive to open an account, or consolidate accounts at the offering firm, which then gives the offering firm a chance to upsell various products and services.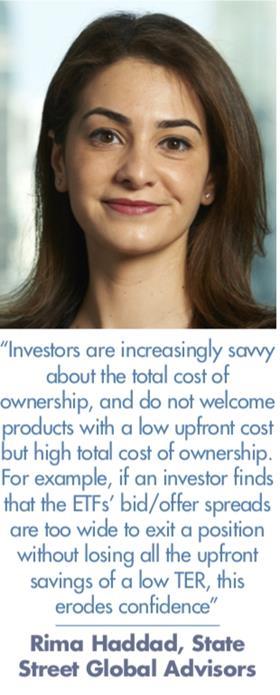 By contrast, she adds, while cost is important for pension funds, there is also an emphasis on elements such as risk management, effectiveness of portfolio management and reporting. This fiduciary responsibility they have for their members means they do not necessarily select the lowest cost product.
Regulation such as MiFID II could help drive change in Europe. This is because the rules have not only put a greater focus on the transparency and cost effectiveness of a product, but also opened new distribution channels for retail investors to access ETFs, according to Fannie Wurtz, global head of ETF, indexing and smart beta sales at Amundi Asset Management.
Before MiFID II came into effect two years ago, around 70% of ETF trades in the region went unreported because they occurred in private bilateral over-the-counter transactions. Distributors are also now subject to stricter compliance obligations and must complete target market suitability assessments as well as disclose their costs.
In general, as with any investment product, retail as well as institutional investors are advised to look beyond the fees and, in this case, look carefully under the ETF wrapper. This would mean paying special attention to a fund manager's track record, the index composition that the product is being benchmarked against, the philosophy, people and processes.
As Detlef Glow, Lipper head of EMEA research at Refinitiv, puts it, "the quoted TER can only be one piece of the puzzle as cheap does not always mean that the fund is delivering better results than a more expensive alternative". He believes that investors need to take into account the total costs of ownership such as comparing the overall performance of the funds and evaluating which fund has delivered the best value for money.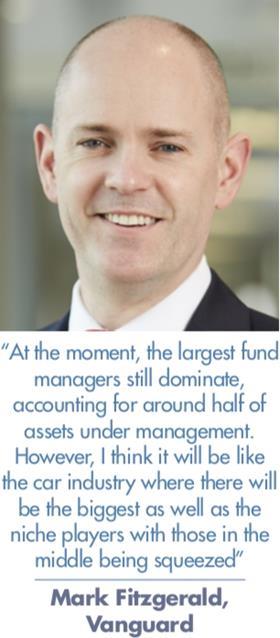 Haddad, agrees adding: "Investors are increasingly savvy about the total cost of ownership, and do not welcome products with a low upfront cost but high total cost of ownership. For example, if an investor finds that the ETFs' bid/offer spreads are too wide to exit a position without losing all the upfront savings of a low TER, this erodes confidence."
Tracking error should also be high on the checklist. Not surprisingly, perhaps, the more complex the product, typically the higher the tracking error. "Investors need to look at the implementation and replication costs as well as the net asset value relative to the index for the period the ETF is being held," says Chris Mellor, head of equity and commodity ETF product management at Invesco.
He adds, "It is also important to understand that how well a portfolio tracks an underlying benchmark varies significantly from provider to provider and from benchmark to benchmark. For example, an emerging market ETF will typically have a greater degree of tracking error than a broad US equity market cap ETF."
Growth and consolidation
Looking ahead, it is no wonder, given the popularity of ETFs, that the field is becoming increasingly crowded as established and new players look for new and lucrative revenue streams. There has been a lull because of COVID-19, but activity is expected to accelerate. The latest tally at the end of May according to data provider ETFGI is 2,224 ETFs/ETPs, with 8,473 listings, from 67 providers listed on 28 exchanges in 23 countries.
"We think that the development and management of these products do not entail much in the way of additional costs for ETF providers to justify much higher fees relative to plain-vanilla offerings" - Kenneth Lamont, Morningstar
While the market is still not saturated, further consolidation is inevitable. Lamont notes that there has already been a flurry of activity over the last three years with Invesco catapulted from a small operator under the PowerShares brand to one of the top ten providers in Europe thanks to its Source purchase in 2017, while Legal & General Investment Management broke into the market with its own range of core equity ETFs after acquiring the equity and fixed-income Canvas platform from ETF Securities the same year.
Meanwhile, WisdomTree acquired ETF Securities' commodities business in 2018 and Lyxor bought Comstage, Commerzbank's ETF business, to reinforce its presence in Germany, a key ETF market. At the smaller end of the scale, VanEck took over Dutch regional player Think ETF to expand its small European footprint.
As to the next target, Lamont says, "there remains a question mark over the ownership of French provider Lyxor, currently the third largest provider in Europe, which may be an ideal market entry point for large asset managers who have no passive business or as a target for existing players who would look to challenge iShares market dominance."
Mark Fitzgerald, head of product specialism, Vanguard, also believes that "as more managers come into the space, there will be greater competition and more choice for investors but also greater scrutiny. At the moment, the largest fund managers still dominate, accounting for around half of assets under management. However, I think it will be like the car industry where there will be the biggest as well as the niche players with those in the middle being squeezed."