Euroclear Sweden's new digital postal vote service is helping investors participate in AGMs
Sweden has taken a more relaxed approach to the COVID-19 health crisis, keeping schools open and allowing restaurants and bars to remain open (albeit with table service only). Social distancing and home working have been advised but are not mandatory.
Nevertheless, the spread of the virus has posed challenges to its business sector, with gatherings of more than 50 people banned – including company annual general meetings (AGMs). Existing corporate governance rules in Sweden place strict requirements around proxy voting and other aspects of AGMs.
The pandemic prompted several companies to delay their annual meetings: 35 had delayed or cancelled their AGMs as of 13 May, according to data collated by International Shareholder Services. Seven had elected for the digital AGM route as of the same date.
In total, there were 67 AGMs scheduled to take place across Sweden in June, according to listing services company Spotlight and Nasdaq. Swedish companies must hold their annual meetings within six months of the end of their financial year.
On 15 April, the Bolagsverket – Sweden's Companies Registration Office – introduced new rules granting temporary exemptions to some of the more stringent rules.
The temporary measures – which will expire on 31 December 2020 – allow flexibilities around how proxy votes can be submitted without requiring changes to companies' articles of association.
Power of attorney documents are still required for investors using proxy voting methods, but the temporary rules allow for these to be provided in digital formats with electronic signatures.
On 7 May, Euroclear Sweden launched a new digital postal vote service to assist investors with proxy and postal voting under the new rules.
It allows all investors to submit their votes online ahead of meetings, using the country's official identification method (BankID) to verify shareholders. The portal lists available companies, the date of the AGM, the submission deadline for voting, a link to the meeting notice and agenda, and a downloadable voting form.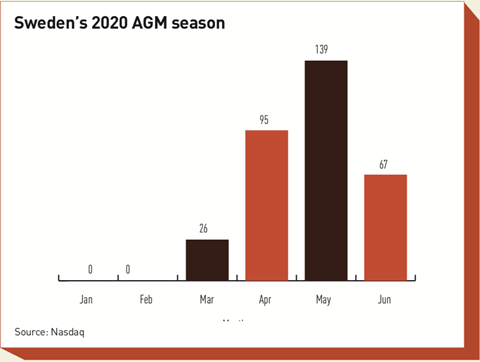 Investors using this tool will be able to register all their Swedish holdings and submit votes as they become available, with changes allowed up until the voting deadline. While there is a paper-based form that can be used if necessary, the BankID method allows for a fully digital submission process.
"Swedish limited companies are actively working to protect their shareholders during the COVID-19 pandemic," says Michael Carty, CEO of Euroclear Sweden. "By launching a digital voting service, we are enabling shareholders to actively participate in general meetings without needing to be there in person."
The tool has already helped investors engage with Nordea's delayed AGM on 28 May. As of 2 June, Euroclear's digital postal vote service was offering online voting for 14 shareholder meetings taking place during the month, including truck maker Volvo, Scandic Hotels Group and banking giant SEB.
Euroclear has been working with various Swedish companies to facilitate AGMs through the pandemic even before April's rule change. In March the company worked with telecoms giant Ericsson to set up a proxy voting service aimed at individual investors for the annual meeting on 31 March.
Euroclear has also sought to expand its services in other countries in response to the pandemic's challenges.
"We are enabling shareholders to actively participate in general meetings without needing to be there in person" - Michael Carty
In Finland, following a temporary rule change to allow meetings to be postponed and reorganised without a physical event, Euroclear introduced functionality allowing investors to register their votes when they sign up to attend the virtual AGM. Euroclear then passes the results on to the company ahead of the meeting.
Anu Puttonen, chief business officer at Euroclear Finland, says that "most shareholders" will likely use the advance voting systems available as they are not able to attend in person.
"Our new service makes it easy and reliable for companies to follow the temporary law in a situation where it is important to verify the legal certainty, while developing new operating models," he adds.
Puttonen says the "exceptional circumstances" brought about by the COVID-19 pandemic have also brought changes to the general meeting culture.
"Euroclear Finland has a decades-long experience in supporting general meetings," he continues. "In collaboration with our clients, we have been able to create a viable solution for organising remote general meetings in a very short timeframe."
Investment services: Pandemic exposes voting tech flaws
1

2

3

4

Currently reading

Investment services: Euroclear acts to aid Sweden's looser rules