Companies have been using online technologies to conduct their AGMs with varying degrees of success
Key points

The pandemic has caused the postponement of thousands of AGMs or forced them to be adapted for online
Existing proxy voting technology has proven valuable in this period as a physical presence is not possible
Tech providers can facilitate interactions during digital AGMs but regulations have not always kept pace with these developments
Many markets are still reliant on physical votes and documents, posing problems that will need to be addressed
As the 2020 annual general meeting (AGM) season hit its stride in March, several countries were already enforcing social distancing measures or restricting travel because of the COVID-19 pandemic – posing a formidable obstacle to shareholder meetings.
Most companies have since either postponed AGMs or moved them online. UK-based proxy voting and research company Minerva Analytics reported coverage of roughly 800 shareholder meetings globally in March, compared with almost 1,000 last year. This imples a significant number of postponements even in the early stages of the pandemic.
Regulatory requirements in the UK and Europe mean that postponements can only last so long; AGMs usually have to take place within the first six to eight months of a business year.
This has prompted many firms to introduce different forms of virtual events and AGMs with varying levels of shareholder interaction. Proxy voting agency International Shareholder Services (ISS) reported that almost 3,000 listed companies around the world had moved to virtual meetings as of 13 May.
Despite the pandemic's restrictions hitting the proxy voting sector just as its busiest period began, industry experts tell IPE that there has been little change to processes compared with previous years.
Sarah Wilson, CEO of Minerva Analytics, says the move to remote or virtual meetings has yet to change the technologies used by proxy voting companies or their clients. Minerva moved its staff to remote working in early March but has not experienced any difficulty in serving clients, nor has it made significant changes to its technology.
Elizabeth Kantrowitz, managing director and global head of account management and governance solutions at ISS, says the company's ProxyExchange platform is "highly scalable" and so was not challenged by an increase in demand. The platform processes at least half a million ballots and 1,200 holdings files a day during peak proxy season. Over the course of 2019, the platform handled "approximately 11.5 million ballots and more than 300,000 holdings files", Kantrowitz says.
Hans-Christoph Hirt, head of EOS at Federated Hermes, the asset manager's stewardship arm, agrees that the impact of the pandemic has been relatively limited.
"Our setup has always allowed for remote working; we provide voting recommendations to our clients using a web-based platform, with votes being transferred electronically to the meeting," he says.
There has been an increase in the use of existing technology, however. ISS's Communicator tool has been "embraced" by users in recent weeks, Kantrowitz says, while clients also use the company's database of meeting adjournments and regulatory updates to keep on top of pandemic developments.
Delays and postponements have allowed investors to engage directly with companies and consider their voting options, Hirt adds.
"While we generally find that in-person engagement interactions are the most impactful, we have been able to conduct engagement through calls and video conferencing and have been pleased with their effectiveness," Hirt says. "In many cases, our strong and longstanding relationships were key in moving to new communication channels."
Virtual meetings
One of the chief concerns about AGMs moving to the virtual world relates to the ability of shareholders to pose questions directly to the board. In the UK, many annual meetings this year have been held 'behind closed doors' with shareholder engagement removed from the rest of the AGM business.
However, technology providers such as Lumi maintain that virtual meetings do not need to come at the expense of transparency and accountability. According to its website, Lumi's platform allows shareholders to submit questions in much the same way as they would in a traditional AGM, providing "speaker queuing technology" to allow individuals to present questions in person.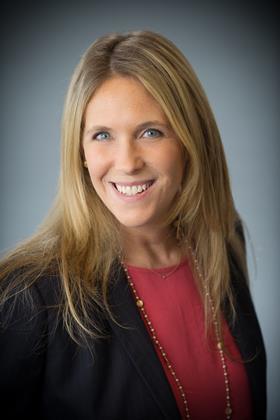 The formats of AGMs this year have also been informed by local legislation. In the UK, the Department for Business, Energy and Industrial Strategy, and audit regulator the Financial Reporting Council, rejected requiring full virtual AGMs as they were "uncommon and largely untested", and "likely to create further significant issues".
In contrast, Germany introduced emergency legislation from 28 March to allow for digital AGMs. This was a significant step for a country that places great importance on physical meetings and shareholders' ability to challenge boards.
International law firm Skadden said in an April update on its website that virtual shareholder meetings could be a "game changer" in Germany.
Philipp Grenzebach and Renate Prinz, lawyers at international law firm McDermott Will & Emery based in Germany, wrote in a client update in March that the legislation marked the "first cautious moves" away from physical AGMs.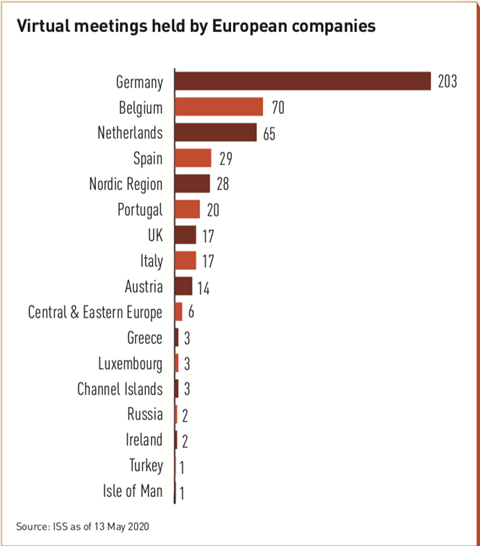 "The current issues arising from COVID-19 accelerate this development," the pair wrote. "Legal uncertainties and the shareholders' right to challenge, which are very [important] in Germany, has led to companies not using their technical capabilities to the full extent."
Virtual meetings must include the video and audio transmission of the entire meeting, and shareholders must be able to exercise their voting rights. Crucially, Germany's rules also state that shareholders must be given the opportunity to ask questions through electronic means.
Wider issues
AGMs can also provide a prominent platform for activist investors, whether hedge funds taking a public stance about the running of a company, or groups of shareholders calling for changes related to environmental, social and governance themes.
For Federated Hermes' Hirt, the challenges of the pandemic have brought out good practice from some companies – but the changes should only be permitted to go so far.
"Emerging best practice includes transparency around the number of questions asked and answered and how these are selected, taking the time to respond to investor concerns, and providing a transcript of public responses on the website after the meeting," he says.
Hirt calls for companies wishing to change the format of their AGMs in future to select a "hybrid" model, which he says can "increase participation and allow proper engagement between investors and boards".
Minerva's Wilson argues that there are "gaping wounds" in the proxy voting infrastructure that need to be addressed – and technology is not always the answer. New tools or redesigned portals can distract from "fundamental issues with cross-border voting, which are a necessary first principle to resolve", she says.
Her concerns are echoed in a recent document from Norges Bank Investment Management (NBIM) – the manager of Norway's giant sovereign wealth fund. NBIM's analysis of voting practices in 66 markets found that process often lacked efficiency, transparency and integrity – in many cases due to a lack of digital infrastructure.
A high proportion – 41% – of countries still required physical copies of documents such as power of attorney, allowing proxies to submit votes on behalf of clients, NBIM said, while in a quarter of the markets it analysed, a physical presence was required for a vote to be valid. Most significantly, 84% of countries lacked an "end to end" electronic voting system, posing problems to overseas investors.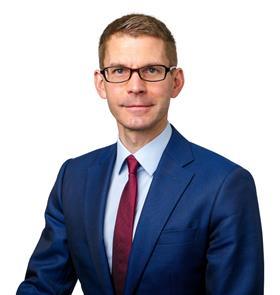 Although the pandemic has not significantly changed the use of proxy voting technology, it is likely to have a major role to play in the future. In a blog post in March, Wilson called for stakeholders to "use this opportunity to fix the AGM sombrero" – a reference to the concentration of annual meetings within a few weeks.
Wilson said hosting hundreds of AGMs in such a short space of time "offers an empty promise for institutional investors" that wished to engage with their investments.
Existing and emerging online tools could provide a way to do this – but as NBIM's analysis shows, it could be a long journey ahead.
Investment services: Pandemic exposes voting tech flaws
1

Currently reading

Investment services: Pandemic exposes voting tech flaws

2

3

4