In just three years corporate and financial hybrid securities have become a major new feature of the fixed-income landscape. Lynn Strongin Dodds takes a look at what has happened and why
It is no surprise that over the past two years, corporate hybrids have made a comeback and bank-issued contingent convertibles 'CoCos' have come of age. For investors, these higher-yielding instruments are a bright spot in the current protracted low-interest-rate era. However, despite their appeal, they come with a warning attached – they are at the lower end of the fixed-income spectrum and are riskier than the typical plain vanilla bond.
Cheaper
There are also major differences in the structures and drivers between the two types of bonds. For example, on the financial side, banks have been active issuers of subordinated debt in the past, but CoCos are a relatively new phenomenon. They are hybrid subordinated fixed-income securities that automatically convert into ordinary shares or are written off entirely if the issuing bank's capital drops below a pre-agreed threshold. Their popularity has soared due to Basel III requirements, particularly in Europe, where these requirements are being implemented via the Capital Requirements Directive. Under these rules, banks are required to hold common equity tier 1 (CET1) capital equal to 4.5% of risk-weighted assets and an additional 1.5% in loss-absorbing additional tier 1 (AT1) capital.
CoCos are not only a cheaper source of capital than equity for improving leverage ratios, but the coupons are also tax deductible. Lloyds kick-started the market in 2009 with its £7.5bn (€10.6bn) CoCo bond. Moody's predicts volumes this year will match 2014's $174bn (€165bn) with Europe – which accounted for over half of the activity last year – still leading the pack. The issuer base, though, is becoming more diverse and last December the Industrial and Commercial Bank of China (ICBC), the world's largest commercial bank by assets, became the first Chinese institution to launch a euro-denominated contingent convertible bonds, as part of a $5.6bn multi-currency deal.
Their US counterparts are absent from the issuer roster due to the US Federal Reserve favouring preference shares as a means of building capital buffers. They are similar to CoCos but are typically callable after 10 years, have non-cumulative coupons and are issued out of the holding companies overseeing banking groups.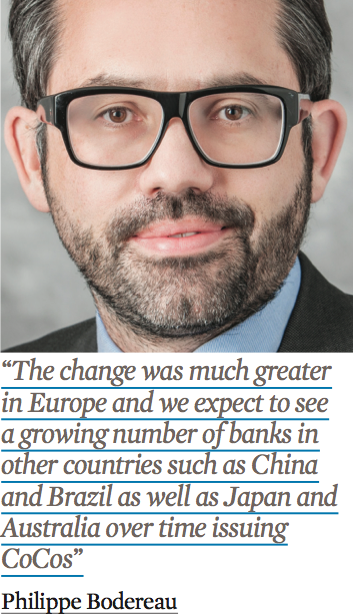 "There was less of an evolution in the US because the regulators accepted the old-style preferred shares as AT1 capital," says Philippe Bodereau, managing director at Pimco. "The change was much greater in Europe and we expect to see a growing number of banks in other countries such as China and Brazil, as well as Japan and Australia over time issuing CoCos."
The market took off in Europe in 2013, when most of the tax issues around the instruments were resolved and Basel III was being implemented, says Julian Marks, portfolio manager in fixed income at Neuberger Berman.
"The main driver for issuers was regulation in that CoCos are a more cost effective way than equity to raise capital," he says. "As for investors, they were looking for more interesting capital and felt more comfortable after ECB president Mario Draghi said he would 'do whatever it takes' to protect the euro-zone from collapse in July 2012. The market settled down after that and spreads in the European bond markets narrowed."
Piers Ronan, a director on Credit Suisse's EMEA debt syndicate desk adds: "There was a dearth of issuance after Lloyds and the first couple of deals, but there has been a steady pace since 2013 and the liquidity is as deep as anyone could have had hoped. Although banks have five years to implement Basel III, many are issuing CoCos now to demonstrate that they are improving their capital ratios and running more conservative balance sheets. Our expectations are that this year will be flat and continue at around $40bn a year, although the total volumes in circulation will increase."
At a glance
• A thirst for yield among investors and for cheaper loss-absorbing capital among banks has led to an explosion of 'CoCo' bond issuance.
• Real-money institutional investors are getting more involved, encouraged by new benchmarks.
• Corporate hybrid securities used to be a low-volume, bespoke product, but recent changes in rating agency treatment have incentivised much greater issuance.
• Over recent months resurgence in M&A has added to activity.
Despite the market's growth, this has not all been a smooth ride. During 2014, a combination of the Russia-Ukraine crisis, a bulging pipeline and the bailout of Banco Espirito Santo spooked investors. The Portugese bank's rescue in particular caused a sell-off as junior bondholders were threatened. While some market participants welcomed the dampening of what had become an overheated market, others looked for opportunities in different high-yielding sectors.
Index
Hedge funds have typically been the main players but the investor base is widening and there are initiatives such as the launch of the Bank of America Merrill Lynch Contingent Capital index to generate greater institutional interest. The so called COCO index was introduced last year to track the performance of all contingent capital debt publicly issued in the major US dollar and eurobond markets, including investment grade and sub-investment grade issues.
"The decision by the major index providers to exclude CoCos from their main indices is arguably detrimental to the development of the asset class because it removes a key incentive for benchmarked funds to invest in the asset class," says Ronan. "However, the establishment of CoCo-specific indices is very useful for encouraging the development of a specialised set of new, CoCo-dedicated funds"
Edward Farley, head of European corporate bonds at Pramerica Fixed Income, agrees. "It gives pension funds the ability to better judge the managers' relative performance when directly investing in this asset class," he says. "That said, many managers continue to put these instruments in an unconstrained fund to take advantage of market beta."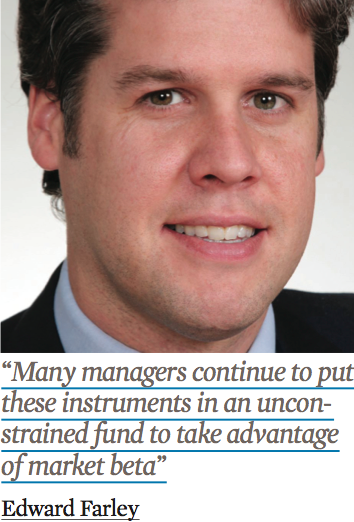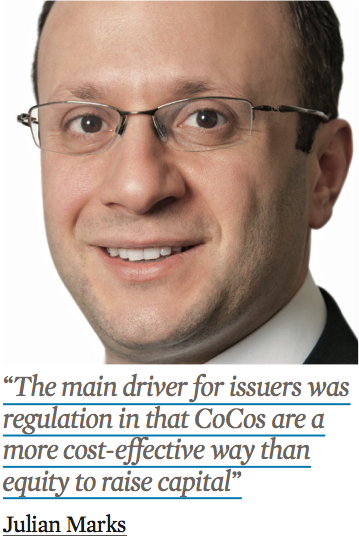 With or without a benchmark, investors are advised to do their homework because not all CoCos are created equally. "They are a heterogeneous group with different levels of stability and volatility," as Michael Hünseler, managing director and head of credit portfolio management at Assenagon Asset Management, puts it. "Investors need to read the prospectus. Also, the returns vary. For example, Scandinavian banks are rock solid and have high capital ratios, and for such low-risk banks investors could expect to get 3.5% to 4%. However, for those with a riskier profile, the returns could be between 6% and 7%."
Given the complexities, this product is likely to remain within the confines of the institutional arena. Late last year, the UK's Financial Conduct Authority's (FCA) issued a ban on the sale of CoCos for the mass retail market, while the EU also highlighted the dangers of selling these bonds to this investor segment. The theory is that the sophisticated players are better able to analyse and manage the inherent risks.
This is not the case with corporate hybrids, which are issued mostly by investment-grade companies but offer higher yields than traditional bonds because they are subordinated and a portion of the capital raised is counted as equity by rating agencies. There is no set maturity date but issuers can choose to call them or leave them outstanding. Companies can delay coupon and principal repayments in times of financial stress, which can make prices volatile.
"The investor base is much more comfortable with corporate hybrids because many are investment-grade structures and are easier to understand," says Bodereau. "There are not that many moving parts and the underlying issuers are strong. They have outperformed the market over the past six months, yielding 2.5% to 3% which is attractive compared to government bonds."
However, it took time for the market to get excited about these bonds. Except for spikes in issuance in 2005-06 and 2010, there was little interest historically, with volumes never exceeding $10bn a year. Activity was particularly quiet after the financial crisis as fears ran high over corporates going bankrupt.
Credit
"The corporate hybrid product has been around for a long time but prior to 2010 they were typically one-off bespoke trades used in an M&A context," says Joshua Presley, a director on the EMEA debt syndicate desk at Credit Suisse. "The asset class has developed over the past two years as rating agencies such as Moody's and S&P
have introduced specific criteria leading to a standardised product which gives borrowers 50% equity credit. The result is that hybrids have become commoditised, allowing issuers to use them as a permanent part of their capital structures, and investors to assess relative value over a larger data set."
"Hybrids have become commoditised, allowing issuers to use them as a permanent part of their capital structures, and investors to assess relative value over a larger data set"

Joshua Presley
Presley notes that, to date, the product has been more attractive for Europe-based borrowers as the tax deductibility of interest is more straightforward under the European tax and legal systems than it is in the US.
Jonathan Weinberger, head of capital markets engineering at Société Générale, notes: "We have seen an increase in hybrids to address regulatory agency concerns of debt-to-capital ratios but it is also due to a rise in M&A. Leverage rises in many deals and puts a strain on the balance sheet and hybrids are seen as a good tool to address funding and debt metrics simultaneously. We are also increasingly seeing chief financial officers viewing hybrid capital as an optimal way for capital planning because these instruments are on the continuum between common equity and short-term debt. They are a natural funding instrument."
Hünseler adds: "Pleasing the rating agencies is not the only reason why corporates issue hybrids. In certain circumstances, from an accounting perspective, they are treated as equity and are more cost-effective." This was the case in the Wienerberger issue (the world's largest brick maker, which replaced two lines of credit with a €400m five-year revolver).
As with CoCos, 2013 was a pivotal year: French utility EDF issued a hugely oversubscribed €6.2bn hybrid package, and fellow utilities, telecoms and companies from other sectors facing a similar combination of high capital expenditure requirements and a tough operating environment joined the fray.
"Hybrids are seen as a good tool to address funding and debt metrics simultaneously"

Jonathan Weinberger
Corporate hybrids have also become a prominent feature in several M&A deals over the past year, ranging from Germany's automaker Volkswagen tapping the market for €3bn to help fund its takeover of Scania, to chemicals and pharmaceutical company Bayer raising €3.25bn for its acquisition of the consumer care business of Merck in the US. Meanwhile, Orange, the French telecoms business, issued €3bn equivalent in euros and sterling for its purchase of Spanish broadband operator Jazztel.
Overall, issuance last year totalled $45.4bn, up from the $36.6bn in 2013 and a substantial hike from the mere $425m in 2008, according to data provider Dealogic. This year, refinancing continues to be a theme, with utility SSE issuing one tranche of €600m hybrids with a coupon of 2.37%, and a sterling tranche of £750m with a 3.8% coupon. The proceeds are slated to replace comparable hybrids it had issued in 2010, with coupons of 5% and 5.4%.
Lower oil prices have also triggered a spate of deals, most notably Total's €2.5bn of perpetual euro-denominated notes which was the biggest deal to date. It followed BP's $2.75bn in dollar-denominated, investment grade debt in the US and €2.5bn worth of similar bonds in Europe, while Statoil, the state-controlled Norwegian oil group, sold €3.75bn of investment grade bonds.
In the past two or three years there has been nothing less than a hybrid-securities revolution in fixed-income markets, driven by aggressive balance sheet management, finance regulation and the desperate hunt for yield by investors of all descriptions. The growth in subordinated, high-yield, contingent capital raised by financials is, arguably, creating a completely new asset class. While many of the trends seem particular to today's circumstances, market experts anticipate that the new level of issuance is here to stay; investors would do well to get up to speed on the many new opportunities and risks that these unusual securities offer.