The government's plan to overhaul the entire pension system is running behind schedule
Key points
The government seems to be backtracking on its timetable for ambitious reforms of the Irish pensions system
The investment restrictions to be placed on small schemes are contentious
There is more of an industry and political consensus regarding plans to strengthen protections for defined benefit schemes
In 2018, Ireland's government set out an ambitious plan to overhaul the structure and regulation of its pension system. New measures included improvements to the state pension, tougher rules around defined benefit (DB) funds, and the introduction of auto-enrolment into defined contribution (DC) schemes.
The wide-ranging reforms were linked to an ambitious timetable; employment and social affairs minister Regina Doherty stated last year that auto-enrolment would begin in 2022, while reforms linked to the EU's IORP II directive – which should improve governance standards – were due to come into force in January 2019.
Less than 18 months later, and it appears the plans and the government's timetable for their execution were too ambitious. Only six of 35 individual pension reform targets set for this year were achieved as of May, according to the Irish Association of Pension Funds (IAPF).
Legislation to adopt IORP II into law has still not been passed. The main sticking point is the decision by the Department for Employment and Social Affairs to apply the new law to all occupational schemes.
IORP II contains a derogation allowing pension funds with fewer than 100 members to be exempt, but Doherty has robustly rejected this, despite industry pressure.
It means that thousands of Ireland's smallest pension funds, including those attached to small and medium-sized enterprises (SMEs) and one-person, self-administered schemes could be caught up by onerous new governance requirements.
Regulator to raise scheme levies to meet cost of EU reporting rules
Ireland's regulator is to increase the fees it levies on pension schemes and providers to cover the cost of new EU reporting requirements.
In its 2018 annual report, Pensions Authority chairman David Begg said the requirements would "significantly add" to its cost base in the years ahead. The watchdog will make a recommendation to the minister for employment affairs and social protection on raising fees later this year.
The EU's pensions and insurance regulator EIOPA – along with the ECB – last year introduced new rules requiring national regulators to report more data on pension funds. The requirements are due to come into force in December.
"Significant development of the authority's IT and data systems will be required over the coming years to support the authority's increased supervisory and data collection obligations," Begg wrote in the annual report.
"The costs associated with implementing the necessary IT and data-management system infrastructure will significantly add to the costs of running the authority in the future. To meet these increased costs of supervision, the authority will need to increase its fee income over the coming years."
The IORP II debate
One of the biggest points of contention is the investment restrictions that will be placed on small schemes. In January, Peter Fitzpatrick, an MP from the governing Fine Gael party, accused Doherty of "choosing to put SMEs out of business, to terminate Irish jobs, to cut investment and financing of SMEs, to cut investment in renewable energy and, shamefully, to cut immediate investment in Irish social housing".
He continued: "The self-administered pension clients are typically owners and employers of SMEs – the backbone of the economy. Many owners and employers want their hard-earned pension contributions to be reinvested in the economy."
The Association of Pension Trustees of Ireland (APTI) has also pushed back at the scope of the IORP II transposition bill. It has attempted to block the measures from applying to Ireland's 100,000 single-member schemes via a High Court judicial review.
In March, APTI chairman Kevin Coghlan told the Irish Independent newspaper that the IORP II transposition in its current form would add huge regulatory costs to the smallest schemes.
He added: "Contrary to what has happened in other EU countries, Ireland's implementation of the directive will work contrary to its primary purpose of protecting consumers."
Jerry Moriarty, chief executive of the IAPF, also voiced concerns about the effect on smaller schemes, telling MPs in April that such schemes should be exempt "at least until there are suitable alternatives".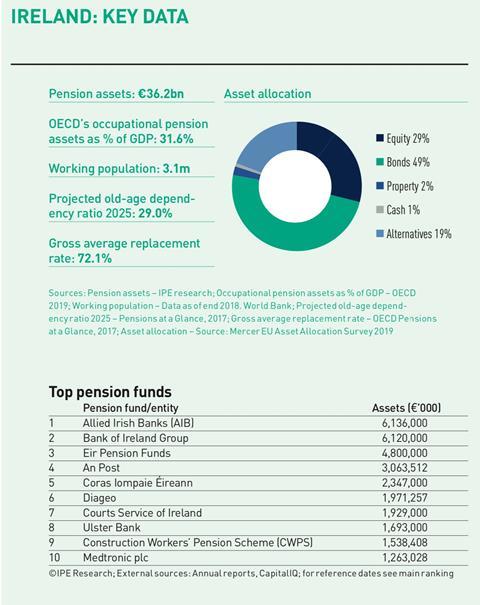 "The regulator has been very clear that it wants greater consolidation of schemes, because we have too many small schemes," Moriarty told the Joint Committee on Employment and Social Affairs. "I think [the IORP II transposition] is a trigger to make that happen, if the governance requirements become so difficult that it forces schemes to do something else."
However, the current alternatives open to small schemes are limited, and subject to imminent, significant changes. The Pensions Authority set out in June its new requirements for DC master trusts, to be incorporated into its codes of practice "in due course". Additional requirements linked to auto-enrolment are also yet to be finalised.
"Our concern is that, without either of these two options being on the table yet, if a lot of additional requirements are forced on smaller schemes, employers are just going to stop doing anything," Moriarty said. "Until that is in place, the [exemption] should continue to apply to smaller schemes."
However, the government has not budged. Doherty has repeatedly cited steep losses incurred during the 2007-09 financial crisis as highlighting the need for greater protections and stricter regulations for all pension funds.
Answering questions in parliament in January, Doherty said: "Many of the provisions contained in the directive will support positive reform of the Irish occupational pension sector. The implementation of the directive will greatly enhance scheme governance and consumer protection for pensioners, members and future members."
She rejected fears raised by some politicians that schemes would be forced to exit investments that no longer fit within the rulebook, as the rules would not be retrospective. She also maintained that the "vast majority" of schemes were already compliant with the incoming rules, citing Pensions Authority research.
Enhancing DB protections
There is more of an industry and political consensus regarding plans to strengthen protections for DB schemes in Ireland. Willie O'Dea, Fianna Fáil MP and a vocal supporter of pension system reform, introduced a bill in 2017 containing measures to make it more difficult for employers to abandon their pension funds without securing all promised benefits. While the bill is still yet to be enacted, support is growing.
Laura Bambrick, social policy officer at the Irish Congress of Trade Unions, told the Joint Committee on Employment and Social Affairs in April: "A key weakness with the current regulatory regime is that there are no safeguards to prevent an employer unilaterally deciding to cease making contributions to a scheme or otherwise trigger the wind-up of a scheme.
"The consequential unfairness of that has been crystallised in a number of high-profile cases where financially secure employers announced their intention to withdraw their support from a DB pension, putting the benefits of members in jeopardy."
The bill – which is being scrutinised by parliamentarians – will place a greater requirement on employers to fully fund their DB schemes. The latest figures from the Pensions Authority indicate that 126 out of 611 DB schemes did not meet Ireland's minimum funding standard. These funds must agree a recovery plan, with any plans lasting more than three years requiring approval from the Authority.
Moriarty told the Joint Committee that greater protections for DB schemes could give regulators "a very good opportunity" to revisit the minimum funding standard.
The current standard, he said, was "a snapshot picture in time" and might not give an accurate representation of an employer's ability to finance a pension scheme.
Auto-enrolment
The Department for Employment and Social Affairs received over 100 responses to its 'straw man' proposal for an auto-enrolment regime.
Despite the government emphasising that every aspect of the plan was subject to change based on industry feedback, Doherty said that "nearly every stakeholder agreed with most of the design features". These include the automatic enrolment of employees aged between 23 and 60 and earning more than €20,000 into a workplace pension scheme, with contributions scaling up every year to reach 14% of salary by 2028.
However, the legislation has repeatedly been pushed back. In April, Doherty told parliament that the department aimed to bring the legislation to the cabinet for scrutiny before the summer recess. However, by the start of August the Irish parliament had entered its summer recess and no such legislation had been presented.
In May, the minister said only that "reports of findings from the consultation process… and the research being undertaken will be brought to government in the coming months". The 2022 implementation target remains, however.
With Brexit preparations taking up a significant amount of parliamentary time in Ireland, as in the UK, it could still be some time before any of the challenges surrounding auto-enrolment, DB protection, or IORP II are resolved.