Ireland: Long path to DB protection
Politicians seek protection for defined benefit pension schemes that have been wound up 
Key points
• Politicians are keen introduce new rules to protect the funding of defined benefit (DB) schemes.
• Overall funding remains strong but underfunded schemes can be abandoned by employers.
• Life expectancy has risen substantially over the past two decades.
A year ago, Ireland's pension talk revolved around the rise of defined contribution (DC).
The government had set up the Universal Retirement Savings Group, tasked with building consensus for a new, sustainable pension system with auto-enrolment and high levels of contributions at its centre.
While this work is continuing, politicians have warned that it will take a long time to get the new system right.
Meanwhile, defined benefit (DB) schemes have taken over the political pensions agenda in the past 12 months.
As with most other DB systems, Ireland's schemes and sponsors have been struggling with rising costs in recent years. Investment returns have become harder to achieve while pensioners live longer, and these problems have come with familiar symptoms – in particular, funding difficulties.
Recent data from Ireland's regulator, The Pensions Authority, showed that pension funds were improving their funding levels in aggregate. Roughly three-quarters of DB schemes met the minimum funding level in 2016 – 74%, compared with 70% a year earlier.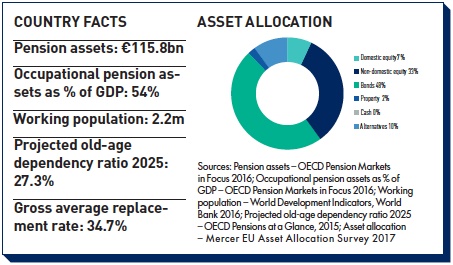 Irish pensions law requires DB schemes to hold sufficient assets to meet transfer values for all members, along with the estimated costs of winding up. For those schemes without sufficient funding, problems can pile up quickly. These difficulties came to a head late last year when Independent News & Media (INM), publisher of the Irish Independent newspaper, announced that it was to wind up its two DB schemes and transfer members to a less generous DC arrangement.
Under Ireland's current regulations, sponsors are not obliged to close deficits when winding up DB schemes. INM's closure was not
the first but its estimated €23m shortfall would have meant benefit cuts for pensioners. This grabbed headlines across the country – particularly in the company's own newspaper. Politicians decided it was time to act.
Two opposition political parties, Fianna Fail and Labour, tabled separate bills calling for enhanced protections for DB schemes to ensure future benefits are not put in jeopardy when schemes are closed.
Despite initial reluctance from the then-minister for social protection, Leo Varadkar, a bill was passed in the lower house in February. It proposed a requirement on employers to give at least 12 months' notice before winding up a DB scheme, during which time a funding proposal must be agreed to fill any shortfall.
The bill also contained a requirement for scheme trustees to submit a funding proposal to the Pensions Authority within six months of an actuarial valuation being completed.
In either case, if a funding agreement were not reached within the specified period, the Pensions Authority would have the power to impose a contribution schedule.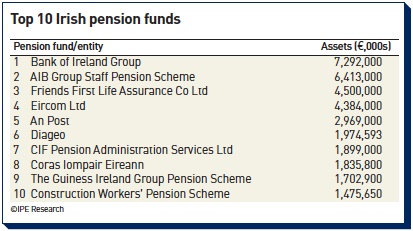 Enacting these proposals has not been straightforward. Varadkar was named taoiseach – prime minister – in June, prompting a cabinet reshuffle in which Regina Doherty was appointed social protection minister.
One of Doherty's first moves was to bring the Social Welfare, Pensions and Civil Registration Bill to parliament for debate. When it was presented, however, the proposed DB protections had been removed from the text.
"Given the complexities involved, it simply was not possible to have these included in the published bill," Doherty told parliament in July. Instead, parliament's Joint Committee on Social Protection will discuss adding the proposals back in as amendments to the bill.
"The best outcomes are achieved when trustees, employers and members negotiate to reach agreement on what is needed to secure the scheme's viability," Doherty said. "The amendments I will be tabling at the committee stage seek to underpin this approach."
In response, Labour politician Willie Penrose – who led his party's proposals for DB protection – said the current system faced a "significant and worrying crisis" and was in danger of "meltdown".
Some have cast doubt on whether the protections will make it back onto the bill. The consultancy LCP warned soon after the debate that the discussions would be disrupted by parliament's summer recess.
"While many companies may welcome the omissions of particular proposals from the bill, the inclusion of these proposals in the original heads followed by their subsequent removal is most unwelcome and leads to uncertainty," LCP added in a commentary. "This uncertainty makes it difficult for trustees and companies alike to manage their schemes."
Meanwhile, INM and its pension trustees had agreed a €70m funding package, designed to end the dispute. In a joint statement the two parties said INM would pay the deficit reduction contributions agreed in the schemes' 2013 valuation, as well as supplementary payments "to ensure pension pots…. are no lower than as at 2013". The settlement amounts to an investment of roughly €115m into all its schemes – including DC funds – by 2023.
Away from the DB debate, politicians have also begun discussions about Ireland's default retirement age. The government has set out plans to raise the state pension age to 68 by 2028, but many private companies still force employees to retire at 65.
John Curran, chair of the social protection committee, called for the abolition of mandatory retirement ages. "No employee should be contractually obliged to retire based on age if they are willing and able to remain at work," he said.