Pensions regulation has taken a backseat to Brexit but this has not stopped the industry from moving ahead with changes
Key points
The focus on Brexit has meant that legislators have neglected many other areas of political importance, including pensions
The government is being urged to build on the success of auto-enrolment
Industry leaders are active as ever, including calling for a 'superfund' solution for underfunded defined benefit schemes
Local authority schemes have come under pressure from politicians and protestors to adopt the goal of a shift to a zero-carbon economy
"This government is committed to legislating when parliamentary time allows." This has become a familiar refrain in answers to parliamentary questions and in consultation documents over the past year.
With Brexit Day – 31 October 2019 at the time of writing – looming large in the minds of most within the UK's financial services sector, it is little surprise that most aspects of regular political and legislative activity have fallen by the wayside.
For the UK's pensions and retirement sector, that means the long-awaited Pensions Bill 2019 remains unpublished. This means no confirmed framework for the emerging commercial defined benefit (DB) consolidator vehicles, no rules requiring compliance with the planned pension dashboard, and no formal new powers for the Pensions Regulator (TPR) to tighten funding requirements and improve governance standards.
The promise of collective defined contribution schemes – a new concept for the UK – emerged last year after fruitful negotiations between Royal Mail and the Communication Workers' Union, and a framework is expected in the Pensions Bill. As of June, however, a written question to the Department of Work and Pensions (DWP) received the "when parliamentary time allows" response. Royal London's pension specialist Helen Morrissey has called on the government to devote time to the Pensions Bill.
Guy Opperman, the UK's pensions and financial inclusion minister, retained his role during the latest reshuffle of ministerial positions – much to the relief of the pensions sector, which has been used to a 'revolving door' of ministers in recent years. He has been vocal in his support for auto-enrolment, regularly trumpeting the fact that 10m people have been brought into a workplace pension scheme since the regime was introduced in 2012.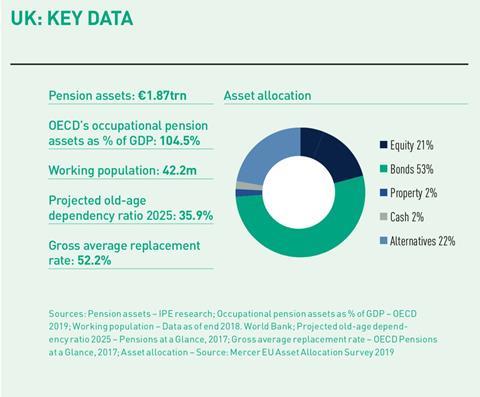 Gregg McClymont, director of policy at £7bn (€7.7bn) master trust The People's Pension and a former pensions spokesman for the opposition Labour Party, is urging the government to build on auto-enrolment and expand its coverage.
The People's Pension calculates that reducing the auto-enrolment age limit to 18 and calculating contributions from the first pound earned would boost savings by £4bn.
McClymont also highlights the importance of progressing development on the dashboard concept, which has received widespread industry support. In its response to a consultation on the topic, the government said it was "committed" to forcing schemes to report data to dashboard providers – "subject to securing parliamentary time".
A lack of legislation has not meant a lack of activity elsewhere – in fact, industry leaders are as busy as ever.
The Pensions Bill's contents have already been well signposted, with some elements having been subject to consultation earlier this year or in 2018. For Nigel Peaple, director of policy and research at the Pensions and Lifetime Savings Association (PLSA), a delay getting the bill to parliament has meant more time for the trade body and its members to prepare.
"There is lots of policy development from within government and the regulator that has not fully emerged into the light, which is keeping us busy," Peaple says. "We've also got our own proactive agenda… so, hopefully, we'll have the ability to put in a good response and influence discussions appropriately."
Although there is no official framework for commercial consolidators such as the Pension SuperFund and Clara-Pension, it has not stopped them from pushing forward with their plans to bring in DB schemes in an effort to improve funding levels and offer better benefits than the Pension Protection Fund.
The Pension SuperFund has announced two deals with unnamed schemes that are at an advanced stage. The first is currently with TPR awaiting approval, and it announced in July that it had signed an exclusivity agreement for a second deal worth £300m.
The PLSA – which has been calling for a "superfund" solution for underfunded DB schemes since 2017 – has been participating in roundtable discussions with DWP and the UK Treasury regarding the rulebook, Peaple says, as have the consolidator funds.
Arguably the biggest topic for the PLSA and pension fund trustees is governance.
"We're dealing with stuff that's further down the pipeline, which will affect schemes directly in a year, or two or three years," Peaple says of the PLSA's to-do list. "[Trustees] are all at the coalface, and they're dealing with effective governance and good administration."
Climate challenge for local authority schemes
The Local Government Pension Scheme (LGPS) includes 100 member funds and £330bn (€357bn) in assets across the UK. Multiple consolidation moves could see this shrink, with schemes in Scotland and England's West Midlands considering merger options. The pooling of assets among English and Welsh LGPS funds is advancing at a pace as the pooling entities have become established and local councillors have become more comfortable with the new way of investing.
However, the nature of LGPS funds – in particular their scale and taxpayer-funded status – has meant many have been targeted by climate change activists in recent months. In July, representatives of Fossil Free Greater Manchester and Extinction Rebellion, a UK environmental movement, protested outside the offices of the £23.8bn Greater Manchester Pension Fund (GMPF), calling for it to divest from all fossil fuel companies.
Earlier in the year, activists from Extinction Rebellion gained entry to an LGPS conference and disrupted a speech by local government minister Rishi Sunak. They also called for immediate divestment from fossil fuels, calling them "worthless zero assets".
LGPS funds and pooling companies have been actively investing in renewable energy assets and assessing their exposure to carbon-intensive companies and industries. The £8.9bn Merseyside Pension Fund has invested in a number of ESG-themed funds and set targets to reduce climate change risk in its portfolio. Pools including the London CIV and LGPS Central have set up sustainable investment strategies for their clients, and there is growing demand for more.
GMPF has also engaged with campaign groups, posting on Twitter shortly before July's protest: "While we might disagree on [the] best way to get there, we share [the] same goal of a zero-carbon economy as quickly as possible. We're also committed to a 'just transition' ensuring interests of workers and communities are properly taken into account."
In addition, while the government has resisted calls for intervention into LGPS investment strategies, pensions minister Guy Opperman stated in May that "trustees who do not consider those matters will be breaching their statutory and potentially their fiduciary duties not only to current but future members".
TPR has issued multiple guidance papers in recent months setting out expectations and actions for trustees in anticipation of new powers later down the line, and is increasing its proactive work – in part as a response to criticism from politicians about a failure to anticipate recent high-profile pension fund problems such as BHS, British Steel and Carillion.
New TPR chief executive Charles Counsell, in his inaugural public speech earlier this year, highlighted an increase in proactive supervisory work and one-to-one supervision, while the regulator has already begun site visits of local authority schemes.
"I think that could have quite a big impact," Peaple says. "It's not that extensive, but it is a change of approach where they want to be more on the front foot in terms of their relationships [with schemes]. I wouldn't say it's a radical change; it's more an evolution of what TPR has been doing over the last few years."
In a recent survey, consultancy XPS Pensions highlighted that many pension funds were struggling to meet the regulator's guidelines. Only a third of schemes surveyed by XPS said trustee board decisions were made quickly and one in five said they regularly ran out of time at meetings to discuss all issues.
Wes Jones, head of pensions for XPS's Manchester office, says that while the legislation required to enshrine new powers into law has yet to arrive, the regulator has been making sure standards are embedded in the industry and trustees and other stakeholders are living up to them.
"The regulator's latest funding statement sets out a clear direction of travel," he says. "There was a lot of detail about classifying schemes by covenant strength, funding strength, maturity, recovery plans… It has been quite direct about what trustees should be focusing on."
Whatever the UK's future holds beyond 31 October, the pace of change in the pensions sector shows no signs of slowing down.
UK pension assets
UK pension assets

| | Pension fund/entity | Assets (€'000s) |
| --- | --- | --- |
| 1 | Universities Superannuation Scheme Ltd. | 78,213,000 |
| 2 | BT Group plc | 62,028,179 |
| 3 | Royal Bank of Scotland Group (RBS) | 52,959,600 |
| 4 | Lloyds Banking Group | 49,538,600 |
| 5 | Rothesay Life | 42,107,884 |
| 6 | Pension Protection Fund (PPF) | 35,617,200 |
| 7 | Pension Insurance Corporation | 34,976,460 |
| 8 | Railways Pension Trustee Company Ltd. | 34,141,500 |
| 9 | Barclays Bank plc | 32,343,200 |
| 10 | HSBC Bank (UK) Ltd. | 30,294,510 |
| 11 | BP plc | 28,008,280 |
| 12 | Greater Manchester Pension Fund (LGPS) | 27,614,600 |
| 13 | British Airways plc | 27,600,000 |
| 14 | Strathclyde Pension Fund (LGPS) | 25,420,800 |
| 15 | BAE Systems plc | 23,665,919 |
| 16 | Coal Pension Trustees Ltd. | 23,607,700 |
| 17 | National Grid plc | 21,533,700 |
| 18 | British Broadcasting Corporation (BBC) | 19,972,832 |
| 19 | Aviva plc | 19,002,020 |
| 20 | West Midlands Pension Fund (LGPS) | 18,836,989 |
| 21 | Shell UK | 17,611,539 |
| 22 | Tesco plc | 17,343,713 |
| 23 | West Yorkshire Pension Fund (LGPS) | 16,695,024 |
| 24 | Ford Motor Company Ltd. | 14,700,708 |
| 25 | Rolls-Royce Group plc | 14,227,845 |
| 26 | GlaxoSmithKline plc | 14,013,976 |
| 27 | Santander UK plc | 13,988,306 |
| 28 | Royal Mail Group | 13,600,100 |
| 29 | Transport for London | 12,703,400 |
| 30 | ICI Pension Fund (Akzo Nobel) | 12,477,000 |
| 31 | British Steel Pension Scheme | 12,294,800 |
| 32 | Marks & Spencer Group plc | 11,884,782 |
| 33 | J. Sainsbury plc | 11,564,707 |
| 34 | TPT Retirement Solutions (The Pensions Trust) | 11,478,801 |
| 35 | Co-operative Group Ltd. | 11,466,750 |
| 36 | IBM UK Holdings | 10,430,154 |
| 37 | Unilever plc | 10,329,000 |
| 38 | Merseyside Pension Fund (LGPS) | 10,324,939 |
| 39 | Tyne & Wear Pension Fund (LGPS) | 10,214,892 |
| 40 | South Yorkshire Pension Fund (LGPS) | 9,780,562 |
| 41 | Lancashire County Pension Fund (LGPS) | 9,775,564 |
| 42 | Centrica plc | 9,453,669 |
| 43 | Prudential plc | 9,449,214 |
| 44 | NILGOSC | 9,298,880 |
| 45 | Lothian Pension Fund (LGPS) | 9,286,130 |
| 46 | EDF Energy | 9,088,310 |
| 47 | Jaguar Land Rover Ltd. | 8,947,167 |
| 48 | RSA Insurance Group plc | 8,734,090 |
| 49 | Hampshire Pension Fund (LGPS) | 8,347,931 |
| 50 | Essex Pension Fund (LGPS) | 8,168,238 |
| 51 | BMW (UK) Ltd. | 8,167,000 |
| 52 | The People's Pension | 7,818,440 |
| 53 | Diageo plc | 7,672,651 |
| 54 | Walgreens Boots Alliance | 7,479,927 |
| 55 | Western Power Distribution | 7,403,314 |
| 56 | Zurich UK General Services Ltd. | 7,341,425 |
| 57 | Kent Pension Fund (LGPS) | 7,061,100 |
| 58 | London Pensions Fund Authority (LGPS) | 6,750,200 |
| 59 | Nationwide Building Society | 6,620,862 |
| 60 | John Lewis Partnership plc | 6,502,447 |
| 61 | Cheshire Pension Fund (LGPS) | 6,370,803 |
| 62 | Legal & General Mastertrust | 6,349,230 |
| 63 | Nottinghamshire Pension Fund (LGPS) | 6,284,881 |
| 64 | Fujitsu Services Ltd. | 6,037,803 |
| 65 | Standard Life DC Master Trust | 6,031,368 |
| 66 | Invensys plc (Schneider Electric) | 6,009,000 |
| 67 | Esso Petroleum Company Ltd. | 6,000,473 |
| 68 | Staffordshire Pension Fund (LGPS) | 5,964,650 |
| 69 | AXA UK plc | 5,957,137 |
| 70 | NEST | 5,949,315 |
| 71 | FirstGroup plc | 5,919,500 |
| 72 | East Riding Pension Fund (LGPS) | 5,873,638 |
| 73 | Premier Foods plc | 5,859,108 |
| 74 | Siemens plc | 5,786,000 |
| 75 | Vodafone Group plc | 5,754,000 |
| 76 | Derbyshire Pension Fund (LGPS) | 5,728,792 |
| 77 | Hertfordshire Pension Fund (LGPS) | 5,620,015 |
| 78 | Avon Pension Fund (LGPS) | 5,601,454 |
| 79 | Effem Holdings Ltd (Mars UK) | 5,566,413 |
| 80 | NATS Ltd. | 5,541,784 |
| 81 | Nestlé UK Ltd. | 5,503,149 |
| 82 | Wm Morrison Supermarkets plc | 5,502,801 |
| 83 | North East Scotland Pension Fund (LGPS) | 5,294,496 |
| 84 | AstraZeneca plc | 5,228,038 |
| 85 | DB Group Services (UK) Ltd. | 5,201,460 |
| 86 | Bank of England | 5,096,133 |
| 87 | West Sussex Pension Fund (LGPS) | 5,084,303 |
| 88 | SSE plc | 5,032,554 |
| 89 | Surrey Pension Fund (LGPS) | 5,016,255 |
| 90 | Imperial Brands Plc. | 5,004,923 |
| 91 | Leicestershire County Council PF (LGPS) | 5,003,960 |
| 92 | Devon County Council Pension Fund (LGPS) | 5,000,821 |
| 93 | DHL Group Retirement Plan | 4,914,000 |
| 94 | Scottish Power Ltd. | 4,894,410 |
| 95 | EON | 4,880,000 |
| 96 | Mondelez UK | 4,853,721 |
| 97 | Innogy Renewables (RWE) | 4,829,424 |
| 98 | Heathrow Airport Holdings Ltd (BAA Pension Scheme) | 4,772,599 |
| 99 | Babcock International Group plc | 4,771,139 |
| 100 | Pernod Ricard UK (Allied Domecq) | 4,771,000 |
| 101 | Teesside Pension Fund (LGPS) | 4,747,054 |
| 102 | Standard Life Aberdeen | 4,735,189 |
| 103 | Smiths Group plc | 4,695,286 |
| 104 | Environment Agency PF (EAPF) (LGPS) | 4,639,617 |
| 105 | Telent Technology Services Ltd. | 4,615,124 |
| 106 | Saint-Gobain Ltd | 4,605,000 |
| 107 | Marsh & McLennan Companies UK | 4,571,100 |
| 108 | Aon plc | 4,561,112 |
| 109 | United Utilities plc | 4,543,781 |
| 110 | Tayside Pension Fund (LGPS) | 4,525,208 |
| 111 | Phoenix Group Holdings | 4,478,992 |
| 112 | British American Tobacco plc | 4,473,422 |
| 113 | Clydesdale Bank plc | 4,441,588 |
| 114 | Norfolk Pension Fund (LGPS) | 4,427,652 |
| 115 | ITV plc | 4,291,207 |
| 116 | East Sussex Pension Fund (LGPS) | 4,222,695 |
| 117 | SAUL | 4,178,760 |
| 118 | Associated British Foods plc | 4,173,756 |
| 119 | North Yorkshire Pension Fund (LGPS) | 4,157,762 |
| 120 | Lafarge UK | 4,115,563 |
| 121 | Rhondda Cynon Taf Pension Fund (LGPS) | 4,020,179 |
| 122 | Bank of America Merrill Lynch (UK) | 3,922,191 |
| 123 | UK Power Networks Holdings Pension Scheme | 3,906,285 |
| 124 | Balfour Beatty plc | 3,884,169 |
| 125 | Willis Towers Watson | 3,842,682 |
| 126 | RELX plc | 3,801,741 |
| 127 | BOC UK | 3,787,687 |
| 128 | Magnox Group | 3,778,956 |
| 129 | Merchant Navy Officers Pension Funds | 3,763,153 |
| 130 | Cambridgeshire Pension Fund (LGPS) | 3,710,944 |
| 131 | Kingfisher plc | 3,626,403 |
| 132 | Hewlett-Packard Ltd. UK | 3,625,140 |
| 133 | Chevron Energy | 3,615,717 |
| 134 | Pearson plc | 3,609,036 |
| 135 | Total UK Pension Fund | 3,570,350 |
| 136 | John Wood Group | 3,536,105 |
| 137 | Dorset County Pension Fund (LGPS) | 3,521,895 |
| 138 | Buckinghamshire County Council PF (LGPS) | 3,495,244 |
| 139 | Anglo American | 3,475,174 |
| 140 | Rio Tinto plc | 3,457,628 |
| 141 | Heineken UK (Scottish & Newcastle Pension Plan) | 3,444,758 |
| 142 | Durham County Council PF (LGPS) | 3,411,329 |
| 143 | Greater Gwent (Torfaen) PF (LGPS) | 3,404,525 |
| 144 | Suffolk County Council PF (LGPS) | 3,402,310 |
| 145 | Pfizer Ltd. | 3,359,457 |
| 146 | Thales UK Ltd. | 3,340,500 |
| 147 | Xerox Ltd. | 3,256,066 |
| 148 | Worcestershire Pension Fund (LGPS) | 3,249,145 |
| 149 | Combined Nuclear Pension Plan | 3,239,104 |
| 150 | Hanson UK | 3,227,300 |
| 151 | Bombardier Transportation UK Ltd. | 3,186,231 |
| 152 | Daily Mail & General Trust plc | 3,185,196 |
| 153 | Co-operative Bank | 3,172,723 |
| 154 | Cumbria Pension Fund (LGPS) | 3,141,580 |
| 155 | Melrose | 3,108,895 |
| 156 | Go-Ahead Group | 3,080,018 |
| 157 | Wiltshire Pension Fund (LGPS) | 3,045,290 |
| 158 | Fife Council Pension Fund (LGPS) | 3,036,319 |
| 159 | Church of England | 3,010,340 |
| 160 | Dyfed County Council Pension Fund (LGPS) | 2,993,077 |
| 161 | Whitbread Group Pension Fund | 2,943,603 |
| 162 | PricewaterhouseCoopers (PWC) LLP | 2,928,079 |
| 163 | Northamptonshire Pension Fund (LGPS) | 2,917,288 |
| 164 | Oxfordshire Pension Fund (LGPS) | 2,906,382 |
| 165 | Falkirk Council Pension Fund (LGPS) | 2,894,484 |
| 166 | States of Jersey Treasury | 2,873,051 |
| 167 | ASDA Group Ltd. | 2,869,581 |
| 168 | Mitchells & Butlers plc | 2,865,245 |
| 169 | Carnaudmetalbox Group UK Ltd. | 2,849,276 |
| 170 | Sanofi UK | 2,830,940 |
| 171 | Royal London Group | 2,821,334 |
| 172 | Severn Trent | 2,811,633 |
| 173 | Rexam plc | 2,789,043 |
| 174 | Leonardo Helicopters Pension Scheme | 2,786,756 |
| 175 | LifeSight UK Master Trust (Willis Towers Watson) | 2,784,750 |
| 176 | Wandsworth Pension Fund (LGPS) | 2,774,185 |
| 177 | Gloucestershire Council Pension Fund (LGPS) | 2,758,760 |
| 178 | Lincolnshire Pension Fund (LGPS) | 2,744,557 |
| 179 | Compass Group plc | 2,721,287 |
| 180 | TUI | 2,701,100 |
| 181 | Thames Water Utilities | 2,689,004 |
| 182 | Capgemini | 2,674,000 |
| 183 | Bedfordshire Pension Fund (LGPS) | 2,672,312 |
| 184 | UBS UK | 2,648,650 |
| 185 | Reach (Trinity Mirror) | 2,616,497 |
| 186 | JP Morgan Europe (UK) | 2,600,302 |
| 187 | AA | 2,571,283 |
| 188 | Peugeot Citroen Automobiles | 2,567,000 |
| 189 | Civil Aviation Authority (CAA) | 2,539,338 |
| 190 | Cardiff Council Pension Fund (LGPS) | 2,531,420 |
| 191 | Somerset Pension Fund (LGPS) | 2,523,019 |
| 192 | Warwickshire Pension Fund (LGPS) | 2,517,323 |
| 193 | Berkshire Pension Fund (LGPS) | 2,506,563 |
| 194 | G4S | 2,471,744 |
| 195 | Mercer Master Trust | 2,457,224 |
| 196 | Johnson Matthey | 2,432,819 |
| 197 | UK Asset Resolution | 2,430,960 |
| 198 | United Biscuits | 2,424,385 |
| 199 | Gwynedd Pension Fund (LGPS) | 2,419,274 |
| 200 | BUPA | 2,412,707 |
| 201 | H J Heinz | 2,375,994 |
| 202 | Swansea Pension Fund (LGPS) | 2,368,320 |
| 203 | Taylor Wimpey plc | 2,343,868 |
| 204 | Highlands Pension Scheme (LGPS) | 2,323,558 |
| 205 | Coats | 2,304,562 |
| 206 | Plumbing & Mechanical Services Industry Pension Scheme | 2,283,300 |
| 207 | QinetiQ | 2,282,410 |
| 208 | Molson Coors Brewing Company | 2,281,125 |
| 209 | Shipbuilding Industries Pension Scheme | 2,272,087 |
| 210 | Cornwall Pension Fund (LGPS) | 2,243,320 |
| 211 | Shropshire Pension Fund (LGPS) | 2,226,269 |
| 212 | Syngenta | 2,207,665 |
| 213 | Anglian Water | 2,195,698 |
| 214 | Clwyd Pension Fund (LGPS) | 2,169,147 |
| 215 | Atos | 2,164,000 |
| 216 | Pilkington Group | 2,072,513 |
| 217 | CSC Computer Sciences | 2,068,311 |
| 218 | Japan Tobacco | 1,993,368 |
| 219 | Goldman Sachs International | 1,962,582 |
| 220 | Trafalgar House Pension Trust | 1,939,411 |
| 221 | Camden Pension Fund (LGPS) | 1,925,497 |
| 222 | Southwark Pension Fund (LGPS) | 1,908,579 |
| 223 | Bank of Ireland UK | 1,893,000 |
| 224 | Tower Hamlets Pension Fund (LGPS) | 1,857,230 |
| 225 | Kier Group | 1,840,163 |
| 226 | Reckitt Benckiser | 1,813,429 |
| 227 | MRC Pension Scheme | 1,798,561 |
| 228 | TRW LucasVarity | 1,788,000 |
| 229 | Kelda Group | 1,783,409 |
| 230 | Hackney Pension Fund (LGPS) | 1,760,859 |
| 231 | Michelin Tyre | 1,742,300 |
| 232 | BASF | 1,733,000 |
| 233 | CRH | 1,732,000 |
| 234 | Northern Powergrid Pension Fund | 1,729,107 |
| 235 | Shop Direct Holdings | 1,720,924 |
| 236 | Nissan Motor Manufacturing UK | 1,707,465 |
| 237 | AWE Management | 1,685,108 |
| 238 | Lambeth Pension Fund (LGPS) | 1,673,152 |
| 239 | Newham Pension Fund (LGPS) | 1,669,163 |
| 240 | Bayer UK | 1,660,370 |
| 241 | Northumberland Pension Fund (LGPS) | 1,659,362 |
| 242 | RWE npower | 1,653,028 |
| 243 | City of Westminster Pension Fund (LGPS) | 1,648,612 |
| 244 | Aegon Master Trust | 1,646,805 |
| 245 | Maersk UK | 1,646,532 |
| 246 | Stagecoach | 1,634,472 |
| 247 | Electricity North West | 1,633,000 |
| 248 | WS Atkins | 1,612,593 |
| 249 | Lewisham Pension Fund (LGPS) | 1,610,168 |
| 250 | Haringey Pension Fund (LGPS) | 1,607,273 |
| 251 | Liverpool Victoria Friendly Society | 1,604,016 |
| 252 | Islington Pension Fund (LGPS) | 1,600,263 |
| 253 | Travis Perkins | 1,583,012 |
| 254 | SCA Hygiene UK | 1,577,808 |
| 255 | Thomas Cook | 1,577,785 |
| 256 | Telefonica UK (O2) | 1,563,916 |
| 257 | Ferguson | 1,558,280 |
| 258 | Greenwich Pension Fund (LGPS) | 1,548,809 |
| 259 | NatWest Markets | 1,546,093 |
| 260 | P&O UK Scheme | 1,528,277 |
| 261 | Citigroup Global Markets | 1,520,661 |
| 262 | States of Guernsey Superannuation Fund | 1,512,491 |
| 263 | Serco | 1,505,881 |
| 264 | Rentokil Initial | 1,489,618 |
| 265 | BNP Paribas | 1,489,000 |
| 266 | Schlumberger Business Consulting | 1,483,826 |
| 267 | W H Smith | 1,472,035 |
| 268 | London Borough of Ealing Pension Fund (LGPS) | 1,464,922 |
| 269 | Alcatel-Lucent | 1,459,000 |
| 270 | London Borough of Croydon Pension Fund (LGPS) | 1,443,417 |
| 271 | NOW: Pensions | 1,422,131 |
| 272 | Goodyear Dunlop Tyres | 1,390,147 |
| 273 | Howden Joinery | 1,382,416 |
| 274 | Royal Borough of Kensington & Chelsea Pension Fund (LGPS) | 1,377,734 |
| 275 | London Borough of Enfield Pension Fund (LGPS) | 1,372,607 |
| 276 | Tate & Lyle | 1,369,260 |
| 277 | Standard Chartered | 1,366,151 |
| 278 | Capita | 1,349,490 |
| 279 | London Borough of Barnet Pension Fund (LGPS) | 1,338,155 |
| 280 | Wincanton | 1,332,762 |
| 281 | Dairy Crest | 1,292,190 |
| 282 | Dixons Carphone | 1,285,109 |
| 283 | Smith (DS) | 1,282,089 |
| 284 | Ulster Bank | 1,269,846 |
| 285 | Northern Foods | 1,265,737 |
| 286 | City of London Pension Fund (LGPS) | 1,235,705 |
| 287 | London Borough of Hillingdon (LGPS) | 1,232,055 |
| 288 | Northumbrian Water | 1,224,895 |
| 289 | London Borough of Hammersmith & Fulham Pension Fund (LGPS) | 1,222,888 |
| 290 | Debenhams | 1,220,617 |
| 291 | Legal & General | 1,216,379 |
| 292 | John Laing Group | 1,211,923 |
| 293 | London Borough of Barking & Dagenham Pension Fund (LGPS) | 1,210,832 |
| 294 | London Borough of Bromley Pension Scheme (LGPS) | 1,207,925 |
| 295 | London Borough of Hounslow (LGPS) | 1,207,692 |
| 296 | Northern Ireland Electricity Networks | 1,179,516 |
| 297 | Unite the Union | 1,176,542 |
| 298 | De La Rue | 1,168,291 |
| 299 | Rhodia Pension Fund | 1,124,000 |
| 300 | 3i | 1,119,353 |
| 301 | Croda International | 1,098,305 |
| 302 | Pennon | 1,085,644 |
| 303 | Astrium (Airbus UK) | 1,079,480 |
| 304 | University of Cambridge | 1,074,375 |
| 305 | Schroders | 1,059,542 |
| 306 | Interserve | 1,045,618 |
| 307 | Next | 1,034,967 |
| 308 | London Borough of Waltham Forest (LGPS) | 1,029,704 |
| 309 | Kingston Pension Fund (LGPS) | 1,014,822 |
| 310 | London Borough of Bexley Pension Fund (LGPS) | 1,014,232 |
| 311 | Commerzbank UK | 1,006,000 |
| 312 | London Borough of Brent Pension Fund (LGPS) | 1,004,976 |
| 313 | Greene King | 1,001,605 |
| 314 | Experian | 999,938 |
| 315 | Yorkshire Building Society | 993,376 |
| 316 | Veolia UK | 990,600 |
| 317 | London Borough of Harrow Pension Scheme (LGPS) | 989,554 |
| 318 | Arcadia | 977,765 |
| 319 | Dumfries & Galloway Pension Fund (LGPS) | 974,663 |
| 320 | ANZ UK Staff Pension Scheme | 965,032 |
| 321 | Ladbrokes Coral | 939,797 |
| 322 | London Borough of Redbridge Pension Fund (LGPS) | 933,919 |
| 323 | Financial Conduct Authority | 933,375 |
| 324 | Costain Pension Scheme | 916,873 |
| 325 | Inchcape | 908,942 |
| 326 | Water Companies Pension Scheme | 900,575 |
| 327 | Hays | 895,594 |
| 328 | Arup UK Pension Scheme | 889,373 |
| 329 | Britvic | 880,575 |
| 330 | Provident | 878,087 |
| 331 | Society of Lloyd's of London | 861,045 |
| 332 | London Borough of Havering Pension Fund (LGPS) | 852,464 |
| 333 | Scottish Borders Pension Scheme (LGPS) | 851,892 |
| 334 | London Borough of Merton Pension Fund (LGPS) | 837,681 |
| 335 | Weir Group | 834,422 |
| 336 | Cobham | 831,415 |
| 337 | Parliamentary Contributory Pension Fund | 831,305 |
| 338 | Cancer Research UK | 824,572 |
| 339 | London Borough of Sutton Pension Fund (LGPS) | 782,731 |
| 340 | Barnardo's | 778,301 |
| 341 | Lend Lease UK Pension Scheme | 777,093 |
| 342 | Powys Pension Fund (LGPS) | 760,849 |
| 343 | Sony UK Pension Scheme | 745,397 |
| 344 | Meggitt | 745,199 |
| 345 | Janus Henderson Group | 741,563 |
| 346 | Smurfit Kappa | 712,000 |
| 347 | Pirelli General Pension and Life Assurance Fund | 693,994 |
| 348 | Smith & Nephew | 693,987 |
| 349 | Oxford University Press | 693,929 |
| 350 | Isle of Wight Pension Fund (LGPS) | 692,560 |
| 351 | Persimmon | 687,054 |
| 352 | Biffa | 683,003 |
| 353 | University of Manchester | 682,681 |
| 354 | London Stock Exchange | 667,226 |
| 355 | Connect Group | 662,544 |
| 356 | Informa | 659,874 |
| 357 | Ibstock | 639,853 |
| 358 | National Express Group | 617,435 |
| 359 | Electrocomponents | 610,123 |
| 360 | Vinci | 608,000 |
| 361 | Vesuvius | 605,739 |
| 362 | TT Electronics | 594,711 |
| 363 | Wellcome Trust Pension Scheme | 590,267 |
| 364 | Elementis | 586,005 |
| 365 | RPC Group | 581,509 |
| 366 | Marston's | 579,718 |
| 367 | Comet Pension Fund | 578,200 |
| 368 | Shetland Islands Council Pension Fund (LGPS) | 577,846 |
| 369 | University of Leeds | 554,312 |
| 370 | Uniper Group of the ESPS | 550,804 |
| 371 | BBA Aviation | 550,651 |
| 372 | BHP Billiton | 541,462 |
| 373 | University of Liverpool | 533,767 |
| 374 | IMI | 527,209 |
| 375 | Mears Group | 488,557 |
| 376 | Jardine Lloyd Thompson | 486,217 |
| 377 | University of Edinburgh | 479,381 |
| 378 | Genus | 478,977 |
| 379 | University of Glasgow | 477,550 |
| 380 | Barratt Development | 469,939 |
| 381 | Pendragon | 465,610 |
| 382 | Orkney Islands Council Pension Fund (LGPS) | 454,141 |
| 383 | PZ Cussons | 451,985 |
| 384 | Morgan Advanced | 448,627 |
| 385 | Norcros | 444,832 |
| 386 | Mpac Group | 443,555 |
| 387 | Spirax-Sarco | 431,525 |
| 388 | William Hill | 422,946 |
| 389 | Coca-Cola HBC | 398,200 |
| 390 | Marshalls | 382,847 |
| 391 | STV Group | 382,513 |
| 392 | Bunzl | 370,372 |
| 393 | Hogg Robinson | 362,775 |
| 394 | Saga | 358,282 |
| 395 | Synthomer | 355,445 |
| 396 | Avon Rubber | 355,058 |
| 397 | Grosvenor Pension Plan | 350,925 |
| 398 | Man Group | 349,176 |
| 399 | Senior | 344,863 |
| 400 | John Menzies | 339,740 |
| 401 | Halma | 339,642 |
| 402 | Ultra Electronics | 331,608 |
| 403 | Savills | 330,497 |
| 404 | Drax | 328,044 |
| 405 | WPP | 318,548 |
| 406 | Fluor Limited Retirement Benefits Scheme | 310,519 |
| 407 | Aston Martin Lagonda | 299,416 |
| 408 | Network Rail Ltd. | 290,590 |
| 409 | Industry Wide Coal | 290,255 |
| 410 | TP ICAP | 270,678 |
| 411 | Bakkavor | 267,642 |
| 412 | Galliford Try | 266,148 |
| 413 | Places for People Group Retirement Benefit Scheme | 265,815 |
| 414 | Greencore | 261,531 |
| 415 | Grafton Group | 256,944 |
| 416 | Lookers | 242,496 |
| 417 | Essentra | 233,696 |
| 418 | Hiscox | 232,377 |
| 419 | Crest Nicholson | 223,386 |
| 420 | Shire | 216,441 |
| 421 | Clarkson | 210,304 |
| 422 | Rotork | 200,199 |
| 423 | Renewi | 198,400 |
| 424 | Renishaw | 181,659 |
| 425 | BTG | 178,598 |
| 426 | SIG | 162,741 |
| 427 | Rathbone Brothers | 150,711 |
| 428 | P&O Ferries | 144,374 |
| 429 | Redrow | 142,579 |
| 430 | Mondi | 135,000 |
| 431 | Bovis Homes | 129,881 |
| 432 | Spectris | 126,093 |
| 433 | Ashtead | 124,602 |
| 434 | Bodycote | 123,643 |
| 435 | Intertek | 120,413 |
| 436 | Brewin Dolphin | 119,936 |
| 437 | AG Barr | 117,660 |
| 438 | Paragon | 113,901 |
| 439 | Inmarsat | 110,165 |
| 440 | Aggreko | 108,048 |
| 441 | Direct Line | 106,489 |
| 442 | Glencore | 106,334 |
| 443 | Aveva | 98,568 |
| 444 | Victrex | 96,059 |
| 445 | TI Fluid Systems | 92,800 |
| 446 | BCA Marketplace | 86,131 |
| 447 | Hammerson | 77,750 |
| 448 | Euromoney | 74,090 |
| 449 | Vitec | 67,837 |
| 450 | Millennium & Copthorne | 64,606 |
| 451 | Quilter | 62,378 |
| 452 | Hill & Smith | 61,487 |
| 453 | Bellway | 60,553 |
| 454 | Equiniti | 60,262 |
| 455 | Law Debenture | 60,262 |
| 456 | James Fisher & Sons | 59,371 |
| 457 | Alrea | 51,752 |
| 458 | Countrywide | 50,689 |
| 459 | Keller Group | 50,348 |
| 460 | Close Brothers Group | 46,536 |
| 461 | International Personal Finance | 46,115 |
| 462 | SSP | 43,877 |
| 463 | Homeserve | 43,589 |
| 464 | Beazley | 38,933 |
| 465 | DCC | 38,744 |
| 466 | Cranswick | 38,590 |
| 467 | Premier Oil | 36,140 |
| 468 | St Modwen | 35,865 |
| 469 | Grainger | 35,012 |
| 470 | Stobart | 33,652 |
| 471 | Diploma | 33,104 |
| 472 | Zotefoams | 28,572 |
| 473 | Dialight | 28,182 |
| 474 | UDG Healthcare | 27,905 |
| 475 | RHI Magnesita | 26,400 |
| 476 | Berkeley Group | 26,177 |
| 477 | Investec | 20,690 |
| 478 | Fresnillo | 16,848 |
| 479 | 4imprint | 15,789 |
| 480 | Convatec | 13,618 |
| 481 | Vauxhall Motors/GM UK | 12,604 |
| 482 | BlueSky Pension Scheme | 6,407 |
| 483 | Ferrexpo | 3,928 |